Why Brick and Mortar stores still belong in a digital world
04 December 2019
The digital world is so easy when you've got the right tools.
With a good connection, a smartphone and a laptop, almost anything is accessible. Working and hosting meetings from home, ordering lunch, taking a break from work to read an article like this, booking a flight or planning a holiday can all be done without actually going anywhere. The digital link to our physical world becomes stronger every time a new solution, a new app, a new feature or update is made available. Why then, do we still venture into the physical world at all? Why are physical stores still open? Why are companies like MTN, who want everyone to enjoy the benefits of a connected world, still opening brick and mortar stores? In Africa, there are a number of reasons.
In Africa, we are Still Connecting
Mobile penetration in sub-Saharan Africa is at an all-time high. The GSMA reported 456 million unique mobile subscribers in 2018 and that number continues to grow every year. As the African population grows, the workforce grows and more people are purchasing phones for the first time. For those who don't have a phone at all, the obvious place to start is in a physical store. There are more than 5 million formal and informal MTN retail stores across Africa and the Middle East, making it easy for a first-time buyer to access a digital device.
"There is still value in walking into a store, looking at and touching various devices before making a purchasing decision."
A Digital World Still Requires Hardware
Despite how futuristic any digital solution available today may be, we still require a physical object in the real world to use it. While online unboxing videos are always fun to watch, there is still value in walking into a store, looking at and touching various devices before making a purchasing decision. Upgrading from a feature phone to a smartphone is a big transition for some, so having a friendly (human) face to turn to for help is necessary.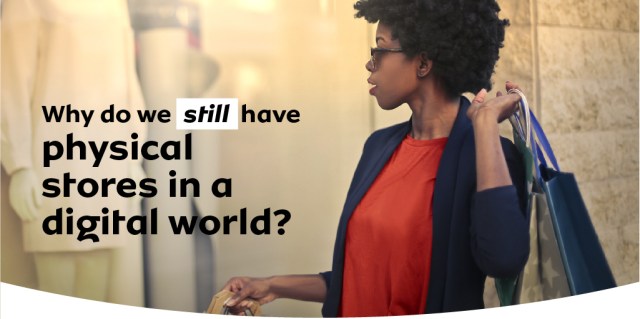 Stores Create Jobs
With more people to serve, comes the need for more physical stores and people to work in them. The retail industry is people-centred and therefore creates a lot of jobs. In areas where trading hours are extended, shop managers and assistants, cashiers and cleaners work in shifts so that balance between personal and work life, and the consumer demand, is optimized. Without brick and mortar stores for people to visit, the unemployment challenge would become even bigger.
A Human Link to a Digital World 
Even if you aren't a first-time buyer, a friendly face to help navigate the digital world is essential. For people who aren't considered digital natives with an innate understanding of how their devices and programs work, having a real person to help troubleshoot or discover new tricks and tips can be the difference between seeing the digital world as an overwhelming or awe-inspiring place.
For now, in Africa, enjoying the benefits of a modern connected life begins in the physical world.