SMMEs are the spark to ignite SA's growth and jobs recovery in the modern, digital world
21 July 2022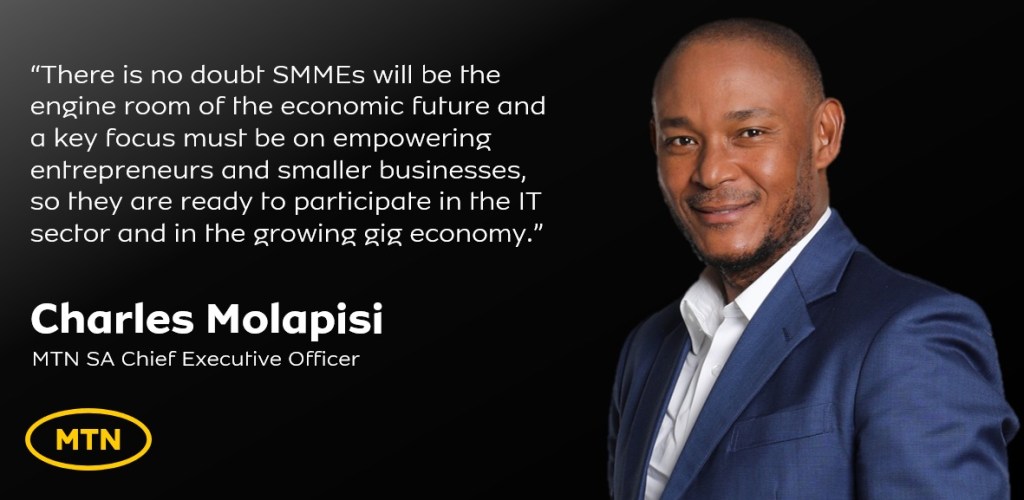 MTN SA believes that the power of technology is the key to unlocking South Africa's potential and creating jobs and opportunities. This comes as billions of online connections every day between people, devices and products rapidly reshapes the future of business, opening the door to many opportunities. Understanding and adapting to these trends, re-skilling, up-skilling and being more innovative is now more critical than ever.
There is no doubt SMMEs will be the engine room of the economic future and a key focus must be on empowering entrepreneurs and smaller businesses so they are ready to participate in the IT sector and in the growing gig economy. Small and medium business growth will be the spark to ignite and accelerate growth closer to 5% and at MTN we want to support this at every step by being a true partner. We want to help those who do business to do it better and smarter, as we build an economy that harnesses the benefits of the modern, connected world.
Increasing economic growth will however require business and labour to endorse a shared vision. SA has the talent, but the private and public sectors need to ensure it is supported more broadly to enable success on all fronts. This will also require the private sector to play a bigger role as an incubator for skills (including businesses in value chains) and strengthened financial services to help increase access for SMMES to more effective innovations and solutions.
South Africa's National Development Plan makes an important nod in this direction. It says the country has the potential to create 11 million jobs by 2030 – but acknowledges the need for better policies, more public-private sector partnerships, up-skilling and higher competition, among others. The role of SMMES features strongly in these plans, with employment scenarios suggesting that most new jobs are likely to be sourced in domestic-orientated businesses, and in growing small- and medium-sized firms. While most jobs are not created directly in exporting firms, the plan acknowledges that sectors that are globally traded tend to have more potential to stimulate domestic spin-offs. It is clear to me that the digital economy needs to feature far more strongly in these discussions and plans in future if we are to reach these targets and accelerate growth.
A good example of these partnerships and commitment to growth and SMME support in action is MTN SA Foundation's ongoing support of digital entrepreneurs. It is amazing to see the partnership between the Foundation, Hodisang Dipeu Holdings, the University of the Free State and the Datacomb Development Hub, for instance, grow from supporting 60 SMMEs to 100 SMMEs benefitting from the programme in 2021. We want to grow this even further in future and it is only one of many ways we are driving support for entrepreneurs, consumers and businesses across our value chain.
Clearly, a bright future lies ahead for those who can harness the digital opportunity the fastest as the digital economy continues to grow at a rapid rate in SA and across Africa. Just consider the upside for a minute – while it took nearly a decade for the mobile industry to reach its first 100 million monthly active accounts, it has taken just over five years to reach another 200 million and Africa – led by Sub-Saharan Africa – is leading the way.
Today, Africa's mobile service subscription figures are skyrocketing, with 615 million users in sub-Saharan Africa expected to subscribe to mobile services by 2025, according to the GSMA. This presents an immense opportunity and is testament to Africa's potential and capacity. In fact, Africa is increasingly a place where innovation begins in the tech space. There were, for instance, more investment rounds for African tech start-ups last year than ever before. Now that COVID-19 subsides, we can expect even more in the year ahead.
The recent GSMA State of the Industry Report on Mobile Money for 2021 shows that the recent growth trend remains firmly in place. It highlights that in low- to middle-income countries, mobile money is now far more accessible than any other type of digital financial service (including app-based platforms), particularly outside urban centres. Southern Africa grew the fastest at 24% year on year. Notably, the value of mobile money merchant payments grew by 43% compared to 28% in the previous year.
Businesses, however, need to adapt to stay ahead and ensure they can meet the growing needs of their customers, who expect to be dealing with tech-savvy, modern and digitally thinking operations. MTN understands these trends and aims to continue building and innovating to support the growth of SMMEs.
A wonderful opportunity lies on our doorstep, but there is no time for delay. We must act with speed and purpose to contribute value to the Fourth Industrial Revolution. If we don't, Africa will be behind the tech curve and it will not be able to enjoy the benefits of this exceptional time of global change.