MTN's sustainability focus recognised with top showing in brand survey
19 April 2023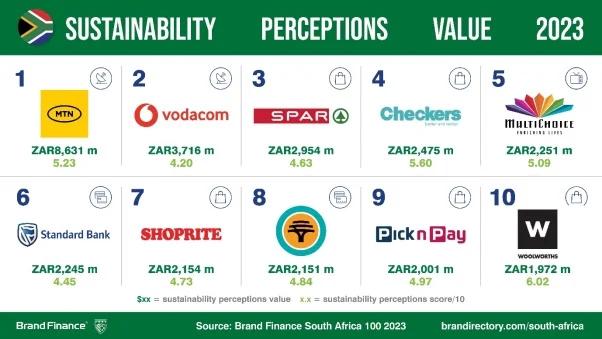 MTN Group's strategic priority to create shared value with ESG at the core was recognised in the latest Brand Finance awards, attracting the highest 'sustainability perceptions value' of all companies in the survey in which MTN retained the rank as South Africa's most valuable brand.
Brand Finance's 'South Africa 100 2023' assigned MTN a brand value of R74.3 billion, up 24% in the year and nearly double that of the country's second most valuable brand. It said this was the twelfth time in the past thirteen years that MTN was the country's most valuable brand. It gave MTN a 'sustainability perceptions value' of R8.6 billion.
Brand value is the net economic benefit that a brand owner would achieve by licensing the brand in the open market.
In the survey, Brand Finance said: "MTN's brand value continued to grow in 2023, meaning that its value is now up 50% from its pre-pandemic level. This is an impressive statistic considering the difficult operating conditions and the complex geopolitical environment that the brand has been faced with."
It said 'sustainability' was one specific brand attribute that was growing in significance in terms of driving overall brand value. "As well as being South Africa's most valuable brand, MTN also has the highest sustainability perceptions value of any brand included in the South Africa 100 2023 ranking – ZAR8.6 billion. This indicates how much brand value MTN has tied up in sustainability perceptions (11.6%)."
MTN Group President and Chief Executive Officer Ralph Mupita said the survey results were an indicator of the work done to deliver on the Group's strategic intent, which is Ambition 2025 strategic: Leading digital solutions for Africa's progress.
"We are driven to extend digital and financial inclusion across our markets, and we thank all our stakeholders – from our subscribers, to our employees, to our nation state hosts and regulators – for their continued support. You inspire us to keep doing better together."