Empowering Vulnerable Communities: MTN's Commitment to Inclusive Technology
18 September 2023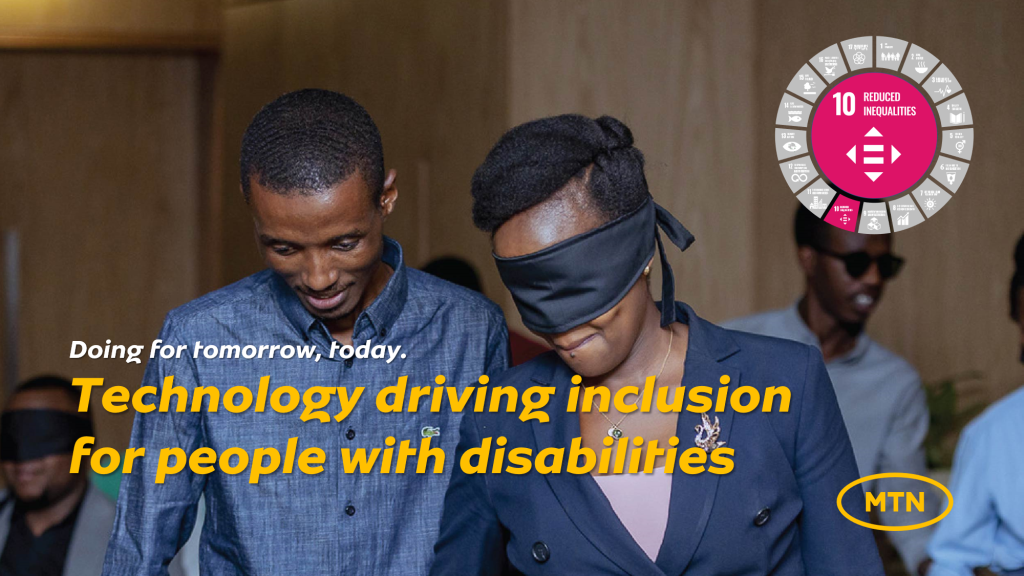 It is said that the true measure of any society can be found in how it treats its most vulnerable members. At MTN, we take this to heart and are deliberate in ensuring our customers experience our inclusive culture at various touchpoints, such as retail outlets and service centres. 'Leave no one behind' is the central, transformative promise of the 2030 Agenda for Sustainable Development, and our drive to digitally include vulnerable members of society aligns closely with UNSDG 10: Reduced Inequalities.
Driven by our core belief that everyone deserves the benefits of a modern connected life, MTN focuses on driving digital inclusion of all, with particular emphasis on vulnerable and marginalized groups. This includes women, children, youth, persons with disabilities, refugees, and rural citizens.
Spotlighting our specific efforts to drive inclusion of persons with disabilities is more critical than ever, given that, according to the World Health Organization, an estimated 1.3 billion people, or 16% of the global population, experience a significant disability. Astonishingly, 80% of this demographic resides in low- and middle-income countries. Mobile devices and services offer life-changing benefits, enabling more independent living. Yet, GSMA research indicates that many persons with disabilities remain unconnected and digitally excluded. MTN is actively working across its markets to rectify this.
MTN Rwanda introduced a programme in partnership with the National Union of Disability Organisations of Rwanda. The aim is to make MTN's service and products more accessible to persons living with disabilities and to find ways to raise awareness and support the initiatives of the different organisations. Through this initiative, MTN Rwanda included sign language communication in all its television advertisements and interpreters in its call centre to aid persons with disabilities via video calls.
MTN eSwatini has also joined this inclusive movement by training its frontline and contact centre staff in sign language. This training supports the government's agenda to be more inclusive of people living with disabilities. Customers can directly reach MTN eSwatini at 76 061 954 and access special bundles designed for the differently abled. These services have led to a 62% increase in video-calling interactions at our contact centres in the latter half of 2022 alone.
In South Africa, MTN is piloting an innovative national relay service (NRS) to serve visually and hearing-impaired people. The system harnesses the power of technology to enable users to make and receive phone calls. The pilot project, in partnership with Convo South Africa – a deaf-owned company – aims to expand communication access for those who otherwise could not communicate via voice call, audio, or video. Depending on the type of call, an operator speaks, types, or uses sign language when facilitating calls for or between deaf, hard-of-hearing, or deafblind South Africans. This initiative has made contacting emergency services more efficient for over 2.8 million South Africans with hearing or speech impairments.
MTN Cameroon is increasing their efforts to employ people with disabilities, train and render technical support to ensure an inclusive retail experience. This initiative is currently being scaled to our other operating markets.
As we forge ahead, MTN remains steadfast in its commitment to bridging the digital divide and fostering an inclusive society. Through these initiatives, we're connecting communities and enriching lives, one individual at a time.