Africa-America Institute honours MTN with 2023 Corporate Responsibility Award
20 September 2023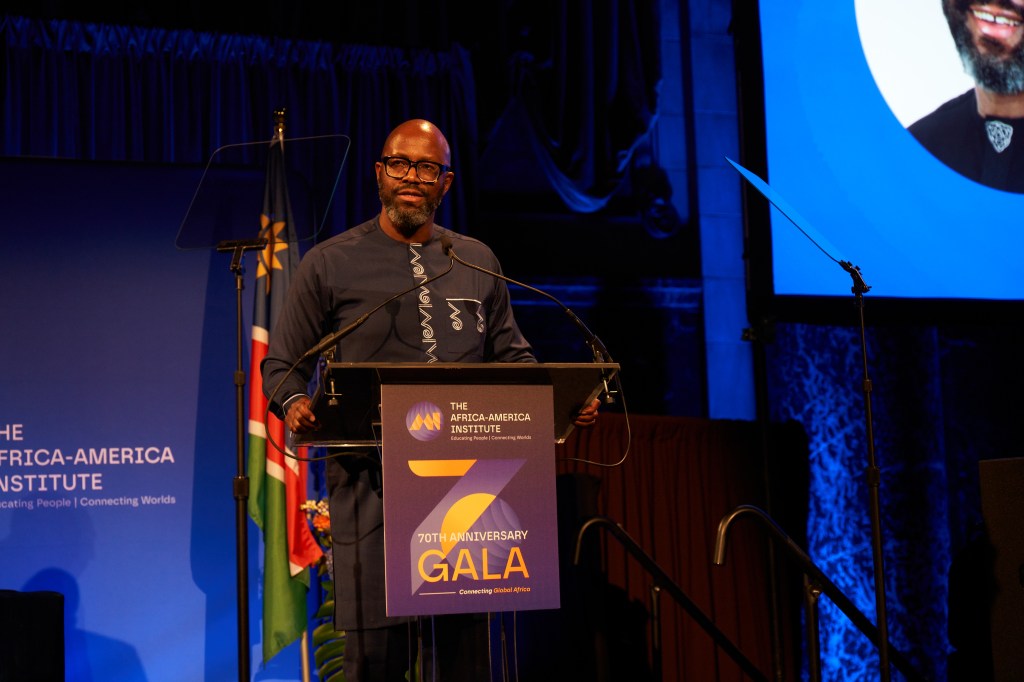 MTN is honoured to have received The Africa-America Institute's 2023 Corporate Responsibility Award, which recognises corporations that have made significant contributions to Africa's progress and demonstrated a commitment to sustainable and inclusive growth, positively impacting communities and industries.
The accolade was presented at AAI's 70th Anniversary Gala event in New York on Tuesday evening.
"As Africa's largest mobile network operator, MTN has contributed to a revolution in the way Africans communicate with each other and the world – bridging the digital divide, catalysing economic growth, and raising living standards across the continent," said AAI President and CEO Kofi Appenteng.
"MTN has been fundamental in supporting collaboration and the continent's ability to share its achievements and history, something that is at the core of AAI's mission. MTN's work and that of its foundations is an inspiration. The company's commitment to inclusive connectivity, gender equality, accelerating financial inclusion, and empowering employees and communities deserves recognition," he added.
MTN Group President and CEO Ralph Mupita accepted the award on behalf of MTN's more than 17 000 employees across 19 markets: "We are humbled by this recognition. We are also inspired and encouraged to continue to drive digital and financial inclusion and create shared value. We believe this work gives Africans dignity, hope, and opportunity."
Latest data from the GSMA and Broadband Commission shows that for every 10% increase in internet use, GDP grows by an additional 1.5%. However, a third of the world's population does not use the internet at all.
"These people are still not digitally connected and could well end up as a digital underclass," said Mupita, adding that priority must be given to investments in digital infrastructure and services to avoid even more inequality. "We must ensure that as technologies such as AI develop, we also get large language models trained on African languages. Initiatives such as conversational payments that are taking root in places like India must come rapidly to Africa."
MTN Group's Chief Sustainability and Corporate Affairs Officer Nompilo Morafo said the AAI recognition was both a validation and an inspiration for MTN's commitment to responsible business practices and sustainable growth. "Our business has always been about more than connectivity; it's about empowering communities, driving inclusion, championing diversity, and ensuring that our operations leave a positive, lasting impact."
The AAI's Annual Awards Gala, held during the United Nations General Assembly, is a marquee event celebrating the accomplishments of Africa and its global diaspora. The gathering attracts a diverse audience, including heads of state, diplomats, international officials, philanthropists and business leaders.
"As we celebrate this esteemed recognition, we are reminded that our work is far from complete," said Morafo. "This award fuels our resolve to intensify our efforts. Working together, with our partners, communities, governments, and other stakeholders, we will continue to champion initiatives that drive Africa's digital transformation and socio-economic betterment," she added.
To focus MTN's CSI efforts and maximise their impact, MTN launched our first foundation in 2001 in South Africa. Since then, we have rolled out another 12 foundations across 18 markets and impacted the lives of more than 40 million people in the last four years alone. We focus on strategically building an ICT ecosystem to deliver greater inclusion to the most vulnerable, with a special focus on enabling digital skills for digital jobs to address job creation, enhance competitiveness, and drive inclusive growth for the communities we serve.