Tag:
Investors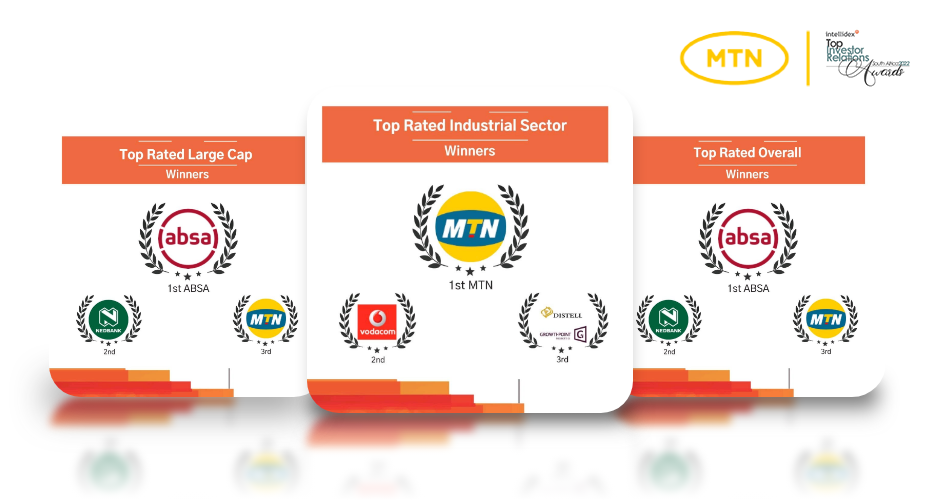 MTN Group has been recognised as having one of South Africa's finest Investor Relations teams, scooping three awards at the inaugural Intellidex Top Investor Relations SA Survey Awards.
Investment analysts and portfolio managers surveyed for the awards placed MTN Group first in the industrial sector, third among large cap stocks listed on the JSE, as well as third in the overall rankings.
"MTN Group is honoured to have received this recognition, which is evidence of our commitment to transparent communication with our stakeholders, in this case the investment community," said Group CFO Tsholo Molefe. "We strive to keep the capital markets appraised of our progress as we execute on our Ambition 2025 strategy, which is centred around driving accelerated growth,  faster deleveraging, and revealing value within its financial investments and platforms."
Respondents shared their views on the quality of investor relations among JSE-listed companies and were asked to rank the best and worst five companies among those they cover. They were also asked to rank these companies on a number of factors including the quality of engagement with senior management, annual reports, notes to the financial accounts, presentations, earnings and booklets.
"We are humbled by the recognition and grateful to our investors, analysts and other stakeholders who engage MTN," said MTN Group Executive for Investor Relations Thato Motlanthe. "This feedback is invaluable in driving our Investor Relations programme and journey of progress. It's also important to acknowledge the hard work of the Investor Relations team at MTN, the collaboration of the various teams within the Group as well as the guidance and support of Management and the Board. It is all critical in enriching MTN's Investor Relations effort."
The introduction of this survey is expected to improve engagement by listed companies with the investment community, with this ultimately encouraging better communication.
MTN Uganda Limited announces that it will proceed today with the listing of its 22.4 billion ordinary shares on the Uganda Securities Exchange (USE), with trading commencing immediately.
The listing has received the requisite approvals from the Capital Markets Authority in Uganda and the USE. It follows the successful completion of the largest initial public offering in Uganda's history, raising a record UGX535 billion from applications for 2.9 billion shares (including incentive shares).
"We are delighted with the successful completion of the offer. It clearly shows the confidence that Ugandans and other investors have in the company, its brand and its strategic intent," said MTN Uganda Chairman Mr. Charles Mbire.
"We commend all the regulators for their support in our work to become a USE-listed company and to comply in a timely manner with the listing provisions of the national telecommunications operators' licence," he added.
MTN Uganda CEO Wim Vanhelleputte was also in a celebratory mood: "Today marks the conclusion of a remarkable journey which has given over 20 000 Ugandans the opportunity to become owners of MTN Uganda."
"We are particularly proud of our digital m-IPO collaboration with the USE, an African first. More than 93% of the applications were made via the m-IPO platform, with the majority of these investors new market participants," he added.
The listing reduces the ownership of MTN Group in MTN Uganda from 96% to 83.05%. It is in line with MTN Group's strategic priority to create shared value, partly through ensuring broad-based ownership in all operating subsidiaries. This aligns with the Ugandan Communications Commission's new licensing requirement for broad-based ownership by Ugandans, with a compliance deadline of mid-2022.
"With this listing, MTN Uganda becomes the Ugandan stock with the largest market capitalisation on the USE," said MTN Group President and CEO Ralph Mupita. "We are very encouraged to have helped facilitate the broadest possible shareholder base in Uganda, with regional participation and in so doing, further developing the equity capital markets in this country."
MTN Nigeria Communications Plc (MTN Nigeria) is pleased to announce the launch of a nationwide roadshow to engage interested retail investors in the on-going offer by MTN Group for shares in MTN Nigeria. The first event of the roadshow was today in Abuja.

MTN Group Chairman Mcebisi Jonas and MTN Group President and CEO Ralph Mupita attended the roadshow, which is being held on the sidelines of the state visit to the Federal Republic of Nigeria by South African President Cyril Ramaphosa. Both countries are also participating in the 10th Bi-National Commission.
Jonas said the offer to retail investors to buy shares in MTN Nigeria was a milestone: "We are delighted to be here to mark this momentous event and would like to express our thanks to the regulator and MTN Nigeria's broader stakeholder base for their support over the years. MTN is a pan-African company which works to deepen inclusion and create shared value."
Mupita said the MTN Group had made a clear strategic decision to build shared value across operations: "The best way we can do that is by enabling broad ownership in our operating companies. This offer is the first phase of that process in Nigeria, as we progressively reduce our shareholding from 78% to 65% over time. I am incredibly proud to be able to be here today, engaging directly with the Nigerian shareholders we hope will join us on the next phase of our journey."
MTN Nigeria Chairman Ernest Ndukwe said the company's success over the past 20 years would not have been possible without a supportive operating environment. "This MTN story is also a demonstration of the opportunity that Nigeria represents for investors," he said.
MTN Nigeria CEO Karl Toriola said the offer had been structured to be available to as many Nigerian investors as possible: "Today's roadshow in Abuja is the first in a schedule that takes us to every state of the Federation over the next two weeks. It is really important for us to provide Nigerians across the country with the opportunity to engage with us as we build a shareholder base that is nationally representative."
The offer opened at 8:00am on 1 December 2021 and will close at 5:00pm on 14 December 2021. The minimum subscription is for 20 shares and lots of 20 shares thereafter. The offer includes an incentive in the form of 1 free share for every 20 shares purchased, subject to a maximum of 250 shares per investor. The incentive is open to retail investors who buy and hold the shares allotted to them for at least 12 months after the allotment date.
Investors are able to submit applications through the issuing houses, receiving agents (authorised stockbrokers and Nigerian banks) and online via a unique digital application platform, PrimaryOffer, administered by the Nigerian Exchange Limited.
Further details and a full directory of authorised receiving agents are at www.mtnonline.com/PO.
MTN Group is pleased to announce that the Securities and Exchange Commission (SEC) has approved an offer for sale of up to 575 million ordinary shares in MTN Nigeria, by way of a bookbuild to qualified investors (Institutional Offer) and a fixed price to retail investors (Retail Offer).

The Institutional Offer opens on 23 November 2021 and closes at 15.00 SAST on 26 November 2021, after which a fixed price will be determined for the Retail Offer. The Retail Offer is proposed to open after the Institutional Offer, and an announcement will be published in this regard once clearance is obtained from the SEC.
"MTN Group is pleased with the launch of this public offer. This is the first step in a series of offers over the near to medium-term for MTN Group to sell-down a total of up to 14% shareholding in MTN Nigeria. This should result in greater ownership by Nigerian institutional and retail shareholders, and increased liquidity of the share on the Nigerian Stock Exchange." said Group President and Chief Executive Officer Ralph Mupita.
MTN Group currently holds 78.8% shareholding in MTN Nigeria.
MTN Group is today pleased to announce a solid set of third quarter operating results, plans for a public offer of shares in MTN Nigeria, progress in finalising a passive infrastructure deal for MTN South Africa as well as in our work to create shared value across our 20 markets, with ESG at the core.

For the quarter to end-September 2021, the Group also reduced debt and holding company leverage, recorded strong financial results in line with medium-term guidance and advanced the delivery of our Ambition 2025 strategy.
"It's been a busy quarter, and I'm particularly pleased with the sustained operational momentum across our businesses," said MTN Group President and Chief Executive Officer Ralph Mupita.
"Material progress was made in accelerating the deleveraging of the holding company balance sheet, and our asset realisation programme and portfolio optimisation priorities are progressing well. The process of structurally separating our fintech and fibre assets remains on track."
He added that the debt reduction led to S&P upgrading MTN's standalone credit rating to investment grade – a level last achieved five years' ago.
At period-end, the group subscriber base was 272m.
Driven by continued strong growth momentum in major markets Nigeria, Ghana and South Africa, MTN Group's service revenue ramped up 19.1% to R125 billion in the first nine months of the year. Data and fintech service revenue increased by 34.5% and 35.0% respectively. Earnings before interest, tax, depreciation and amortisation (EBITDA) increased by 24.1%, with margins expanding 2.1 percentage points to 45.0% on a constancy-currency basis.
We advanced financial inclusion, reaching 51 million Mobile Money customers in 16 markets, processing almost 20 000 transactions a minute, with the value of transactions up 67.2% year-on-year to US$175.5bn.
As part of our asset realisation programme, the listing of IHS was an important milestone, creating a liquidity platform for the future to deleverage further. Our further localisation in Uganda with the intention to sell 20% of the Group's holding in MTN Uganda is in progress.
We are also announcing a public offer of just under 3% of shares in MTN Nigeria as part of the statement of intent communicated previously to further localise 14% of the Group's holding in MTN Nigeria over the medium term. MTN South Africa is making good progress with a sale and leaseback of its towers.
Aligned to our commitment to achieve net zero by 2040, we started working with the Science-Based Targets initiative to reduce our emissions in line with climate science. In joining Business Ambition for 1.5°C, MTN became part of the UN-backed Race to Zero campaign. In recognition of the strides made in governance practices, our MSCI ESG rating was upgraded to 'A' from a rating of 'BBB'.
Looking ahead, Mupita was encouraged that the number of new COVID-19 cases across Africa had started to slow, but said the pandemic continued to impact lives and livelihoods and demand for mobile services: "It highlights the vital importance of telecommunications as people rely on these services for information and to work, learn and entertain from home. We as MTN are well positioned to deliver and will invest in line with our capital allocation framework to capture these opportunities."
MTN Group is pleased to announce that progress in reducing our holding company debt has been recognised by rating agency S&P Global Ratings, which has upgraded the Group's standalone credit rating to investment grade.


S&P has revised MTN's standalone credit profile to bbb- from bb+, citing progress made in deleveraging the balance sheet and on the expectation that MTN will not return to higher levels of leverage. A standalone rating excludes S&P's view of government influence and sovereign risk.
"We are very encouraged that our work to reduce debt has been recognised, with a move up to investment grade," says MTN Group Chief Financial Officer Tsholofelo Molefe. "Faster deleveraging of our holding company balance sheet is a critical element of our Ambition 2025, and today's announcement is another important indicator that we are on track with the delivery of our strategy."
The last time MTN Group had an investment grade rating was five years ago, in 2016. By reducing debt, MTN has greater financial flexibility to take advantage of the attractive growth opportunities that we have identified. Central to reducing debt is our asset realisation programme which aims to realise proceeds of more than R25 billion by 2025.
In line with our Ambition 2025, our medium-term guidance includes a target to achieve leverage ratio of the holding company of less than 1.5x. At the end of June 2021, MTN's holding company leverage improved to 1.4x from 2.2x at end-December 2020. This was supported by significant progress in upstreaming cash from our operating companies, including from Nigeria.
On Friday, S&P also affirmed MTN's BB- long-term issuer credit rating, with a stable outlook.
To access the published SENS, please click here
MTN Group has received recognition on the 2021 Fortune Change the World list. The Change the World List is a global ranking of the top 53 companies that make a measurable progress addressing pressing social problems as part of their business strategy.

"MTN is humbled to be recognised on the Fortune Change the World list. We are committed to changing the world through meaningful contributions to the societies across the markets in which we operate," says MTN Group President and CEO Ralph Mupita. "Our networks, products, and services are supplied with the intention of closing the digital divide by facilitating digital communications and financial inclusion."
The publishers of the Change the World list have noted that many of this year's honourees are battling to reverse the neglect of some societal needs, as magnified by the pandemic. These companies are investing in the long-term health of their businesses by supporting those on the lower stages of the global economic ladder, including distributing COVID-19 vaccines in low- and middle-income nations.
Since the start of the spread of COVID-19, MTN has remained committed to playing a part in the ongoing fight against the pandemic through our global mask wearing awareness campaign #wearitforme and #onemorepushafrica. Heeding the call for vaccinations across the African continent, MTN donated US$25 million to support the African Union's COVID-19 vaccination programme. The donation to Africa Centres for Disease Control and Prevention (Africa CDC) will help secure up to seven million doses of the COVID-19 vaccine for health workers on the continent.
Also noted during the pandemic, the urgent need to stay connected, saw data traffic soaring by 110% in 2020. MTN was able to address gaps in connectivity by improving the affordability of its services, whilst providing digital and financial solutions to consumers and businesses, and helping to drive digital inclusion to the most vulnerable and marginalised communities on the African continent.
For MTN, better connectivity doesn't mean less eco-responsibility. MTN works with its partners to make sure we limit our environmental impact and safeguards biodiversity around every cell tower we build. MTN has also set science-based targets of reducing greenhouse gas emissions by 47% by 2030 and achieving net-zero emissions by 2040.
For us, this is about being part of the long-term solution, harnessing the power of partnerships to act swiftly to address the challenges brought on by the pandemic, whilst prioritising our people, customers, and communities, as well as looking after our businesses and the environment. It is for this reason, we continue to believe in the power of collective action to make a meaningful difference, focusing our efforts where needs are greatest.
Read more:
These companies are changing the world
How a pan-African company is connecting the world—responsibly
For the second year in a row, MTN Group has been named the most valuable African brand in the Brand Finance Africa 150 rankings, which assigned the group a brand value of US$2.7 billion – US$1.0 billion above the next most valuable brand.

A report on the 2021 survey's findings states that "the telecoms giant dominates on home soil too, this year holding onto its decade-long reign as South Africa's most valuable brand".
Brand value is defined as the "net economic benefit that a brand owner would achieve by licensing the brand in the open market".
Brand Finance Africa said the value of the continent's top 150 brands fell by a combined US$5.5 billion in 2021, largely because of the COVID-19 pandemic creating uncertainty and impacting brands' ability to do business as usual. In 2020, it had assigned MTN a brand value of US$3.3 billion.
MTN Group CEO Ralph Mupita said the latest accolades were achieved thanks to the hard work of MTNers across the continent and their commitment to bringing to everyone in 17 African markets the benefits of a modern connected life.
"We are both humbled and inspired by the confidence our customers and broader stakeholders continue to place in the MTN brand. At the core, a brand is about exceeding promises, expectations and delivering true value," Mupita said.
"MTNers know this is the work that needs to be done every day, everywhere, as we remain focused on our core belief that everyone deserves the benefits of a modern connected life."
MTN Group on Friday announced a strong set of financial results for the third quarter, supported by the performance of its larger operations in South Africa, Nigeria and Ghana, and good group-wide growth in subscriber numbers despite challenging trading conditions which have taken a toll on people everywhere.
"As the COVID-19 pandemic has continued to impact lives and livelihoods across our markets, the group has demonstrated strong operational execution and resilience," said MTN Group president and chief executive officer Ralph Mupita.
To meet the increase in data and digital usage, he added that MTN had focused its investment on network capacity and resilience and modernising its IT systems, spending R16 billion in the year to the end of the third quarter.
Service revenue grew by 11,4% to more than R43 billion. Earnings before interest, tax, depreciation and amortisation (EBITDA) increased by 13,9% and the group EBITDA margin widened by 1,4 percentage points to 43,3%, in line with medium-term targets.
"We recorded solid growth in voice revenue of 3,9%, which reflects an encouraging recovery supported by the easing of lockdown restrictions," said Mupita. "Data revenue grew by 31,9%, bolstered by increased demand for work-from-home services, digital entertainment as well as online education offerings."
The group also reported growth of 21,0% in fintech revenue and 37,5% in digital revenue, driven by the increased adoption and usage of digital offerings.
In the quarter, MTN added 12 million subscribers to reach a total of 273 million across 21 markets, as well as adding 5,3 million active data users to 107 million. In our work to enable greater financial inclusion, we reached a significant milestone by surpassing the 40 million MTN Mobile Money (MoMo) user mark, an addition of 3,5 million in the quarter to 41,8 million at end-September.
"Apart from greater adoption brought on by COVID-19, more people used MoMo because of enhancements to the functionality of the MoMo app, the large increase in registered MoMo agents, as well as the integration of MoMo into our instant messaging platform Ayoba in some of our markets," said Mupita.
MTN South Africa performed particularly well, sustaining its turnaround, with an acceleration in its core consumer and enterprise business units. MTN Nigeria recorded a solid result with some recovery in revenue growth under difficult operating conditions, and MTN Ghana delivered another good performance.
As part of its asset realisation programme, MTN Group completed its exit from its 18,9% investment in e-commerce venture Jumia as well as the localisation of an 8% shareholding in MTN Zambia, realising net proceeds of approximately R2,3 billion and R204 million respectively.
Looking ahead, Mupita said the group remained focused on managing the impacts of the COVID-19 pandemic on its staff, customers, networks and the balance sheet and liquidity profile of the group. Through its Y'ello Hope initiative, it would continue to support those stakeholders who have been particularly hard hit by the pandemic.
"Despite the relaxation of lockdown restrictions, the operating environment remains challenging and uncertain. We will continue to build on our operational and financial resilience. We have now increased our full year forecast for capital expenditure to R26 billion, to ensure that our networks provide reliable connectivity and digital services to all of our 273 million-and-growing subscriber base," he said.
MTN Group today announced a positive service revenue trajectory in the first quarter financial results for the year ended 31 March 2020
Speaking on the results MTN Group president and CEO, Rob Shuter said: "The effects of the COVID-19 pandemic on the global economy have brought about unprecedented uncertainty, volatility and challenges which are impacting our markets at both the socio-economic and macro-economic levels. The impact of the pandemic on our quarter one performance was not significant as lockdown restrictions for our consolidated subsidiaries were only implemented from the last week of March 2020.
We continued to build commercial momentum adding 6,6 million subscribers in the quarter, with active data users increasing by 2,9 million and MoMo subscribers by 0,4 million. We continued to scale our Ayoba platform recording 2,6 million monthly active users. We accelerated our MoMo agency network in Nigeria, under our super-agent licence, adding 70 000 agents in the first quarter, bringing the total number of registered agents to 178 000.
On strategic progress, the digital business returned to growth, booking 15.6% in the quarter. In MTN SA the enterprise business recorded its second quarter of growth and in May we commenced phase 2 of the national roaming agreement with Cell C and look forward to a continued partnership.
In these difficult times we continue to focus on our key priorities: looking after our people, our customers and our networks while we focus on efficiencies. For our people, the immediate priority is their health and safety, where the work-from-home programmes across our markets empower our staff to work remotely while ensuring continuity in our operations. For our customers, we have ramped up our digital channels as a service alternative, to enable them to continue purchasing airtime and accessing our products and services seamlessly as well as launching Y'ello Hope Packages in most of our markets.
Our various initiatives support governments across our markets with communication systems and connectivity as we do our part to help minimise the economic and social impact.
The COVID-19 situation is an evolving one and will undoubtedly impact the year ahead. Given the uncertainties associated with the duration and economic impact of the pandemic, it is difficult to reliably quantify the direct and indirect financial impacts on the business at this early stage. The group will continue to focus on business continuity and efficiency, and we have implemented strict measures to preserve resources and strengthen our resilience."
Financial Performance
For the first quarter, MTN delivered a solid performance increasing constant currency service revenue by 11,1% and EBITDA by 15,6% with EBITDA margin improving by 2,1pp to 43,2%, in line with medium-term targets. The group recorded voice, data and fintech revenue growth of 6,3%, 26,4% and 26,0% respectively as we continued to execute on our strategic objectives and progress toward becoming a digital operator. Digital revenue has returned to growth, increasing by 15,6%.
MTN Group CFO, Ralph Mupita concluded, "We are encouraged by the service revenue growth of 11.1% which we achieved on a constant currency basis, this translated to 16.5% on a reported basis. Good cost control across the group supported the increase in group EBITDA margins, with a particular strong performance from MTN Ghana. Notwithstanding the impacts of COVID-19 in the first quarter, the balance sheet remained resilient and our cash and committed undrawn facilities was approximately R45 billion at the holding company level, providing us with sufficient liquidity during these uncertain and unprecedented times.
We have experienced a continued surge in data traffic during the month of April, but voice traffic and mobile money transactions were under pressure given various lockdown measures taken across markets. Where lockdown measures have been lifted or relaxed recently, voice recharges and mobile money transaction volumes have improved. For now, we are maintaining our 3 – 5 years medium-term guidance but will update the capital markets in August of any changes when we release our H1 2020 results."
Looking ahead
The current environment is marked by significant uncertainties. It is still too early to assess the economic impact of the pandemic on our customers and reliably quantify the direct or indirect financial effects on our business. The remainder of the year will be shaped by the ramifications of the pandemic, and we will continue to update all stakeholders as the effects become clearer.
We are not only focused on managing the risks brought about by COVID-19, but also on the opportunities it creates in the accelerated digitalization it has brought about. We believe we are well positioned as a company to benefit from this evolution, especially given our focus on growth in our data, digital and financial services businesses. The Group remains focused on the execution of our BRIGHT strategy to deliver sustainable growth in our operations and value to our stakeholders.