MTN, Huawei sign MoU to advance digital inclusion and sustainable development
27 February 2023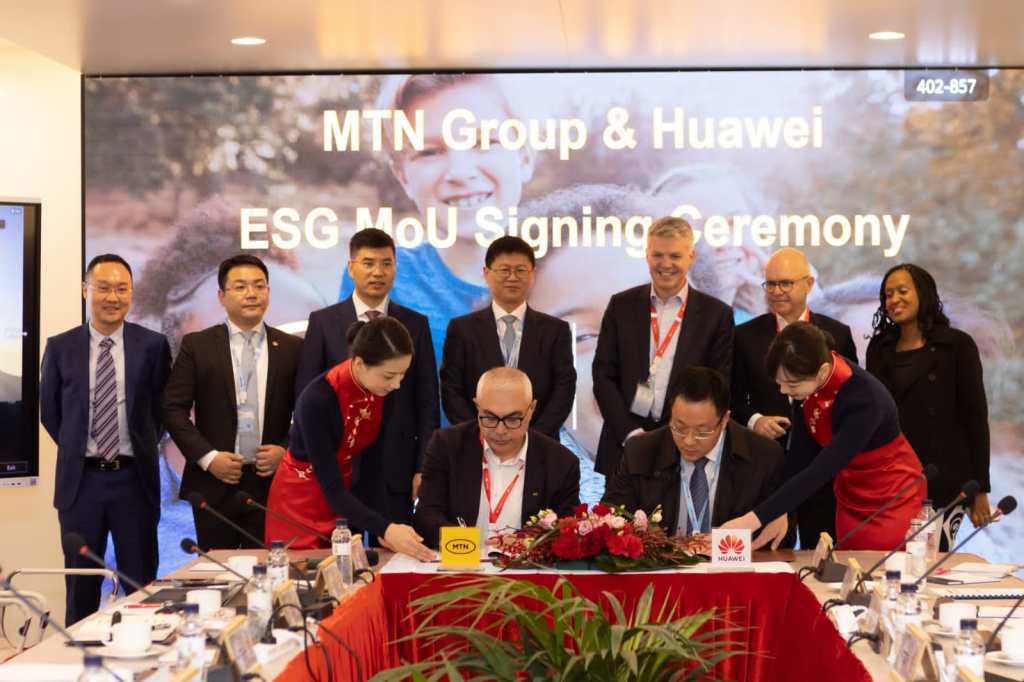 MTN Group and Huawei today signed a memorandum of understanding to strengthen strategic cooperation in environmental, social and governance matters.
The MoU, signed at MWC Barcelona, is aligned with MTN's Ambition 2025 strategy and Huawei's Corporate Sustainability Development strategy, including its TECH4ALL initiative.
"Leading digital solutions for Africa's progress can only be achieved through the power of partnerships," said MTN Group Chief Sustainability & Corporate Affairs Officer Nompilo Morafo. "Working with companies like Huawei, we can pool our technologies and expertise to drive greater access to connectivity, digital skills and greener and more sustainable solutions to the benefit of all."
Li Peng, Member of the Huawei's Supervisory Board and President of the Carrier BG, said Huawei expects to work closely with MTN Group on rural coverage, reaching net zero and digital skills training: "We believe that digital technology will become an important force driving social development and making the world more inclusive and sustainable."
The Huawei DigiTruck provides free training in digital skills for those in need, including rural communities, the elderly, the unemployed, and girls and women in particular. Converted from a used shipping container mounted on a truck, the DigiTruck is a solar-powered mobile classroom equipped with laptops, smartphones and 4G connectivity.
It is complemented by the Huawei ICT Academy, which trains university students in ICT skills such as 5G, cloud computing and AI. There are 1 900 Huawei ICT Academies in 110 countries, serving around 150 000 students a year.
MTN's Skills Academy seeks to enhance the link between digital skills training and demand for jobs to ensure that people across the continent are producers, consumers and innovators of digital technologies.
Today's partnership agreement seeks to accelerate efforts to reach more rural and remote communities and to broaden the portfolio of available digital skills training.
With a significant portion of Africa's population living in rural areas, MTN is committed to expanding our network to under-served communities and reach a target of 95% rural broadband coverage by 2025. The partnership with Huawei will support the achievement of this target as well as our approach to expand the number of collaborations and the types of partnership models we follow.
MTN and Huawei are collaborating on deploying RuralStar, an affordable connectivity solution for providing online access to remote and rural communities. The solution overcomes traditional barriers that make network connectivity in such scenarios unviable for carriers. The parties will extend their collaboration following the completion of the first RuralStar proof-of-concept in Ghana in 2017.
In terms of reducing carbon emissions, Huawei will support MTN's commitment to minimise the impact on the planet and achieve net zero by 2040. The partners will work on decarbonising MTN's telecommunications infrastructure, spanning radio access network (RAN) sites, transport networks, storage and data centres. Network decarbonisation will be done via a mix of energy efficiency technologies and the application of innovative green solutions.