Millions of Africans are Streaming Local Content
04 December 2019
Storytelling is as old as mankind.
From drawings on the walls of caves, to words on the pages of a book, to scenes played out on stages and screens across the world. Every community in the world has stories to share with the intention of teaching, informing or entertaining.  
The digital world has made a big impact on the way we tell stories today. We tell stories in short form, in long-form, in audio form, visual form, written form, or all forms mixed into one. We tell stories for screens as big as billboards, or as small as smartphones. Our stories have the potential to reach beyond the eyes and ears of those around us, crossing borders and oceans to find a global audience. Stories can be created and published by anyone with an idea and an internet connection, giving us more variety and more content than traditional media ever could. In Africa, stories are in abundance, and the audience is rapt.
"One glance at the content catalogues, and it becomes clear that Africa is teeming with creatives who have a story to tell."
Considering that in 2018, the GSMA reported 774 million mobile SIM connections in sub-Saharan Africa, it comes as no surprise that more people on the continent are watching video content on their mobile devices than on their televisions. While a lot of that content is found on the world's largest social media platforms – Facebook and YouTube – local video platforms are becoming popular too. MTN Shortz is one example of a short-form video platform where African content creators are publishing original content.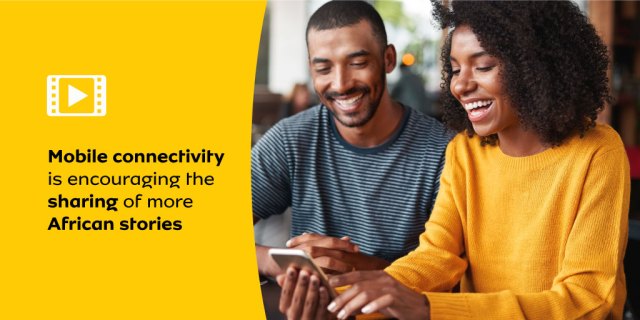 The streaming of local music is also booming on the continent. Whether fans are signing up on Spotify or looking for up-and-coming artists on local platforms like Boomplay, Africa is dancing to the beat of relevant music. Streaming is so popular that millions of African subscribers are engaging with rich media services on MTN's platforms alone.
Other forms of content, including the news, audiobooks, even games and daily jokes are becoming more accessible to mobile subscribers in Africa. In every country where MTN offers rich media services, the content featured on the MTN Play channels is high in volume and unique to each region.  One glance at the content catalogues, and it becomes clear that Africa is teeming with creatives who have a story to tell. The millions of Africans who subscribe to content services to ensure these stories reach their mobile phones make it clear that we want to hear and read and see more.
As more platforms with African roots appear in the digital world, the collective voice of the continent's creative population becomes louder. Our audience is larger and closer than ever before, and mobile connectivity is encouraging the sharing of more African stories.