How a Connected Continent Empowers African Entrepreneurs
10 January 2020
The internet is the ultimate creator of opportunities.
A connected device makes the world more accessible and sets ideas in motion. If you have a business idea, the internet is your resource library to ensure your idea is truly unique. If you have a product to sell, the internet becomes your sales platform, and your target market can be global. If your idea requires funding, the internet is your tool to find the right investors. In Africa, the opportunities the internet provides are grabbed with both hands, taking the continent several steps closer to becoming the next economic giant. Small businesses can reach large markets, while consumers who were previously not prioritized finally have the luxury of choice and variety.
Mobile operators like us are providing connectivity to 560 million people on the continent.
E-Commerce Makes Products Accessible in Africa
A vast terrain and countless small villages means that physical access to a variety of stores is not realistic for many people living in Africa. The rise of e-commerce brings that variety closer to consumers who live in remote areas. In an article for Mckinsey about how e-commerce supports African business growth, the co-CEO of Jumia, Sacha Poignonnec, notes that a lot of their consumers live in small villages and cities outside of the typical metropolitan areas.
While e-commerce provides more choice and accessibility to African consumers, business owners on the continent are able to expand their reach. Internet coverage continues to grow, with mobile operators like us providing connectivity to 560 million people on the continent. Entrepreneurs with brick and mortar shops are able to add a digital element to their businesses at a fraction of the cost of purchasing a new physical property. With a wider audience available online, more products can be sold and small businesses can grow to employ more people.
Tech Hubs are Popping up in Africa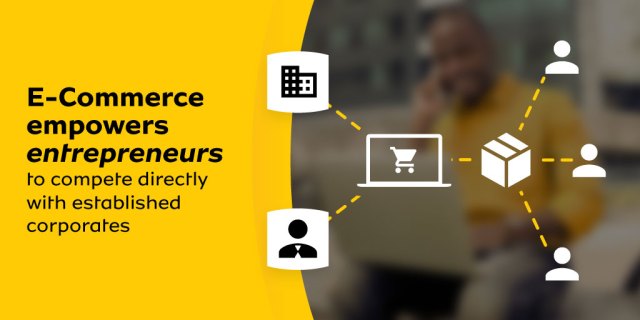 As connectivity becomes more accessible, so does the potential to create tech hubs in Africa.  South Africa's Silicon Cape has become an enabler for tech related start-ups in the country's capital city of Cape Town. Small businesses with big ideas are given the platform to connect with investors and use funding to turn their ideas into global solutions.
Ghana's Silicon Valley has the world looking in the direction of Africa for the next big tech-hub. Their innovation centres not only enable research and education in the fields of Science, Technology, Engineering and Maths (STEM), they are also spaces for product development. Their website describes the innovation centres as spaces which will allow "a strong industry and university research collaboration to develop enhanced products that will make Ghana the envy of Africa for innovation…" Silicon Valley of Ghana recently hosted the largest hackathon in West Africa, where 600 students were trained in software development. With more tech-related training taking place, more opportunities to create jobs and new careers become available.
As people in Africa get access to the internet, the opportunities for people in Africa to become global players in the digital world continue to grow.