From Challenge to Opportunity: MTN Nigeria's Drive for Sustainable Energy
23 September 2023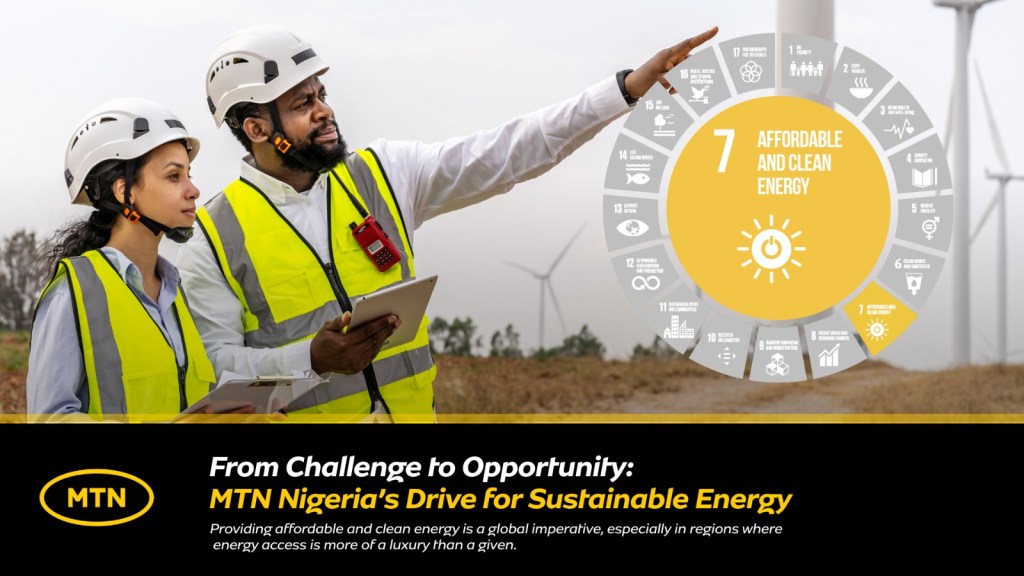 The challenge of providing affordable and clean energy is a global imperative, especially in regions where energy access is considered a luxury. The absence of reliable energy sources does more than darken homes; it stifles hospitals, hampers education, and hinders economic development. The ripple effects of this multidimensional issue touch everything from public health to job creation. In this context, United Nations Sustainable Development Goal 7 (SDG 7), which advocates for Affordable and Clean Energy, serves as a cornerstone for environmental stewardship and is a fundamental requirement for sustainable development and social equity.
In countries like Nigeria, the situation is acute. According to the World Bank, roughly 47% of the population lacks reliable access to electricity. This energy deficit could be described as both a symptom and a cause of broader developmental challenges, making the need for immediate and sustainable solutions more urgent.
MTN Nigeria has stepped up to meet this challenge through a strategic partnership with Independent Power Producers (IPPs), entities that generate electricity for sale to either the national grid or specific end-users. This alliance led to the deployment of a Compressed Natural Gas (CNG) power plant designed to supply MTN's head office in Lagos and the Ikoyi Data Centre with a more sustainable energy source. The project incorporates an 11kV ring main unit – an electrical distribution component situated at the IPP vendor's location, which helps increase the stability of power supply. This unit is connected to MTN's facilities via a 2km 11kV underground cable, and the system is ingeniously designed with a two-input option to allow a seamless transition between the IPP-generated power and the national grid, ensuring a consistent and reliable power supply.
The forward-thinking initiative employs three 1.1MW gas generators, which produce a significant reduction in harmful emissions. Moreover, the cost per kilowatt-hour (kWh) of CNG is 60% lower than that of diesel, meaning this is a win for the environment and the wallet. This efficiency led to a substantial year-on-year drop in diesel consumption in 2022 – over 110,000 litres – translating to a financial saving of approximately 572 million Nigerian Naira in overall energy costs for MTN Plaza and Ikoyi Data Centre.
MTN Nigeria is making a meaningful contribution to a larger ecosystem of sustainability. The initiative serves as a compelling example of how private sector ingenuity can address immediate issues and contribute to broader societal goals. It underscores the transformative power of sustainable energy solutions in reshaping economies, uplifting communities, and safeguarding the environment for future generations.
The need for affordable and clean energy transcends technological challenges; it is a moral and social imperative that requires the collective efforts of governments, corporations, and communities. MTN Nigeria's partnership with IPPs offers a viable and replicable model for addressing energy challenges, marking a significant step toward a more sustainable and equitable future.