Enabling the benefits of a modern connected life through rural connectivity
14 June 2022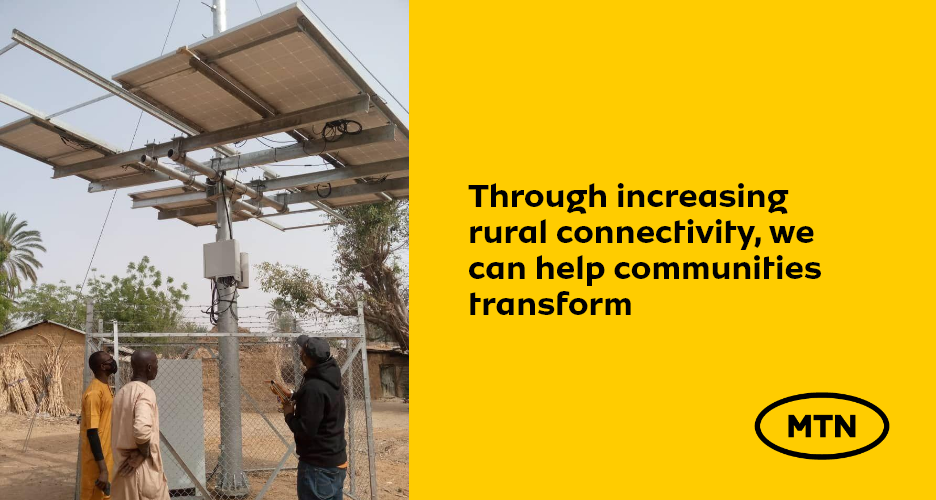 At MTN we recognise our incredible responsibility to ensure that no one is left behind in the profound evolution to a digital future. We know that access to affordable communication has the power to change lives and bridge inequalities and this is why we focus on increasing access – particularly in rural areas – and reducing the cost of our voice and data services.
The COVID-19 pandemic and the associated lockdowns clearly showed that internet affordability and accessibility are key enablers for communities, governments and businesses. Yet, several barriers to mobile internet adoption exist. We work to address these through our industry-renowned 'CHASE' framework, focusing on coverage, handsets, affordability, service bundling and education and ease of access.
Coverage is key, and in 2021, we rolled out 912 new rural towers (after rolling out 684 in 2020). This extended rural broadband coverage to a total of more than 23 million people across our markets, from 8.5 million in 2020. It brought MTN's total rural broadband coverage to 83% and compares to our target of 95% by 2025.
To ensure that we meet this target, for 2022 we linked the incentives for executive remuneration to the progress we achieve on three ESG measures, including the expansion of rural broadband.
"Through our rural connectivity programme, 23 million people can now use their smartphones to access information and learning tools," said Amith Maharaj, Executive for Network Design & Planning at MTN Group. "This programme is also accelerating the drive towards financial inclusion, where those previously considered as 'unbanked' are able to use the new infrastructure to make financial transactions."
The impact has extended to entrepreneurs who can now run their businesses using the power of the internet.
Closing the coverage gap in rural areas would not be possible without the collaboration of our partners, who help us overcome challenges, most of which originate in our supply chain. In 2021, we increased the number of rollout partners as well as the kinds of partnership models in place.
We also use new technologies to find coverage solutions. OpenRAN (radio access network) enables us to cost-effectively develop and install 2G to 5G networks in previously unconnected areas.
Through our circular economy practices, we also reuse 3G equipment – often in rural areas – when it is swapped out for 5G equipment in those places where we have 5G spectrum. By doing this, we reduce the cost of these technologies while avoiding the emissions associated with the equipment's manufacture, part of our work to reach Net Zero by 2040.
Equipment swaps take place within countries, or even between our different operating companies. Therefore, we need to collaborate closely with our partners to ensure that we adhere to trade rules and regulations around the sales of network equipment such as radio antennas. We also work with our partners to create an environment where circular economy initiatives become the norm.
MTN's belief is that everyone deserves the benefits of a modern connected life. Through increasing rural connectivity, we can help communities transform. Access to information can reduce poverty by educating and upskilling the youth, creating jobs and improving lives. This fits with our Ambition 2025 strategic intent: Leading digital solutions for Africa's progress.