Embracing the future – converting climate change into an opportunity for the Africa
17 August 2023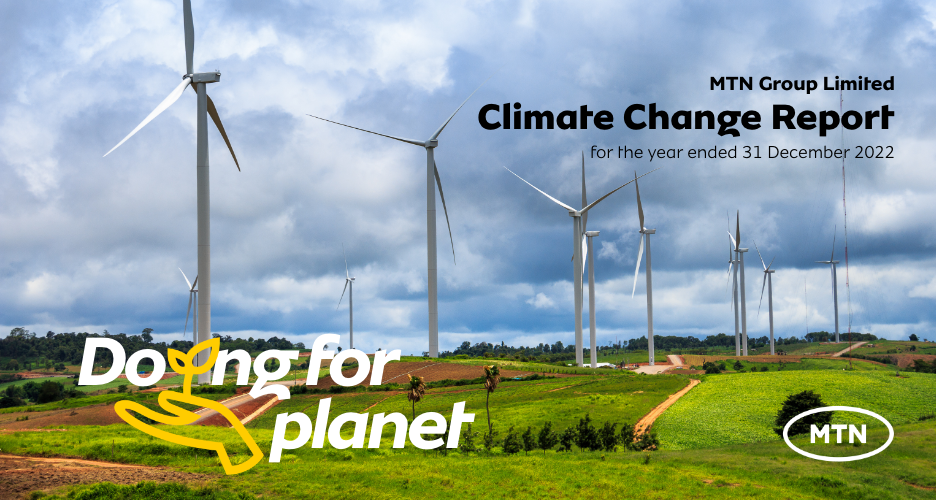 In the shadow of climate change, global leaders are racing to craft sustainable solutions. Every sector, from agriculture to health, feels the weight of its impact. Africa, which contributes a mere 5% of global GHG emissions, stands at the frontline of vulnerability.
MTN recognises this challenge and is poised to lead the charge toward a sustainable future. The recent COP27, aptly named the 'African COP', highlighted the continent's unique position — rich in opportunities yet fraught with challenges. We at MTN were not just participants; we were collaborators, inspired by the global commitment to support developing nations.
The journey to a low-carbon economy is more than an environmental mandate; it's a call for equity, inclusivity and a recognition of Africa's diverse landscape. Success means more than reduced emissions; it means broader access to modern amenities, enhanced telecommunications and pathways to sustainable livelihoods.
MTN's latest Climate Change Report, aligned with the Task Force on Climate-related Financial Disclosures (TCFD), outlines our commitment and work to address climate change. Our Project Zero, with its goal of Net Zero emissions by 2040, is testament to our dedication and belief in growth that harmonises with, not against, the planet's well-being.
"Our actions are a reflection of our commitment," says MTN Group President and CEO Ralph Mupita. "By taking action, we aim to inspire African resilience and innovation that champions sustainability at its core. With this in mind, we have submitted our climate goals to the Science Based Targets Initiative (SBTi) to expanding our green energy footprint. We're striving for sustainable growth that benefits every African."
MTN Chief Sustainability and Corporate Affairs Officer Nompilo Morafo says MTN'scommitment to sustainability goes beyond reducing emissions: "We're investing in renewable energy sources, such as solar and wind, to power our operations. Our focus on digital innovation ensures that we're not only enhancing connectivity but doing so in a manner that's environmentally conscious. Every initiative, from high-efficiency lighting to our advanced 5G rollout, is a step towards a sustainable digital future for Africa."
We are investing in electric vehicles, high-efficiency lighting, solar and wind power, and battery storage in our operations in the belief that these can bring about a thriving green economy that fosters green industries, enterprises and jobs for Africa by Africans.
Our digital innovations are resilient by design, primed to counteract the impacts of climate change. With the rollout of our 5G and fibre networks, we will further improve our energy consumption per unit of traffic.
But the journey is not without hurdles. The rising demand for connectivity brings with it the challenge of increased energy consumption. But we are undeterred. Inspired by our belief that everyone deserves the benefits of a modern connected life, we are charting a course toward a sustainable future.
Africa's moment is now. We are embracing the challenges, unlocking the opportunities, and driving toward a future where technology and sustainability converge. Our path is clear and our commitment is unwavering. Together, we're building a sustainable, inclusive world for all.
Click here to read our 2022 Climate change report.