Category:
Media releases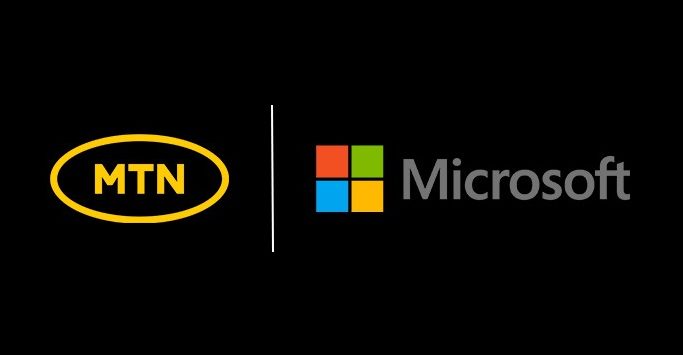 MTN, Africa's largest mobile network operator, has conducted a proof of concept for a first-of-its-kind 5G Stand Alone Core fully deployed in Microsoft Azure. MTN is working with Microsoft to accelerate digital and cloud transformation to help drive Africa's growth.
The proof of concept was conducted with all of the 5G Stand Alone Core elements including control plane, user plane and management nodes, deployed fully in the South Africa Azure Region. The project allowed MTN to experience the benefits associated with deploying a core network in Azure including fast deployment time (days vs months) and ease of scale. The learnings drive a paradigm shift in network planning considering sustainability, commercial models, automation and disaster recovery.
"Being one of the first in the world to conduct this proof of concept demonstrates MTN's desire to keep pushing the boundaries of technological innovation that delivers value to our shareholders," says Amith Maharaj, MTN Group Chief Technology Officer.
5G has the ability to transform business and livelihoods beyond simple connectivity in Africa. The key lies in the ultra-fast end-to-end communication capacity it enables. It will enable many industries such as education, healthcare, logistics, manufacturing, agriculture and mining to be more efficient.
Executing on the PACE technology strategy, MTN Group is ramping up its rollout of 5G sites targeting a population coverage of 10%-30% in the medium term.
"Microsoft is equipping industry leaders with ubiquitous computing power to help them realize the potential of 5G networks. With Azure, MTN can enrich its digital capabilities and enable organizations across industries to bring modern high-performance applications to their customers faster," said Tad Brockway, Corporate Vice President Azure for Operators, Microsoft.
MTN will use the PoC as a stepping stone to drive further innovation in the cloud domain as part of its PACE technology strategy to accelerate the execution of its Ambition 2025 and drive industry leading connectivity operations through technology platforms that are second to none.
As our Group President and CEO Ralph Mupita has said, "Africa will surprise on 5G." The continent stands at the cusp of an industrial evolution (Industry 4.0) enabled by 5G. Never has a technology been so eagerly anticipated.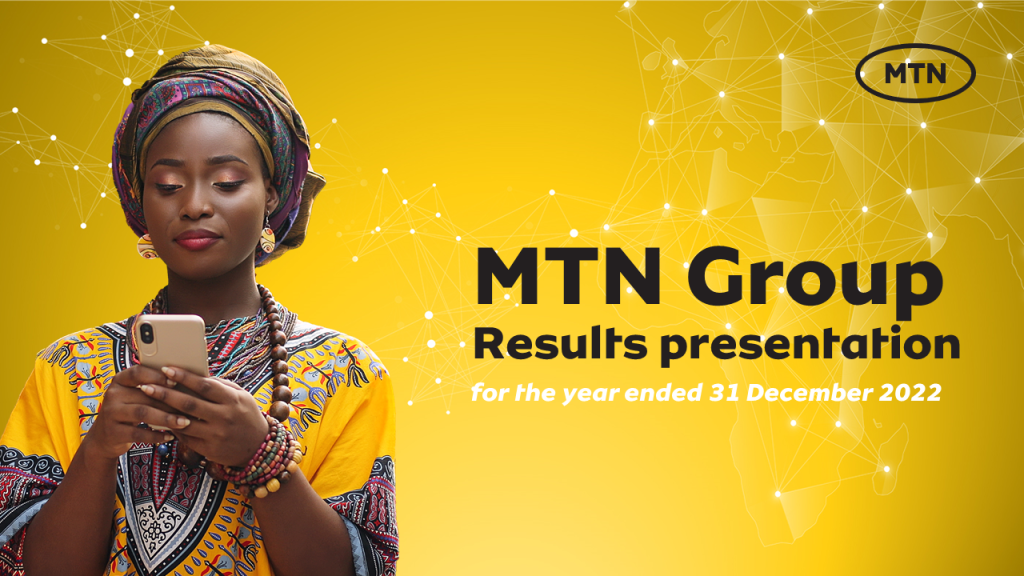 MTN Group today reported a strong 2022 financial performance, including an expansion in return on equity to 23.4% and a 10% increase in the dividend to 330 cents per share, in a challenging macroeconomic environment of elevated inflation across our 19 markets.
In the year to 31 December 2022, total subscribers rose 6% to 289 million, with data subscribers growing by more than 12% to 137 million and Mobile Money users up by 21% to 69 million.
Demonstrating good operational execution and ongoing strategic delivery, in constant currency terms the Group reported a 15.3% increase in service revenue to R194 billion and maintained a stable margin on earnings before interest, tax, depreciation and amortisation (EBITDA) of 44%. EBITDA increased by 14.3% to R90 billion. It was supported by our expense efficiency programme which yielded R2.7 billion in savings, mostly in Nigeria and South Africa.
"The structurally higher demand for data and fintech services was sustained, with data traffic and fintech transaction volumes increasing by around a third each," said MTN Group President and CEO Ralph Mupita. "To support this, we invested more than R38 billion in our network, IT and platform infrastructure – an increase of 17%, while at the same time reducing consumers' average cost to communicate by nearly 23%."
The network investment expanded access to broadband services to almost 88% of the population (from 83% in 2021) in our markets as we focused on rural rollout, extending digital inclusion across Africa. Our contribution to society also included income taxes of approximately R14 billion paid to nation states in the year.
Alongside the increase in capital investment, our proactive commercial, expense efficiency, supply chain, network and financial resilience interventions helped alleviate the impact on results of a tough operating environment. This included – across markets – high inflation and interest rates, weak local currencies, pressure on disposable income and in South Africa, the significant impact of severe loadshedding.
The performance of MTN South Africa was solid, with growth in service revenue of 3.6% to almost R41 billion and an EBITDA margin of 39.2%. Loadshedding impacted EBITDA by R695 million as the Opco incurred additional expenditure to meet the requirements of power, security and repairs, the latter due to the vandalism of sites.
On MTN South Africa, Mupita said: "We are encouraged by the performance of the business and the focus on network resilience. Amid unprecedented loadshedding and the intensified need for back-up power in the second half of 2022, MTN South Africa invested significantly to secure network resilience."
He added: "With the state of disaster regulations gazetted, South Africa now has a unique opportunity to accelerate efforts to secure the resilience of critical national infrastructure such as telecommunications. Government and business must jointly seize this moment and act decisively to deal with the quadruple crises of energy; logistics; crime and corruption; and youth unemployment. Inaction risks South Africa being a failed nation state."
Across our markets, we continued to execute on our four strategic priorities. To build the largest and most valuable platforms, we expanded our fintech ecosystem and made progress in separating our fintech business from our GSM business, receiving offers for strategic minority investments into the MTN Group fintech structure. We anticipate completing the process to review offers and engage investors in May 2023.
To drive industry-leading connectivity operations, we increased voice, data and fintech revenue, rolled out more than 5 000km of fibre and invested in subsea cables.
To create shared value, we reduced our scope 1 and 2 emissions in pursuit of net zero by 2040. Diversity and inclusion remained central to our efforts: we achieved 40% women representation, moving closer to our 2030 target of gender parity.
We also accelerated portfolio transformation, recording proceeds from asset realisations of R12 billion and signing a share purchase agreement with a subsidiary of M1 Group Limited to acquire all our shares in MTN Afghanistan for a gross consideration of US$35 million.
Looking ahead, we remain focused on executing on our Ambition 2025 strategy and maintain our guidance for performance over the next three to five years, despite elevated macroeconomic risks in South Africa and Nigeria. Across our markets, in 2023 MTN plans to invest more than R37 billion in networks and platforms. Of this, we will spend R9 billion on the South African network.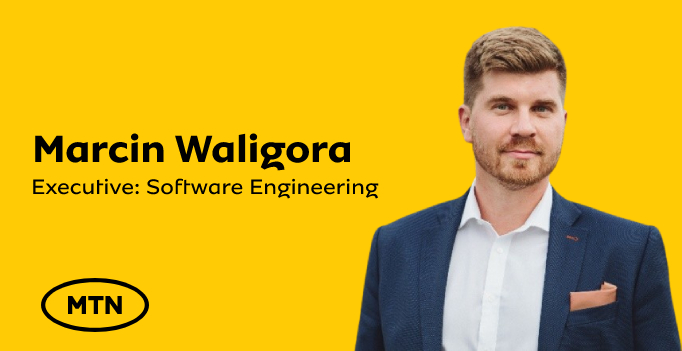 MTN Group is pleased to announce the appointment of Marcin Waligora, Executive: Software Engineering with effect from 27 March 2023.
With more than 20 years of progressive experience, exceptional technical skills, and solid business acumen, Marcin joins MTN Group from Citigroup in Tampa, USA.
"As Executive: Software Engineering, Marcin will be responsible for defining, developing and executing our Software Engineering strategic programme to accelerate the PACE of Ambition 2025, and maintaining the long-term growth for delivering the software engineering on front-end customer experience layer systems, partnerships and integration points. He will also help achieve business agility, at scale, impacting a multiplier effect by bringing about positive impact in multiple Opcos and platforms, various product areas, and newer markets." Said Mazen Mroué, Group Chief Technology and Information Officer
Over the past 15 years Marcin has been with Citigroup, holding various senior roles, including Engineering Manager and Technical Architect, Software Development Director and most recently, Global Head of Clearing Modernisation Technology. In the latter role, he was responsible for designing and delivering a 24/7 payment platform, among many other duties.  
Marcin holds a Master's of Science Degree in Advanced Software Engineering from the University College Dublin. He also holds a Bachelor of Science Degree in Computer Science from Warsaw University of Technology. Additionally, Marcin has numerous certifications, including an Advanced Scrum Master (A-CSM), Microsoft Specialist in Developing Microsoft Azure Solutions and MongoDB for Developers-10gen.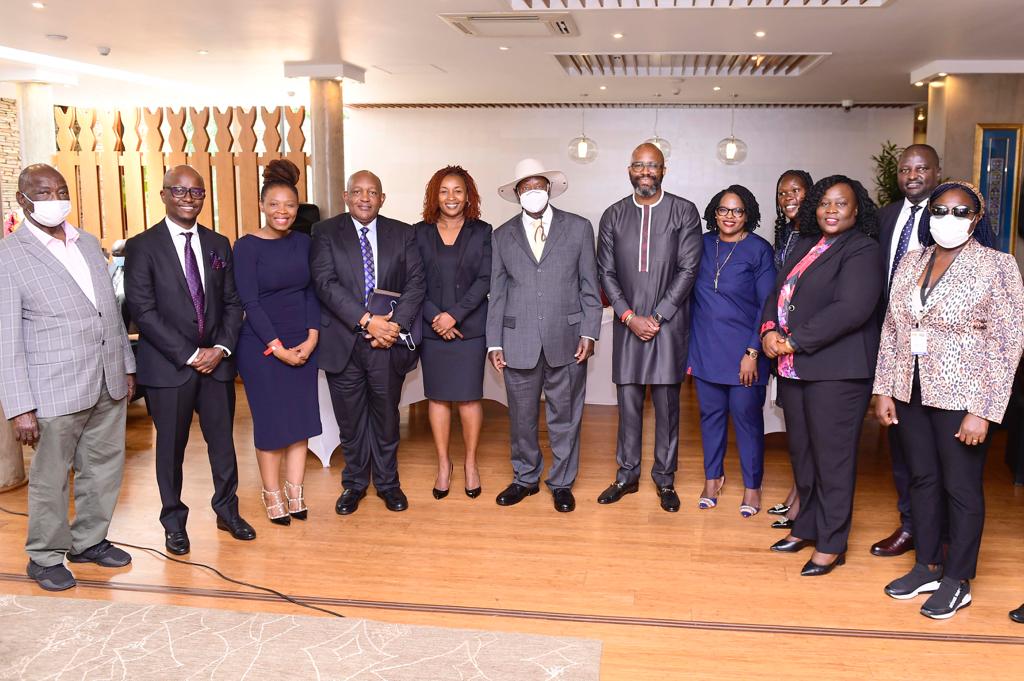 MTN Group's leadership today met with Ugandan President His Excellency Mr. Yoweri Museveni on the sidelines of his two-day state visit to South Africa, during which they discussed efforts to support the development of the Ugandan economy.
The MTN delegation included MTN Uganda Chairman Charles Mbire; MTN Group President and CEO Ralph Mupita; MTN Uganda CEO Sylvia Mulinge; MTN Southern and East Africa Vice President Yolanda Cuba; and MTN Group Chief Sustainability and Corporate Affairs Officer Nompilo Morafo.
Re-iterating MTN's commitment to Uganda, Mupita proposed facilitating a two-day investment summit in Kampala in May 2023 in collaboration with the relevant government ministries and departments as well as the Forum of South African Businesses in Uganda.
A platform to attract South African agro-processors and other potential investors to the east African country, the two-day event would be a follow-up to the Uganda-South Africa trade, investment and tourism summit held in South Africa this week. Mupita said it would facilitate the participation of those investors identified by the Uganda Investment Authority.
"This year, MTN celebrates 25 years in Uganda. We are driven to create shared value across our markets and offer leading digital solutions for Africa's progress," said MTN Group President and Chief Executive Officer Ralph Mupita. "We hope that by facilitating this investment summit we can support the further development of the Ugandan economy and her people."
MTN Uganda – one of 19 MTN operating companies – was established in 1998. In December 2021, it listed its shares on the Uganda Stock Exchange after the largest initial public offering in Uganda's history. This gave almost 21 000 Ugandans the opportunity to become owners of MTN Uganda, which is the Ugandan stock with the largest market capitalisation on the USE.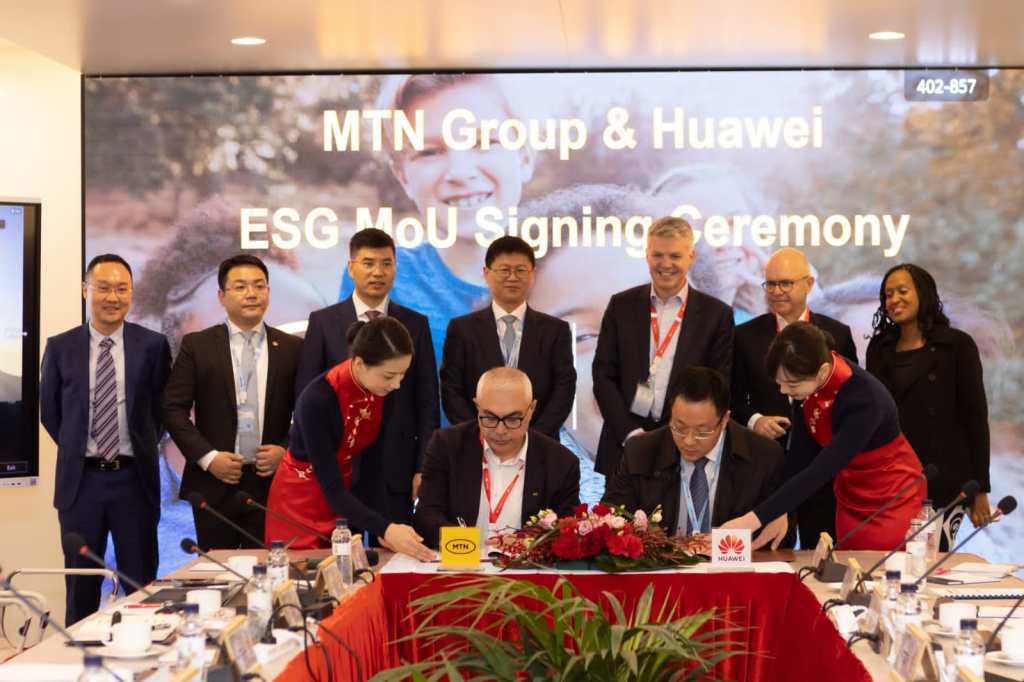 MTN Group and Huawei today signed a memorandum of understanding to strengthen strategic cooperation in environmental, social and governance matters.
The MoU, signed at MWC Barcelona, is aligned with MTN's Ambition 2025 strategy and Huawei's Corporate Sustainability Development strategy, including its TECH4ALL initiative.
"Leading digital solutions for Africa's progress can only be achieved through the power of partnerships," said MTN Group Chief Sustainability & Corporate Affairs Officer Nompilo Morafo. "Working with companies like Huawei, we can pool our technologies and expertise to drive greater access to connectivity, digital skills and greener and more sustainable solutions to the benefit of all."
Li Peng, Member of the Huawei's Supervisory Board and President of the Carrier BG, said Huawei expects to work closely with MTN Group on rural coverage, reaching net zero and digital skills training: "We believe that digital technology will become an important force driving social development and making the world more inclusive and sustainable."
The Huawei DigiTruck provides free training in digital skills for those in need, including rural communities, the elderly, the unemployed, and girls and women in particular. Converted from a used shipping container mounted on a truck, the DigiTruck is a solar-powered mobile classroom equipped with laptops, smartphones and 4G connectivity.
It is complemented by the Huawei ICT Academy, which trains university students in ICT skills such as 5G, cloud computing and AI. There are 1 900 Huawei ICT Academies in 110 countries, serving around 150 000 students a year.
MTN's Skills Academy seeks to enhance the link between digital skills training and demand for jobs to ensure that people across the continent are producers, consumers and innovators of digital technologies.
Today's partnership agreement seeks to accelerate efforts to reach more rural and remote communities and to broaden the portfolio of available digital skills training.
With a significant portion of Africa's population living in rural areas, MTN is committed to expanding our network to under-served communities and reach a target of 95% rural broadband coverage by 2025. The partnership with Huawei will support the achievement of this target as well as our approach to expand the number of collaborations and the types of partnership models we follow.
MTN and Huawei are collaborating on deploying RuralStar, an affordable connectivity solution for providing online access to remote and rural communities. The solution overcomes traditional barriers that make network connectivity in such scenarios unviable for carriers. The parties will extend their collaboration following the completion of the first RuralStar proof-of-concept in Ghana in 2017.
In terms of reducing carbon emissions, Huawei will support MTN's commitment to minimise the impact on the planet and achieve net zero by 2040. The partners will work on decarbonising MTN's telecommunications infrastructure, spanning radio access network (RAN) sites, transport networks, storage and data centres. Network decarbonisation will be done via a mix of energy efficiency technologies and the application of innovative green solutions.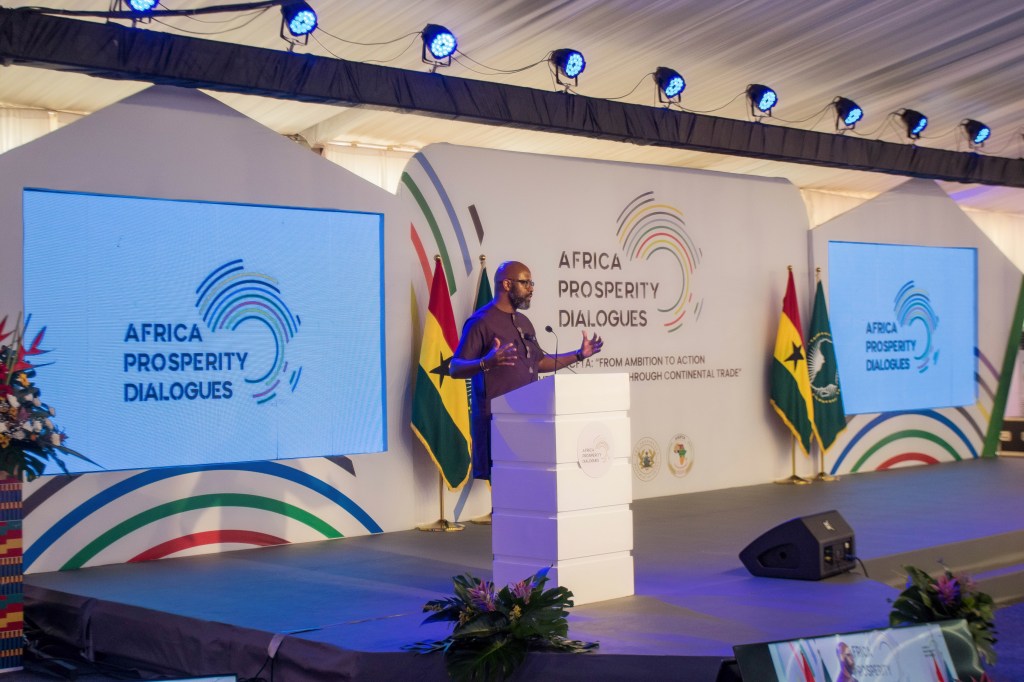 MTN Group President and CEO Ralph Mupita has called for the modernisation and harmonisation of regulatory frameworks across Africa as well as the collective effort of all stakeholders to ensure that the continent can deliver universal broadband coverage by 2030.
"The regulatory frameworks for Africa's telecommunications industry do not reflect our current advancement. They are still positioned for the era of voice," he said at the Africa Prosperity Dialogue held at Peduase in the Eastern Region of Ghana over the weekend. The event was attended by several distinguished African leaders including the President of Ghana, Nana Addo Dankwa Akufo-Addo and the former President of Niger and AfCFTA Champion H.E. Issofou Mohamadou.
"As the world continues to undergo major digital transformation and disruption, our regulatory frameworks need to evolve to reflect these technological advancements," he added in his address on 'Moving from Ambition to Action: The Role of Telecommunications in Deepening Intra-African Trade, Challenges and Opportunity'.
He spoke of the need for a robust regulatory framework which is relevant and future fit. There was also a need for all participants in the sector to contribute to building and investing in infrastructure: "A fair share contribution by both local and international players including mobile network operators and OTTs".
Mupita said Africa would need around $100 billion in capital investment to reach its goal of universal broadband for all Africans by 2030.
The Africa Prosperity Dialogue was attended by representatives of governments and business leaders in Africa. Ghana's President Nana Akufo-Addo commended the organisers and the delegates for their participation.
The Africa Prosperity Dialogue is organised by the Africa Prosperity Network and is aimed at achieving deeper economic integration between African states in outlining its industrialisation priorities. Among topics under discussion were the policies that will ensure the successful implementation of the Africa Continental Free Trade Area (AfCFTA).
The event brought together many Government and business leaders including the Minister of Finance Ken Ofori-Atta and the CEO of the Ghana Investment Promotion Center (GIPC) Mr Yofi Grant. MTN Group Senior Vice President for Emerging Markets Ebenezer Twum Asante, MTN Group Chief Sustainability & Corporate Affairs Officer Nompilo Morafo and the CEO of MTN Ghana Selorm Adadevoh were also in attendance.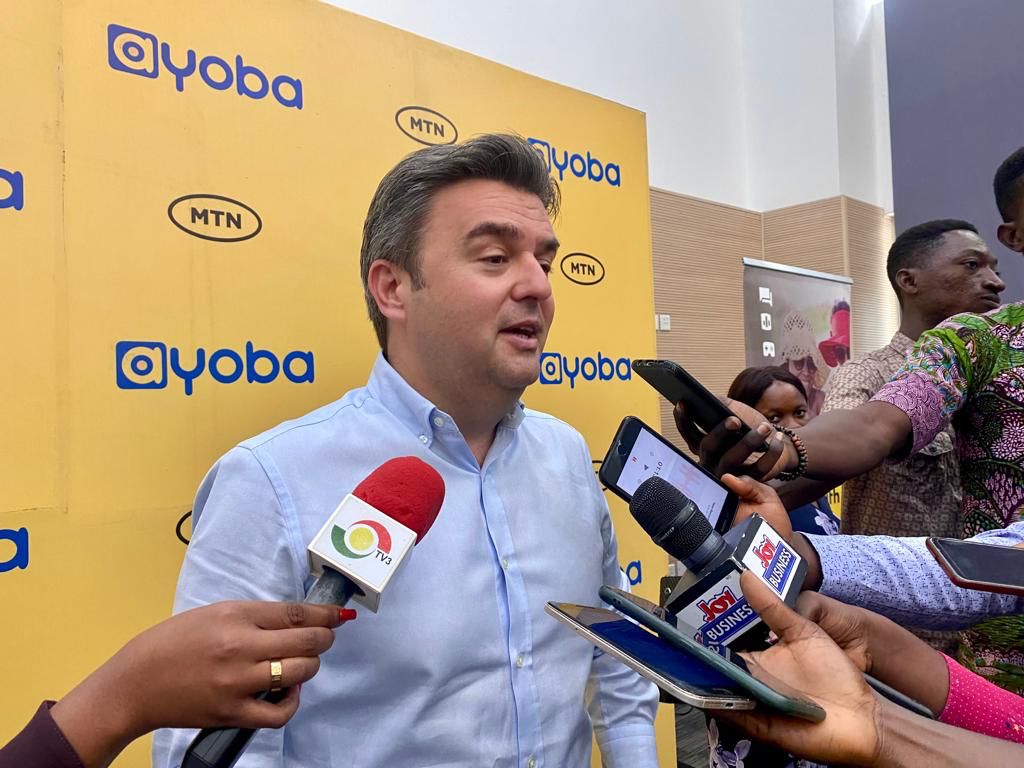 MTN, in partnership with ayoba, Africa's Super App, has reached an exciting 20 million monthly active users on 5th of December 2022. This represents growth of 100% compared to the 10 million monthly active users recorded at the same time last year.
"We celebrate this milestone and are pleased that, through ayoba, we are able to provide accessible communications, so that millions of people across our markets can enjoy the benefits of a modern connected life", says MTN Group Chief Operating Officer, Jens Schulte-Bockum.
ayoba is available globally with a focus on the African continent. Key markets in MTN's footprint include Nigeria, Cameroon, South Africa, Ghana, Cote d'Ivoire, Uganda and The Republic of Congo, giving ayoba a strong footprint across Africa.
ayoba was also in the news recently when it was voted "Top Innovative Technology and Telecom Product of the Year" at the Ghana National Communications Awards in November 2022.
ayoba CEO Burak Akinci said: "It has been an exciting year. Providing the best experience to our users has always been our top priority and we are working very hard to improve our service everyday. It is a pleasure to see that our efforts are well received and appreciated by our users all around Africa.
"This achievement is the result of listening to our users, understanding their needs and working on multiple aspects of our platform to serve them better. We would like to thank our users who never fail to provide feedback and insightful input.
"We will continue to develop what is a robust messaging service in ayoba, that continues to offer new functionalities, free music service that has grown to millions of streams, high quality games, a wide range of channels with curated local content, and hundreds of new MicroApps"
Strong engagement, growth in 2022 and diversity of content
ayoba has shown immense growth across all verticals this year. Leading the charge is the music streaming service, with its focus on local content and growth in streams of 174% in 2022. In terms of engagement, our users viewed 225 million cards across 150 channels on a variety of topics led by football updates, tech and entertainment news, food and fashion, rugby and other sports.
Our French language content was led by influencer Muriel Blanche and Adamant Media, with francophone comedy. In 2022, we launched three new Arabic channels providing growth in content for markets like Sudan, covering entrepreneurship, football and other issues.
In December 2022, the year on year growth for messaging was 125% (messages sent), games by 208% (plays) and MicroApps by 322% (sessions). Ayoba users posted a 85 million stories, updating their friends and family on their activities and interests.
"This is a phenomenal endorsement of our 'Made in Africa for the World' strategy" continued Akinci. "We believe in the vast potential of African digital talent and do our best to support them, from training to hackathons and accelerator programmes. 2023 will be even more exciting with all the new features and services we plan to introduce to make the ayoba platform the gateway to the digital economy for start-ups across different markets in Africa.
ayoba is an application open to all networks developed as a partnership initiative with MTN. ayoba users receive free daily data in participating markets. The platform is part of MTN's Ambition 2025 strategy, which targets 100 million monthly active users by 2025.
10 reasons to use ayoba:
1. FREE TO USE: ayoba is free to use – including all of our amazing features!  You need data to get onto the internet, but if you are on the MTN network in selected countries, you will get free data every day to use the app.
2. CHAT AND CALL NOW: Instantly send and receive text and voice messages, voice notes, as well as voice and video calls with any of your contacts. Please note that Voice and Video call are subject to standard data charges for all users.
3. SECURE: End-to-end encryption means that messages in a conversation cannot be read by anyone else.
4. FIND YOUR FRIENDS: Use your existing address book to quickly and easily connect with your contacts.
5. CHAT WITH EVERYONE: Send SMS text messages to anyone in your contact list, regardless of whether they've installed ayoba or not. If the friend you send to does not have the app, the message will be delivered by SMS. They can respond by SMS and it will come back into your app.  This is a unique technology.
6. GROUP CHAT: The more the merrier! Set up group chats to easily communicate with friends and family in a single chat.
7. SHARING IS CARING: Share videos, images, audio, and other files with your contacts.
8. LET'S MEET: Share your real-time location with your ayoba contacts.
9. CHANNELS: Free access to consume all content across various categories ranging from news, sports, fashion, music, education to entertainment and much more, all within the ayoba app. All of our channels are Africa centric – such as the Black Star channel for Ghana, Scrolla Africa in IsiZulu, Yoruba & Hausa, Pulse Channels for Nigeria and Ghana covering business news, current affairs and entertainment; with over 20 artist channels highlighting African musicians.
10. LISTEN AND PLAY: Our free music service allows users to listen to trending songs in our fantastic playlists, featuring the best of local and international music. We have games that you can play as well, such as Subway Surfers, CR7 Strike, Car Rush Spore Hunter, BattleShip, Pinball, Solitaire and more. New content is added every day.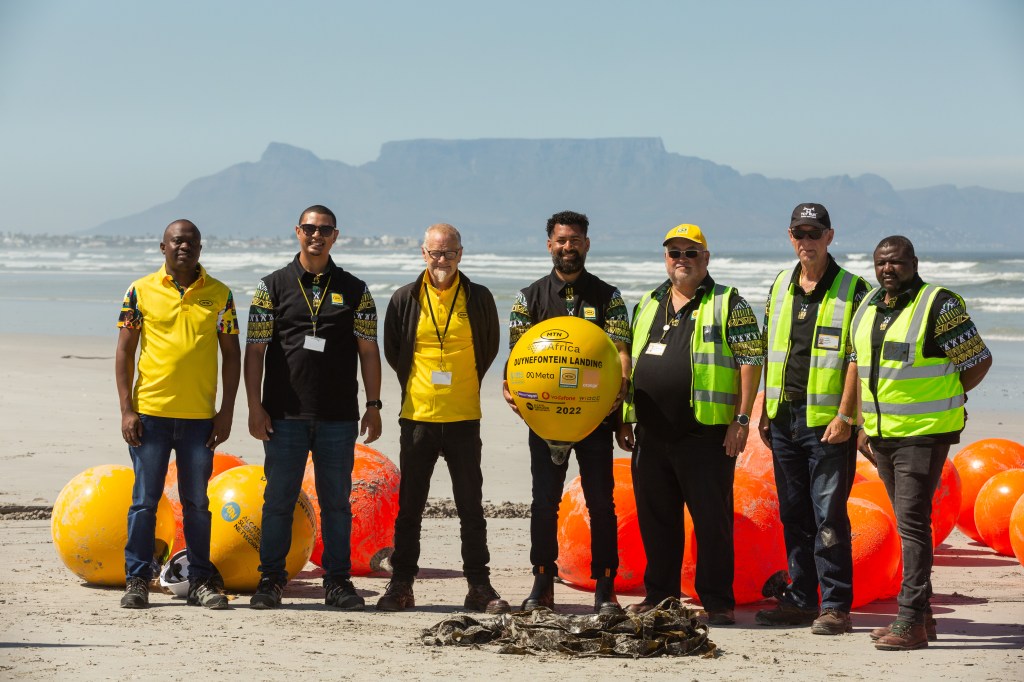 MTN South Africa and MTN GlobalConnect, in partnership with the 2Africa consortium, which includes China Mobile International, Meta, MTN GlobalConnect, Orange, center3, Telecom Egypt, Vodafone and WIOCC, are pleased to land the 45 000km 2Africa cable in Yzerfontein and Duynefontein, South Africa.
For MTN GlobalConnect, this landing is the first in a series of six across five countries: South Africa (*two), Sudan, Cote D'Ivoire, Nigeria and Ghana, will allow MTN GlobalConnect to showcase, in a tangible manner, the importance of connectivity and creating cross border networks, that connect Africa to the rest of the world. The 2Africa cable connection will go live in 2023.
This subsea cable will lay the foundation for improved global internet access, connecting people and continents. Once live, it will play a big part in delivering much-needed capacity in Africa from Europe, the Middle East and Asia. The 2Africa landing is one of several cable landings taking place across 46 locations in 33 countries.
MTN Group President and CEO Ralph Mupita said: "Strategic partnerships such as the one we have with the 2Africa consortium will help us accelerate and deepen internet adoption and socio-economic progress across the African continent. Data traffic across African markets is expected to grow between four and five fold over the next 5 years, so we need infrastructure and capacity to meet that level of growth and demand".
Our target, which is underpinned by MTN's Ambition 2025 strategy, is to rollout a total of 135 000 km of proprietary fibre by 2025, generating up to US$1 billion in revenue. Entrenching MTN as the number one African fibre player, by building subsea and terrestrial scalable capacity and resilience.
This cable landing adds to another milestone to the digital railroads we are building around Africa, making telecommunications accessible and available.
MTN GlobalConnect CEO Frédéric Schepens said: "MTN GlobalConnect is pleased to participate in this bold 2Africa subsea cable project. The initiative complements our terrestrial fibre strategy to connect African countries to each other and to the rest of the world. We are building scale infrastructure assets to meet the explosive growth in data traffic and accelerate the digital economy on the continent, by creating a pan-African fibre railroad driving affordable connectivity."
He added: "We are proud of the progress made on our journey and of the key role we are playing in providing South Africans and the rest of Africa with the benefits of a modern connected life."
The 2Africa subsea cable system will support the western and eastern sides of Africa, once complete in 2023 and 2024 respectively. This means that South African service providers can acquire capacity in carrier-neutral data centres or open-access cable landing stations on a fair and equitable basis. This will support the development of a healthy internet ecosystem by facilitating improved internet accessibility for businesses and consumers alike.
MTN GlobalConnect – which is the 2Africa landing party in Duynefontein and Yzerfontein – has partnered with MTN South Africa to complete the landing on South African soil. The Yzerfontein landing will support the 2Africa West cable and the MTN South Africa landing station in Duynefontein will support the 2Africa East cable.
The cable, with a design capacity of up to 180 TBps. on key parts of the system, will deliver much-needed internet capacity, reliability, and improved internet performance across large parts of Africa; supplement the fast-growing capacity demand in the Middle East; and underpin the further growth of 4G, 5G and fixed broadband access for millions of people.
We are proud to form part of a consortium which is aligned to delivering on our Ambition 2025 strategy: Leading digital solutions for Africa's progress, by investing in connectivity to improve global economic growth, while uplifting the livelihoods of many in South Africa and the rest of Africa.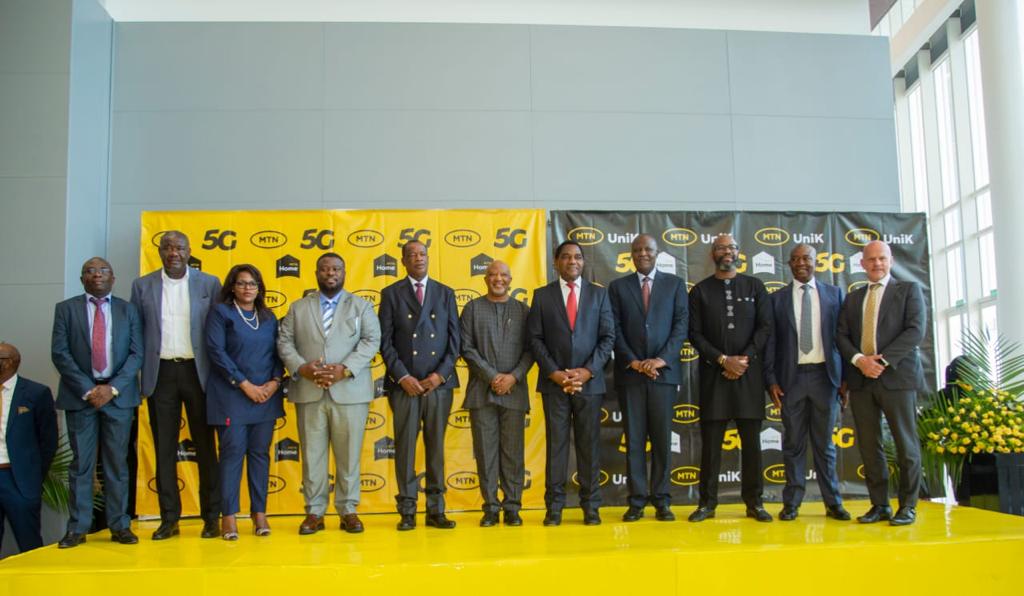 MTN Zambia today launched our 5G network, becoming the first mobile operator in Zambia to offer 5G services commercially after successfully undertaking trials of the transformative technology over the past 11 months.
His Excellency Mr. Hakainde Hichilema, President of the Republic of Zambia, presided over the occasion, which took place at Mulungushi International Conference Centre. Several Zambian government ministers and representatives of the sector regulator and central bank were also in attendance. Leading the MTN Group delegation were Chairman Mcebisi Jonas, Group President and CEO Ralph Mupita and Southern and East Africa Vice President Yolanda Cuba.
"The launch of this ultra-fast communication capacity serves as a clear indication of MTN's commitment to being a major player in Zambia's digital economy," said Jonas. "We look forward to continuing to work together to meaningfully impact the growth and development of Zambia."
Mupita said MTN Zambia was the Group's third operation in Africa (after Nigeria and South Africa) where 5G services were now commercially available. "5G can transform business and livelihoods beyond simple connectivity, with the potential to unlock many new use cases," he said. "In Zambia, we see great opportunities across many sectors, and in the mining industry in particular."
MTN Zambia CEO Bart Hofker said MTN's 5G services had been activated to cover about 65% of the population in the cities of Lusaka, Kitwe and Ndola as well as parts of Chingola, Solwezi and Kalumbila. This translates into about 15% of the population. "We plan to reach 100% 5G coverage in Lusaka, Kitwe and Ndola by the middle of 2023, while gradually expanding the 5G network to other locations," he said, adding that MTN Zambia customers need a 5G-enabled device to connect to the 5G network where it is available.
5G is essentially fifth-generation mobile network technology which offers faster speeds, lower latency, better security and stability and the ability to handle high volume connections and mobile data. It can connect virtually everyone and everything, including machines, vehicles and robots in future. For industries like mining and manufacturing, the network can be used to automate processes to increase capacity and efficiency. 5G also has the potential to be a driving force for innovation and entrepreneurship.
The introduction of 5G is part of a wider network strategy for MTN Zambia. Other programmes involve the optimisation and modernisation of existing 3G and 4G networks, the building of a fibre ring in Zambia with MTN GlobalConnect, as well as the extension of coverage in more rural areas. Through our rural connectivity programme, MTN Zambia and our partners plan to use cost-effective coverage alternatives to launch 45 rural sites in 2022 and another 100 in 2023.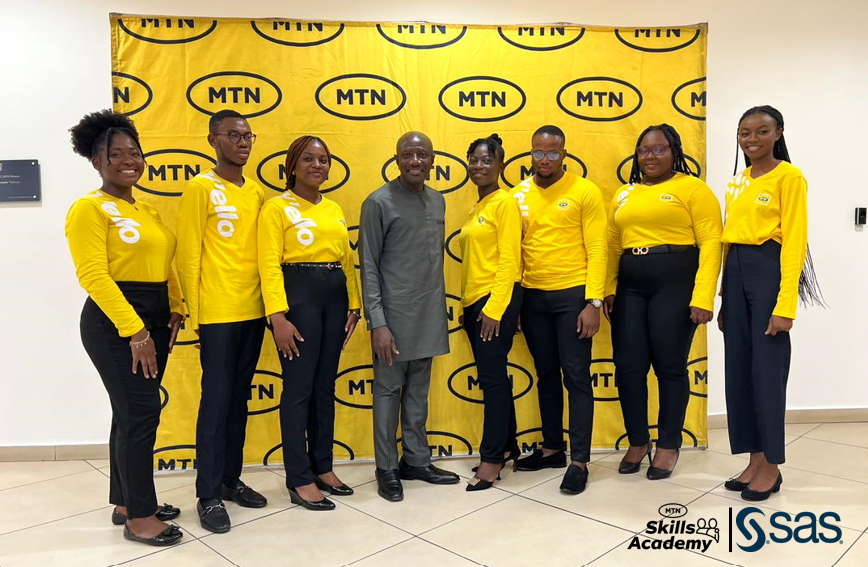 To address Africa's digital skills gap, MTN Group, through some of its operating companies, is partnering with SAS Training, Courses & Classes to train up to 100 young people in data analytics. This is part of the MTN Skills Academy's work to promote digital skills for digital jobs, in turn supporting MTN Group's strategic intent of providing digital solutions for Africa's progress.
Polaris Market Research puts the 2021 value of the global data science platform market at $95 billion and expects it to expand at a compound annual growth rate of more than 27% through to 2030, driven by the increasing data volumes being generated by organisations.
"For Africa to realise its full potential, we need to address the lack of skills funding," says MTN Group Senior Vice President for Markets Ebenezer Asante, adding that eight MTN operating companies had assigned learners to participate in the training that the Group is providing through its partnership with SAS.
"Africa has the largest and fastest-growing youth population in the world. While this holds tremendous development promise, youth unemployment statistics remain a cause for major concern. It is only by investing in developing the right skills that we are going to overcome this challenge," Asante adds.
Essie Mokgonyana, SAS Country Manager & Sales Director for South Africa, says: "We are committed to supporting public and private organisations across Africa adopt cloud platforms to tap into the full potential of their analytic capabilities and resources to accelerate innovation and higher operational efficiencies. And key to this support is being a part of the change; to create and sustain skills-based training programmes that not only meet industries' needs for critical data science skills while offering the youth of today opportunities to access gainful professional advancement and employment tomorrow but lay the path for future talent pipelines. We are exceptionally proud to partner with MTN Group on this programme that bodes enormous potential for all parties involved."
The training initiative consists of a six-week programme, the first part of which is self-paced and the second contains live instructor-led courses.
"During this programme all participants will have full access to SAS® Skill Builder for Students, which includes a repository of resources to help participants learn SAS Data Science skills; from free online courses for certification purposes to exam preparation materials, and practical case studies where participants can learn more about how SAS software solutions are used in the industries they're interested in and for their career advancement," says Adesh Nathalal, Education Manager at SAS in South Africa.
After the initial six-week programme, half the participants will undergo further training with MTN's in-house data analytics academy.
"This initiative is part of the work of the broader MTN Skills Academy to equip young people with the skills that are in high demand, in turn making them more employable," says Asante, adding that MTN is committed to closing the skills gap and contributing to youth empowerment wherever we operate.