Category:
Media releases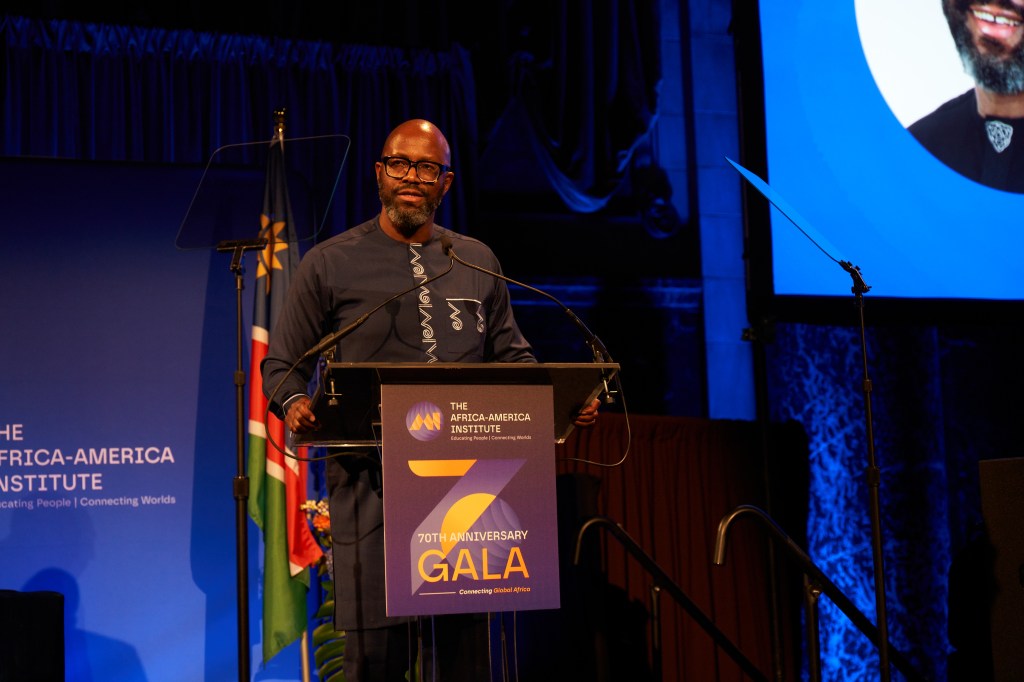 MTN is honoured to have received The Africa-America Institute's 2023 Corporate Responsibility Award, which recognises corporations that have made significant contributions to Africa's progress and demonstrated a commitment to sustainable and inclusive growth, positively impacting communities and industries.
The accolade was presented at AAI's 70th Anniversary Gala event in New York on Tuesday evening.
"As Africa's largest mobile network operator, MTN has contributed to a revolution in the way Africans communicate with each other and the world – bridging the digital divide, catalysing economic growth, and raising living standards across the continent," said AAI President and CEO Kofi Appenteng.
"MTN has been fundamental in supporting collaboration and the continent's ability to share its achievements and history, something that is at the core of AAI's mission. MTN's work and that of its foundations is an inspiration. The company's commitment to inclusive connectivity, gender equality, accelerating financial inclusion, and empowering employees and communities deserves recognition," he added.
MTN Group President and CEO Ralph Mupita accepted the award on behalf of MTN's more than 17 000 employees across 19 markets: "We are humbled by this recognition. We are also inspired and encouraged to continue to drive digital and financial inclusion and create shared value. We believe this work gives Africans dignity, hope, and opportunity."
Latest data from the GSMA and Broadband Commission shows that for every 10% increase in internet use, GDP grows by an additional 1.5%. However, a third of the world's population does not use the internet at all.
"These people are still not digitally connected and could well end up as a digital underclass," said Mupita, adding that priority must be given to investments in digital infrastructure and services to avoid even more inequality. "We must ensure that as technologies such as AI develop, we also get large language models trained on African languages. Initiatives such as conversational payments that are taking root in places like India must come rapidly to Africa."
MTN Group's Chief Sustainability and Corporate Affairs Officer Nompilo Morafo said the AAI recognition was both a validation and an inspiration for MTN's commitment to responsible business practices and sustainable growth. "Our business has always been about more than connectivity; it's about empowering communities, driving inclusion, championing diversity, and ensuring that our operations leave a positive, lasting impact."
The AAI's Annual Awards Gala, held during the United Nations General Assembly, is a marquee event celebrating the accomplishments of Africa and its global diaspora. The gathering attracts a diverse audience, including heads of state, diplomats, international officials, philanthropists and business leaders.
"As we celebrate this esteemed recognition, we are reminded that our work is far from complete," said Morafo. "This award fuels our resolve to intensify our efforts. Working together, with our partners, communities, governments, and other stakeholders, we will continue to champion initiatives that drive Africa's digital transformation and socio-economic betterment," she added.
To focus MTN's CSI efforts and maximise their impact, MTN launched our first foundation in 2001 in South Africa. Since then, we have rolled out another 12 foundations across 18 markets and impacted the lives of more than 40 million people in the last four years alone. We focus on strategically building an ICT ecosystem to deliver greater inclusion to the most vulnerable, with a special focus on enabling digital skills for digital jobs to address job creation, enhance competitiveness, and drive inclusive growth for the communities we serve.
African super app ayoba has reached a new milestone – surpassing 30 million monthly active users. This remarkable achievement is a testament to the app's growing popularity, particularly in focus territories such as Nigeria, Ghana and Côte d'Ivoire. Moreover, ayoba has successfully broadened its user base into new markets, such as Kenya and Tanzania, contributing to its rapid growth since passing the 25M MAU mark in May 2023.
"ayoba's growth reflects our commitment to delivering valuable, user-focused services. This achievement is a significant step in our ongoing journey to deepen connectivity and digital inclusion across Africa and signifies the trust and reliance users have placed in ayoba as a platform that enriches their daily lives. It also serves as a catalyst for further innovation as we continue to enhance the app's features to meet the diverse needs of our growing user base," says Jens Schulte-Bockum, MTN Group Chief Operating Officer.
In 2023, ayoba focused on enhancing communication and content features. These have been well received, as evidenced by a notable increase in music streaming, messaging, and overall user retention. Card Views in the channels vertical have soared, with users viewing over 200M cards this year alone, focusing on news, sports, and comedy. Ayoba also recently announced its first commissioned video drama series, 'Nite Nite', produced in Ghana and its inaugural African games, produced by Usiku Games in Kenya.
"Our plan for the year is rolling out strongly, "explains CEO Burak Akinci. " We're incredibly grateful for the trust and engagement from our growing community of users. Our strategic execution this year has been laser-focused on what matters most to them. The positive market response validates our approach to offer user-centric features and localised content. As we look ahead, our immediate focus is on an enhanced gaming experience set to pilot in South Africa. This is part of our broader vision to make ayoba an integral part of daily life across the continent."
The introduction of the new 'Explore' landing page marks a significant advancement for the Android version of the app. This page is live across all key markets, streamlining content discovery and user access to relevant and trending content.
In line with its commitment to sustainable long-term impact in key markets, ayoba continues to advance its integrated ecosystem development approach revolving around the MicroApps vertical. This quarter has seen the launch of a key initiative in Nigeria, the ayoba SME Accelerator program. Specifically designed to digitise, empower, and accelerate the growth of small businesses, the program aims to foster innovation, enhance competitiveness, drive growth, and create sustainable employment opportunities.
Furthering its impact, ayoba's e-Track Portfolio, managed at the Solution Space at the University of Cape Town, has also seen significant success. The program – a two-phase early-stage venture acceleration and capacity-building program designed for high-impact entrepreneurs in South Africa and beyond, has recently welcomed an additional 15 high-impact startups to the portfolio.
In May 2023, ayoba hosted a high-profile continent-wide Gaming Hackathon to foster innovation and creativity in game development tailored for an African audience. The event attracted hundreds of participants, and the top 3 teams have been selected. Their games are soon to be featured on the app, adding to ayoba's expanding gaming portfolio.
Born from a partnership with MTN, ayoba is available on all networks. Ayoba users in certain participating territories enjoy complimentary daily data, amplifying its value proposition*. With this momentum, ayoba is on track to achieving 100 million monthly active users by 2025, in line with MTN's Ambition 2025 strategy.
*VoIP and video call are not zero rated for MTN subscribers
Yesterday, 6th September 2023 marked the conclusion of the Uganda-SA Investment and Trade Summit in which MTN Group convened key companies in the South African private sector with operations in Uganda to Accelerate Investments and Trade between Uganda and South Africa. The Summit which was convened in line with MTN's commitment to partnerships in driving sustainable development was [presided over] by Uganda's President Yoweri Museveni.
Speaking at the Summit, MTN Group Chairman Mcebisi Jonas, noted the importance of working together and paying focused attention on the growth and development of the various countries that MTN has operations in and in Africa as a whole. He said, "as a Pan-African organization MTN sees its role as an important part of the broader conversation to support and facilitate growth and development across the continent and that is why the Group has played its part in engaging with the public and private sector to make the Summit a reality."
In attendance from South Africa was a government delegation led by the country's Minister of Agriculture, Land Reform & Rural Development Thoko Didiza, the Department of Trade and Industry and Competition, the Department of International Relations and Cooperation, the Department of Communications and Digital Technologies and her Excellency the South African High Commission to Uganda. The private sector, which was led by the Forum for South African Business in Uganda was represented by leadership of MTN, Standard Bank Group, Absa Group, Multichoice, Quantum Foods, Tiger Brands, Woolworths, Convergence Partners and Sanlam Group alongside amongst others.
The Summit, which builds on an initial Uganda-SA Investment Trade Summit that was hosted by the President of South Africa, Cyril Ramaphosa, in February continued the conversations related to bilateral trade and investment across the two countries. Specifically, the Summit's success was in how it enabled commitments to be made and discussions related to solutions to the structural weaknesses that the continent faces and the problems that hampers its progress.
Topics under discussion looked at key pillars of trade including the strengthening of institutional quality and lowering the cost of doing business as well as encouraging intra-regional and continental trade. On this topic Jonas said "we are encouraged by the continued commitment to the AfCFTA, which will play a significant role in ensuring enhanced trade within and across our borders. I am hopeful that through discussions such as these, we will be able to reduce the current hampering trade costs in our continent to well below the current comparator of more than 50% higher than East -Asia.
The discussions over the two days enabled trade and investment plenary sessions across key sectors as well as roundtable discussions and the ability of business and government to engage. To make these tangible a business exhibition was hosted, with delegates closing off the Summit by attending the MTN Skills Academy launch and visiting the Kabalega Industrial Park on 7 September.
In his concluding remarks at the Summit President Museveni said he forgave MTN for the past thanked MTN along with Stanbic and Absa for their efforts and participation in the Summit. He further encouraged the companies to continue to invest in Uganda and to encourage other businesses across industries, including manufacturing to invest and beneficiate in the country.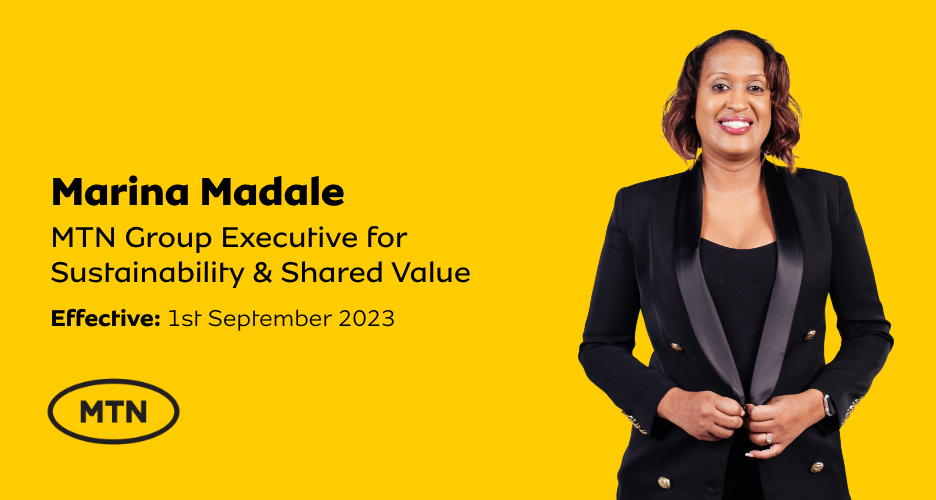 MTN Group is pleased to announce the appointment of Marina Madale as Group Executive: Sustainability & Shared Value, effective 1 September 2023. Prior to this, Marina served as the General Manager: Sustainability and Shared Value, MTN Group.
In her new role, she will be responsible for setting the strategic direction for the management of Sustainability and Shared Value and the work of our foundations across MTN Group markets.
Marina has a wealth of experience across multiple sectors globally, including oil & gas, energy, banking, and property development across multiple countries such as Qatar, Mozambique, Botswana, Gabon, South Africa, and Australia. She played an instrumental role in the development of the first of its kind community Local Development Agreements and Local Content strategy for the oil and gas sector in Mozambique. Before joining MTN, she held various senior roles at Sasol.
Among her notable achievements within MTN, Marina pioneered the development of the Group's science-based targets towards net-zero emissions, MTN's first-ever Digital Human Rights Transparency report, and first ever pan-African MTN Skills Academy.
"Marina's deep understanding of sustainability and shared value has been a cornerstone in aligning MTN's commitments and programmes with global best practices with African realities. Her exceptional execution and significant contributions have elevated our group-wide strategy and strengthened our commitment to responsible business. As we continue to navigate an evolving landscape, Marina's leadership will be pivotal in fulfilling our promise to stakeholders and communities alike," said Nompilo Morafo, MTN Group Chief Sustainability and Corporate Affairs Officer.
Marina holds a Master's degree in Communications from Bond University, Australia, and a Bachelor of Social Science Degree in Politics, Philosophy, and Economics from the University of Cape Town, South Africa.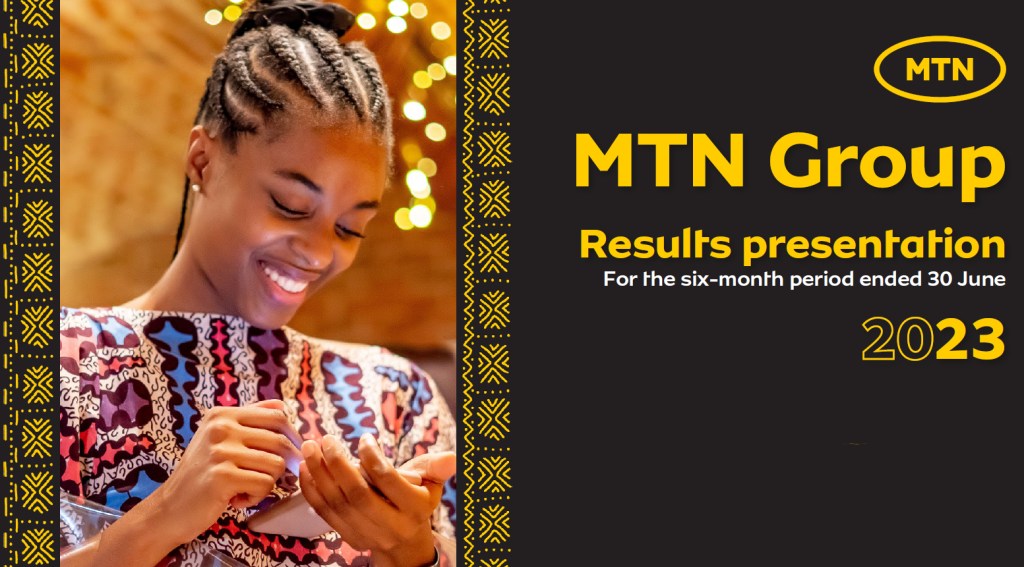 In the first half of 2023, MTN Group delivered resilient results, advanced our strategy by partnering with Mastercard on the MTN fintech business, and progressed plans to exit Afghanistan. This was achieved in a difficult operating environment marked by elevated inflation, weaker local currencies and regulatory developments across our 19 markets.
"We delivered a resilient performance in H1 23 and made good strategic progress against a tough macro backdrop," said MTN Group President and CEO Ralph Mupita.
"In South Africa, we were very encouraged by the improved network availability on the back of our power-resilience investment, resulting in a stronger Q2 23 performance than Q1 23," he said. By end-June, MTN South Africa's network availability was more than 90% despite severe electricity shortages across the country.
"In Nigeria, we delivered a very strong operational result, having navigated the cash shortages in Q1 23 and increased inflation," Mupita said. "The policy changes implemented in Nigeria in Q2 23 have short-term negative impacts, but we see these as being very constructive for the investment climate in the medium to longer term."
MTN Group's service revenue grew 15% to almost R108 billion in constant-currency terms. This was driven by increases in revenue from data services of 24% and from fintech services of 22%. Revenue from voice services increased 6% in the period.
At the end of June 2023, we had 292 million subscribers with whom we worked to create shared value. This subscriber base – 4% higher than the same period last year – benefited from lower data rates and improved access to broadband services.
To facilitate the digital economy, we increased the number of active data users by more than 7% to nearly 140 million; reported a 19% increase in overall data traffic; and improved data affordability by reducing the average effective rate per megabyte by more than 22%.
We continued to invest in world-class networks and platforms for the people of Africa, committing R17.2 billion in capital expenditure in the first six months of 2023. The Group's balance sheet remained strong, with all key metrics well within the limits of our loan covenants.
Driven by solid revenue growth and improved efficiencies, adjusted headline earnings per share (HEPS) increased by 25% to 749 cents and adjusted return on equity (ROE) expanded by one percentage point to 24.4%. These were in line with our medium-term guidance.
The MTN Group Fintech business delivered on our rapid expansion plans. The volume of transactions increased by 37% to 8.3 billion in the first half of the year. These were executed by 61 million active MoMo customers.
Following the bespoke process to identify and potentially introduce strategic minority investors into MTN Group Fintech, we executed commercial agreements with Mastercard to support the acceleration and growth of our fintech business's payments and remittance services.
MTN and Mastercard also signed a memorandum of understanding which provides for a minority investment by Mastercard into Group Fintech based on a total enterprise valuation of about US$5.2 billion for the business on a cash and debt-free basis. Signing of the definitive investment agreements is expected to occur in the very near term as we approach finalisation of customary due diligence. The closing of the investment will be subject to customary closing conditions.
We continued to work to simplify our portfolio. The process for MTN Group to exit Afghanistan in an orderly fashion through the sale of our entire shareholding to Investcom AF, and affiliate company of M1, remains well on track. The transaction received conditional regulatory approval to proceed, pending the submission of relevant documentation to the Afghanistan Regulatory Authority.
Looking ahead, MTN will keep working to create shared value across our markets. "We are focused on the continued execution of our Ambition 2025, which remains relevant in the current macroeconomic volatility and presents attractive scope for growth," said Mupita.
"As we manage the challenges in our operating environment, as well as the near-term impacts on our top-line and margins, we maintain our medium-term guidance."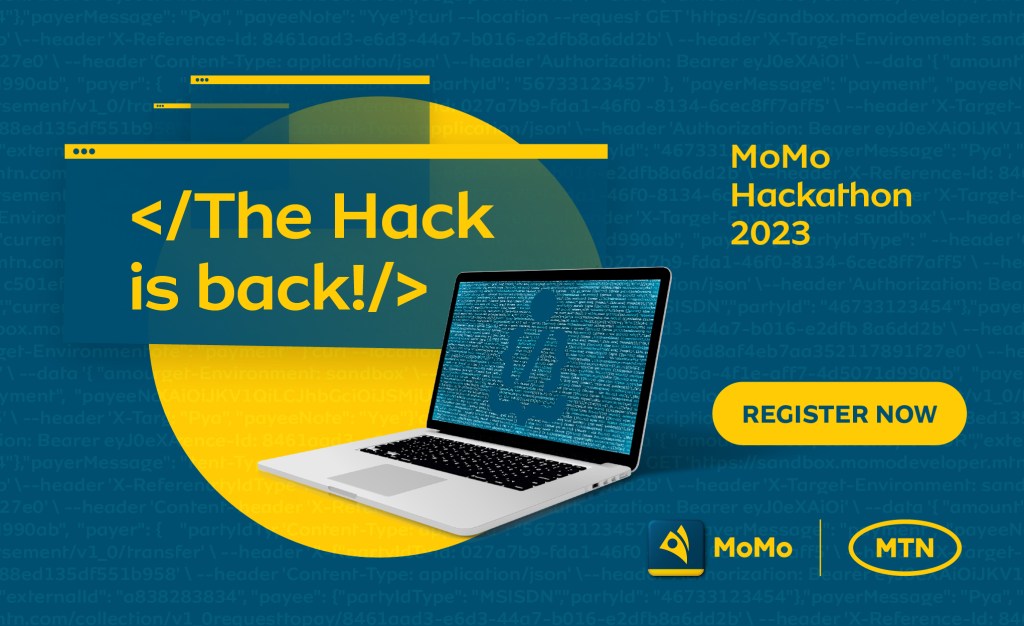 MTN Group, a leading telecommunications company, is excited to announce the launch of its Open API Hackathon, inviting developers from multiple markets to participate in creating innovative mobile applications that utilize the MTN Mobile Money APIs for their respective markets.
This hackathon, organized by MTN Group Fintech, will be the third of its kind and will take place in the following 14 countries: Uganda, Ghana, Benin, Zambia, South Africa, eSwatini, Rwanda, Cameroon, Liberia, Guinea Conakry, Nigeria, South Sudan, Cote d'Ivoire and Congo B.
Developers participating in the hackathon will compete to design and develop a solution that goes beyond processing payments, incorporating additional features and functionalities that promote financial inclusion and literacy in their registered markets.
"MTN is dedicated to advancing financial and digital inclusion across the continent as part of our strategy to build a pan-African Fintech platform, driving the digital economy and fostering social and economic growth in Africa," said Serigne Dioum, MTN Group Chief Fintech Officer.
Through the Open API Platform, MTN aims to harness the talent and creativity of Africa's developers, enabling them to leverage the MoMo Platform and create opportunities for growth. The company firmly believes that collaborating with Africa's talented individuals will expand the service offerings available on MoMo.
Key Details of the Hackathon:
The challenge will run from July 31, 2023, to October 9, 2023.
Developers will have five weeks to submit their innovative ideas for financial and transactional applications that incorporate MTN Mobile Money APIs.
The mobile application must target consumers, merchants, or businesses, providing practical and valuable solutions that can be deployed in the developers' registered markets. The applications should cover use cases beyond payment, leveraging MTN MoMo APIs.
MTN in each participating country will select the top 12 applicants to advance to the prototyping phase.
Preselected applicants will be required to develop a working prototype of their solution, and provide a live demo of their application to the adjudicators.
Interested developers can find more information Momo Hackathon 2023
Finalists stand a chance to win their share of USD 10,000 in prize money in their respective countries.
MTN Group looks forward to the innovative solutions that developers will create, driving financial inclusion and empowering individuals and businesses across Africa.
In the bustling heart of Lagos, at the 2023 Businessday CEO Forum, Ralph Mupita, the President and CEO of MTN Group, delivered a keynote address to Nigeria's business leaders. His focus was not on his company's achievements, but on Nigeria and its potential to become a significant player in the global digital economy. Other keynote speakers at the Forum included Dr. Akinwunmi Adesina, President of the African Development Bank, and Osagie Okunbor, CEO of Shell Nigeria.
Mupita's presentation was a call to action, a blueprint for building a digital economy that could propel Nigeria to become the world's 5th largest economy. He highlighted the vast untapped potential in the digital economy, with Nigeria's Internet Gross Domestic Product (iGDP) currently at 6% and expected to double by 2050 to reach 145 billion USD. He noted that Africa currently accounts for only ~1% of the global digital economy, a stark contrast to 68% in the United States, 22% in China, and 27% in Asia. This gap, he suggested, represents a significant opportunity for growth.
Commending the new administration under President Bola Ahmed Tinubu, who has indicated his commitment to promote the growth of ICT and the digital economy for the shared prosperity of all Nigerians, Mupita called on the government and business leaders to promote policies that facilitate inclusive growth. He urged for a spectrum roadmap that ensures sufficient resources to meet the surging demand for mobile services. He advocated for speedy access to mid-band spectrum, crucial for the future of low latency 5G, and access to sub-1 GHz spectrum to provide widespread rural mobile broadband services.
He also highlighted the digital skills gap in Nigeria and across the African continent, especially in advanced skills such as AI & cloud computing. With an estimated 230 million "digital jobs" in Sub-Saharan Africa alone by 2030, Mupita emphasized the need for digital skills development to advance the digital economy.
"The potential is immense. The path is clear," Mupita stated in concluding his presentation. "The future of Nigeria lies in its digital economy. And with strategic intent, collaborative effort, and a shared vision, that future is within reach."
"In the face of global economic shifts and technological advancements, Nigeria stands at the precipice of a digital revolution. The country's digital economy is poised to drive economic growth, create jobs, and foster innovation," he added.
Mupita's presentation was not just a corporate update; it was a rallying cry for Nigeria to seize the opportunities presented by the digital age. It was a call for collaboration between the government, the private sector, and the citizens to build a digital economy that is inclusive, sustainable, and powerful enough to propel Nigeria into the ranks of the world's largest economies.
This vision for Nigeria's digital future is not just a dream; it's a feasible reality. With the right policies, strategic partnerships, and a commitment to digital inclusion, Nigeria can leverage its digital economy to drive sustainable growth and development. This is the future that Mupita sees for Nigeria, and it's a future that is within our grasp.
The role of Nigeria's business leaders in this transformation cannot be overstated. As key drivers of the economy, they have the power to shape the digital landscape of Nigeria. By investing in digital infrastructure, promoting digital literacy, and fostering a culture of innovation, they can help build a digital economy that is robust, inclusive, and sustainable.
In conclusion, Mupita's presentation at the 2023 Businessday CEO forum was more than a corporate update; it was a vision of a brighter future for Nigeria. A future where digital technology drives economic growth, fosters innovation, and improves the lives of all Nigerians. It's a future that we can all look forward to.
MTN Group's Board of Directors held its annual strategy session in Ghana this week, during which Chairman Mcebisi Jonas said the relationship between governments and multinationals needs to change and that MTN wants to partner for progress with nation states and twin the Group's aspirations with those of its host countries.
"The future is about strategic partnerships. We must move beyond seeing corporates only as a source of tax revenue, as entities that government's sole focus is to regulate and control," Jonas said at a dinner attended by MTN Ghana stakeholders, including His Excellency the Vice President of Ghana, Alhaji Dr. Mahamudu Bawumia. "We need to rethink partnership models between the public and private sector in support of national development agendas while at the same protecting shareholder value."
Considering the sharp reduction in foreign direct investment in Africa since the pandemic, Jonas spoke of the need to protect and scale-up investments and look more towards pan-African corporates to drive growth. "The danger is that many of our most innovative start-ups will relocate to tech hubs elsewhere in the world…We must build a new ecosystem to drive African innovation and growth."
This required that governments address red-tape and the ease of doing business.
In his remarks, HE Dr Bawumia spoke of the need for smart investments in new technologies and infrastructure to modernise Ghana's economy to gain competitive advantage: "This is why partnerships with organisations like MTN are critical to us as a government and we would like to commend them for their role in accelerating Ghana's digital efforts and contributing to Ghana's socio-economic development."
MTN Ghana Chairman Dr Ishmael Yamson concurred: "This partnership should be anchored in a strong belief that business and society have a symbiotic relationship."
During the two-day visit, members of the MTN Group Board undertook trips to the market to familiarise themselves with the work of customer agents and solicit the views of traders and customers who use MTN's services. This is part of MTN's work to strengthen collaboration and to underscore the collective effort required to achieve long-term socio-economic growth. One of the four strategic priorities of MTN's Ambition 2025 is to 'create shared value'. Regularly engaging with key stakeholders is essential to deliver on this priority.
MTN Group, a leading telecommunications company, is pleased to announce the return of Stephen Blewett to MTN as Operations Executive: Markets, effective July 1, 2023. Stephen will be taking over from Wim Vanhelleputte, who is departing to pursue new opportunities outside the company.
In his new role, Stephen will assume executive responsibility for the WECA markets of Liberia, Guinea Conakry, Guinea Bissau and Congo Brazzaville, and provide general operations support across the same region, reporting directly to Ebenezer Twum Asante, Senior Vice President: Markets.
Stephen Blewett brings a wealth of experience to his new position, having most recently served as the Group Chief Operating Officer of Digicel, based in Kingston, Jamaica. In this role, he oversaw 20 country CEOs and spearheaded key areas such as marketing, information and technology, procurement, financial services, gaming, and digital media.
Prior to his tenure at Digicel, Stephen served as CEO of MTN Cameroon, where he made significant contributions to the company's growth and success. He had previously held similar leadership roles in the telecommunications industry, including CEO of MTN Benin and Chief Commercial Officer at Namibian mobile operator MTC. In 2020, he was voted MTN CEO of the Year by his peers. Stephen's career also includes notable positions such as Chief Executive of 3D Holdings, Managing Director of Autopage Cellular, Marketing and Sales Executive at Telkom Mobile, and Executive Head for Sales and Marketing at MCell in Mozambique.
Stephen Blewett holds a Bachelor of Commerce degree from the University of KwaZulu-Natal in South Africa. He is also a published author of marketing, sales, and business books, further demonstrating his expertise and thought leadership in the industry.
"I would like to express my deep appreciation to Wim Vanhelleputte for his significant contribution to the company," said Ralph Mupita, MTN Group President and CEO. "Wim joined MTN in 2009 as CEO of MTN Cote d'Ivoire, and subsequently moved to Bharti Airtel in 2015. He returned to MTN as CEO of MTN Uganda in 2016, leading the Opco's impressive recovery and driving notable growth. His departure is sincerely acknowledged, and best wishes are extended to him for his future endeavours."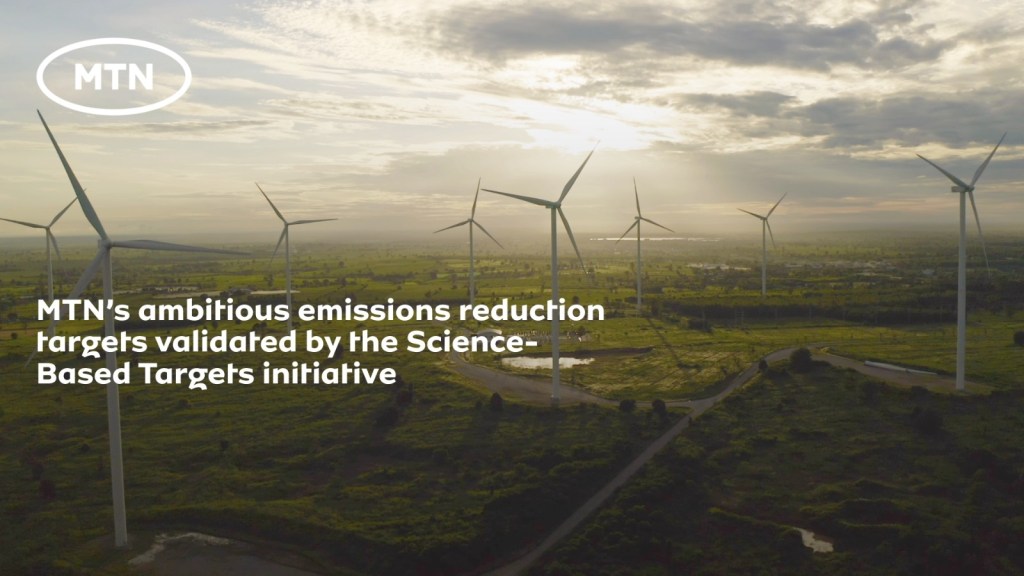 The independent Science Based Targets initiative (SBTi)[1] has validated MTN Group's company-wide greenhouse gas (GHG) emissions reduction targets – a significant milestone in our sustainability journey as well as an important recognition of our dedication to mitigating climate change.
"Businesses have a key role to play in tackling climate change using the latest science," says MTN Group Chief Sustainability and Corporate Affairs Officer Nompilo Morafo. "We are pleased to be joining over 5 200 companies and financial institutions that are taking vital steps to help deliver rapid emissions reductions, working with the SBTi."
SBTi classified MTN's scope 1 and 2 target ambition as being in line with climate science with a 1.5°C trajectory, an important recognition of the Company's dedication to mitigating climate change and a significant milestone in MTN's sustainability journey.
MTN is committed to reducing absolute scope 1 and 2 GHG emissions by 50% by 2030 from a 2021 base year. We have also pledged to decrease absolute scope 3 GHG emissions from fuel and energy-related activities by 50% by 2030 from a 2021 base.
"In collaboration with our suppliers, we are committed to ensuring that 80% of suppliers by spend will have science-based targets by 2026," says MTN Group Chief Technology and Information Officer Mazen Mroué. "We believe in doing for our planet, and that's why environmental and social considerations are at the heart of everything we do."
MTN's SBTi-approved targets will be published on the SBTi website on 29 June 2023.
Beyond our environmental commitments, MTN is driving digital inclusion and empowerment across Africa, embodying our dedication to the United Nations Sustainable Development Goals. By creating shared value for our stakeholders through environmental, social, governance and economic value-added business practices and solutions, MTN is not only creating a more sustainable business model but is also helping improve the lives of people in Africa.
---
[1] The SBTi defines and promotes best practice in science-based target setting, offers resources and guidance to reduce barriers to adoption, and independently assesses and approves companies' targets. www.sciencebasedtargets.org