Category:
Campaigns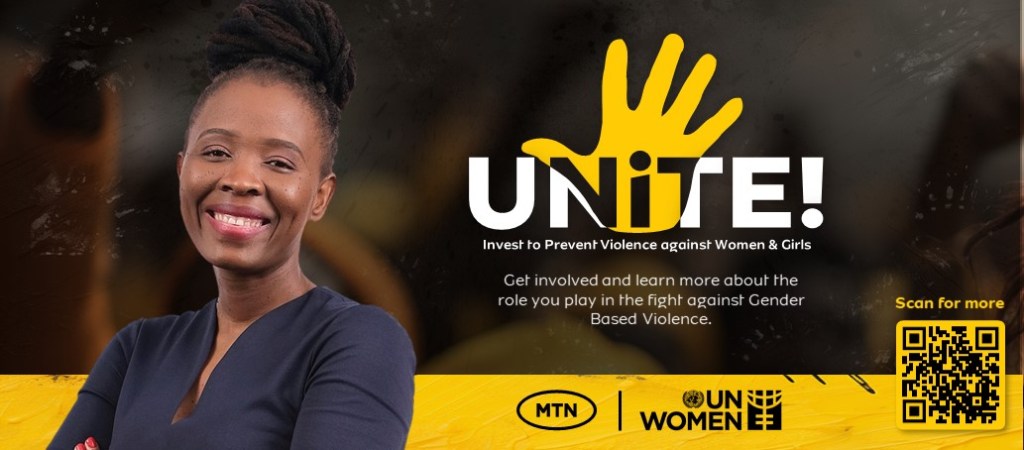 Leveraging innovative technology and strategic partnerships to combat gender-based violence (GBV), MTN Group today announces our participation in the global "UNiTE! Invest to Prevent Violence against Women & Girls" campaign. Our involvement underscores our commitment to creating safer, more equitable environments for women and girls.
UNiTE! is a 16-day campaign of activism against the scourge of GBV which affects around 736 million women worldwide. The campaign focuses on breaking the barriers of silence and stigma that often surround GBV, empowering women to stand strong and speak out.
According to the World Health Organization, in sub-Saharan Africa a third of women have experienced physical or sexual violence by an intimate partner. This surpasses the global average of 20%. Shockingly, one in five women (20%) in the region has experienced violence in the past year, compared to 13% globally.
"The staggering number of women affected by gender-based violence globally requires more than just awareness – it demands action," says MTN Group Chief Sustainability and Corporate Affairs Officer Nompilo Morafo.
"GBV is a crisis that transcends borders and cultures. As Africa's leading communications company, we are uniquely positioned to use our resources and reach to make a tangible difference. Leveraging the power of technology as a social catalyst, we, together with all those involved in the UNiTE! campaign, contribute to making our communities safer."
MTN urges everyone to participate during the 16 Days of Activism against GBV campaign, amplifying the voices of survivors and activists, supporting women's organisations, and strengthening feminist movements towards a common goal.
The collective call to action is to empower survivors, reduce and prevent violence against women and girls, and protect women's rights, while simultaneously educating male allies and providing resources that can lead to further harm reduction. The time for silence is over; it is time to ACT, to EMPOWER, and be the CHANGE!
Every year the United Nations marks 16 Days of Activism against GBV. The campaign runs from 25 November to 10 December and acts to shed light on the urgent need for collective action to combat GBV globally.
MTN Group's website provides a wealth of information on GBV, including tools and resources and emergency contacts across numerous markets.
For more information, please visit https://www.mtn.com/16-days-of-activism/.
MTN Group's Ambition 2025, has ushered in a new look that is aligned with our strategic intent to provide digital solutions to support Africa's progress underpinned by one simple, consistent, yet striking brand.
Our commitment and focus to accelerate Africa's progress sees MTN revealing a refreshed brand identity and campaign from 27 February. The campaign is inspired by an insight that doing is a bridge between can and done, because all progress comes from action.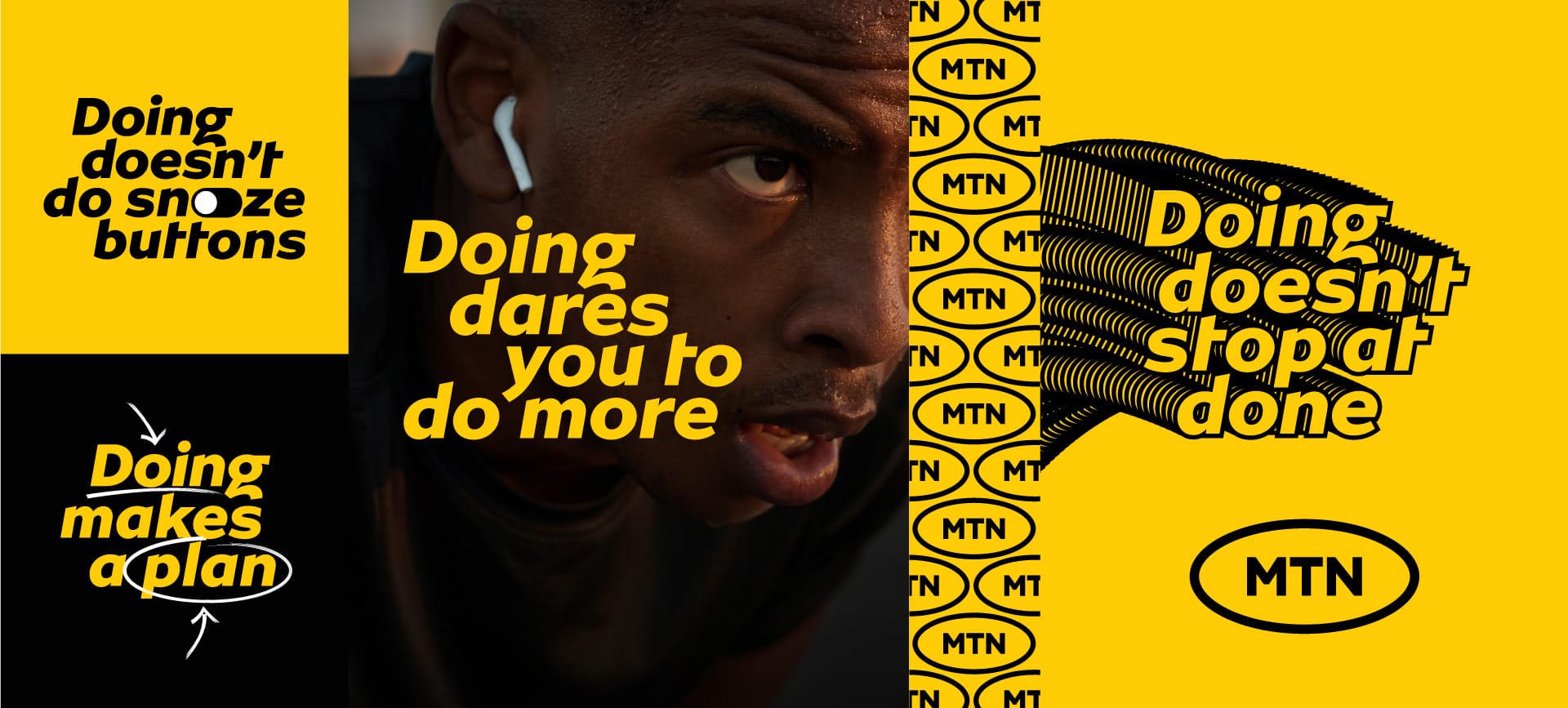 MTN, in partnership with ayoba, today launched a dynamic media campaign entitled: 'Life inside ayoba' that will bring the African super app to life. The campaign brings together all the features of the super app including chat, voice and video calling, channels, music via playlists, gaming, micro apps as well as payment facilities in some territories.

The campaign highlights the simplicity and versatility of the app, and the advantages a user gains in using all its exciting features.
"ayoba is a strategic platform for MTN as it harnesses Africa's unique digital ecosystem and context. We believe it to be a triple-play opportunity to advance free messaging, content distribution and e-commerce powered by an open platform. Made in Africa for the World, ayoba is highly localised and tailored for African and Middle East consumer needs. This campaign is perfect for our markets, it is vibrant and relevant and is sure to appeal to all who use it," says Serigne Dioum, MTN Group Chief Digital and Fintech Officer.
MTN Group's digital revenue increased by 23.8%* in the six months to end-June 2021, supported by the greater uptake of services. In the period, instant messaging platform ayoba recorded 8.0 million monthly active users, an addition of 2.5 million since December 2020. It has now been integrated into 18 MTN markets.
Our goal is to reach 19 million monthly active users by the end of this year and 100 million by 2025, leveraging MTN's existing base to scale up quickly and then grow as an OTT player in new markets.
The ayoba TV campaign is supported by radio, localised to each broadcast territory, as well as outdoor, print and on-ground activations. The message is simple – ayoba has everything you need.
"There is a need to go above the line to raise the awareness of ayoba. We strongly believe that our app will appeal to many in Africa and the Middle East and provides digital solutions to the day-to-day life of the consumer. In building the campaign we looked at what unites our African users, rather than what divides them. We had to show users that they can find everything they need in our all-in-one app. This approach has brought us a textured and innovative campaign, and we are very proud of it. We are excited to launch the campaign with the full support of MTN," says Burak Akinci, Chief Executive Officer of Simfy (ayoba).
2021 has been a busy year so far for ayoba, which celebrated its second year of operations in May 2021.
ayoba is accelerating not only digital inclusion but also financial inclusion, with MTN MoMo integrated into ayoba in select markets including Ghana, Uganda, Cameroon and Congo Brazzaville. ayoba recently received the award for Best OTT Brand of the Year at the Marketing World Awards 2021. This adds to the 2020 win for ayoba at the Africa Digital Awards for Best Mobile Application in November 2020
---
The Africa Centres for Disease Control and Prevention (Africa CDC) and pan-African operator MTN Group today launched a joint campaign – "One More Push" – to encourage people across the continent to not give up in the fight against COVID-19, and to continue to wear their masks, wash their hands and practice social distancing.
"With third and fourth waves of COVID-19 sweeping across parts of Africa, we cannot overstate the importance of everyone doing their best right now to keep the virus at bay," says Africa CDC Director, Dr John Nkengasong. "This campaign aims to encourage people to keep practising the preventative measures we know can limit the spread of COVID-19."
The awareness campaign is an extension of the African Union's 'Adapted Africa Joint Continental Strategy for COVID-19 Pandemic' endorsed by Africa's Health Ministers and aligned to the 'Prevent, Monitor and Treat' approach. It is also an extension of the partnership between the Africa CDC and MTN, which includes the rollout of COVID-19 vaccines to health workers across the continent through the Group's US$25 million donation.
"One More Push" is a renewed drive to encourage the public not to give up now. It asks that all of us keep our masks on, wash or sanitise our hands, and maintain a physical distance from each other until it is safe to no longer do so. In this way, we will be able to get back to the 'old normal' (or the best possible version of it) sooner rather than later.
The "One More Push" campaign is about encouraging the people of Africa to remain vigilant in fighting COVID-19, at a time when we are experiencing new waves of infections, and vaccination progress towards herd immunity is still some time away for our people." says MTN Group President and CEO Ralph Mupita, noting that MTN's fortunes were closely tied to the health and prosperity of the continent.
A key part of the campaign is onemorepushafrica.com, a digital content hub of credible and authoritative third-party content covering all things related to COVID-19. This includes facts around getting vaccinated, advice from leading healthcare bodies and medical experts, and important information from the Africa CDC.
"As we continue with the distribution of vaccines across the continent, we all need to keep focused on overcoming COVID-19," said Dr Nkengasong. "We implore all of Africa's people to keep it up – let's all give it one more push."
Visit onemorepushafrica.com for trustworthy content around vaccinations and the virus and to let us know what you are keeping your mask up for. Follow the #OneMorePushAfrica conversation on social media.
Hip-hop star and Grammy Award-winning producer Khaled Mohamed Khaled, aka DJ Khaled, on Wednesday added his voice to MTN Group's efforts to raise awareness about the importance of wearing masks to fight the spread of COVID-19.
"DJ Khaled and MTN want you to know that we want you to wear your mask out there; it is so important," the rapper and social media celebrity said in a video clip posted to his 21,5 million Instagram followers. In a message he felt was vital for Africa as well as for the rest of the world, he said: "If you love yourself, you love your family…if you love the WORLD, you will wear a mask."
Wearing face coverings remains one of the most effective measures to slow the spread of COVID-19. However, many people refuse to wear them, wear them incorrectly or still underestimate their importance.
 DJ Khaled, whose participation was enabled by his management company Roc Nation, urged everyone to get involved: "Tag somebody that you love so that they can wear their mask…I'm gonna wear mine; you gonna wear yours and we will make this world better, safer…and we are gonna come out this stronger, wiser and more powerful! MTN, DJ Khaled. One love."
 Earlier this month, MTN Group launched its #WearItForMe campaign, encouraging customers and the public at large not to be complacent, to wear their masks to protect themselves, and to protect and respect others.
#WearItForMe runs throughout September. Spread the message, not the virus. Visit www.wearitfor.me to send a message to someone to encourage them to do the right thing.
MTN is adding its voice to global efforts to raise awareness about the importance of wearing masks to fight the spread of COVID-19 with today's launch of the #WearItForMe campaign across its markets.
As society navigates the "new normal" brought about by the pandemic, wearing face coverings remains one of the most effective measures to slow its spread. However, many people refuse to wear them, wear them incorrectly, or still underestimate their importance.
"COVID-19 has had profound health and socioeconomic impacts across the world. We empathise and mourn the lives lost to the pandemic. And even though the outbreak appears to be slowing in Africa, now is not the time to be complacent," says MTN's incoming group president and CEO Ralph Mupita.
"With increasing evidence that masks can limit the spread of COVID-19, and eventually eliminate the disease if worn by 80-90% of the population, we need to do what we can to make a meaningful difference. Wearing a mask is not only about protecting oneself, but about respecting and protecting others," says Mupita.
To help drive this behaviour, MTN is committing its September 2020 marketing resources to encourage everyone to do more to save lives. #WearItForMe is the second phase of MTN's Y'ello Hope COVID-19 response initiative. It is a powerful call-to-action using the voices of some of the most influential people in our communities: mothers and mother-figures. They will send heartfelt messages to all the children of Africa to wear a mask and "wear it for me''.
The campaign will build on MTN's work carried out under Y'ello Hope to brighten lives and limit the impact of the pandemic, including through providing free data lifelines, zero-rated access to educational sites and using technology for contact tracing and information dissemination through the Africa COVID Communications and Information Platform.
"Wearing a mask is, of course, not the only thing we all need to do to slow the spread of the virus: regular handwashing and strict social distancing are just as important," concludes Mupita.
#WearItForMe will run throughout September. Visit www.wearitfor.me to send a message to someone to encourage them to do the right thing. #WearItForMe: Because when we all wear masks, we protect each other.
This International Day of the African Child, MTN is pleased to be supporting the United Nations Children's Fund (UNICEF) and the World Food Programme (WFP) to help mobilise funds for children and families across Sub-Saharan Africa affected by the COVID-19 pandemic.
MTN is doing this by enabling SMS fundraising throughout a month-long campaign to raise funds for those most severely impacted by the virus on the continent. All proceeds raised through the campaign will be donated in full to UNICEF and WFP, who are supporting COVID-19 affected communities across Africa.
The pandemic's closure of schools is putting at risk the futures of millions of Africa's children, compromising their ability to learn and their access at school to healthcare and food. Because of COVID-19, some 253 million children across the continent are not going to school and 65 million are missing out on school meals.
"Healthy, well-nourished kids have a much better chance of fulfilling their potential," said Nompilo Morafo, MTN Group Executive for Corporate Affairs. "Inclusion is at the heart of MTN and this is why we decided to support the campaign by UNICEF and WFP to raise funds for health supplies and food."
"The COVID-19 epidemic is affecting children in many ways" said Dr Jama Gulaid, UNICEF Representative in South Africa. "UNICEF appreciates the assistance of MTN which is helping us and our partners reach children with vital services: health, protection and water sanitation and education," Gulaid added.
The World Food Programme Regional Director for Southern Africa, Lola Castro said, "With so many people on the continent already acutely food insecure, we are extremely concerned about the prospect of COVID-19 causing a hunger catastrophe."
In this unprecedented global crisis, the poorest and most vulnerable communities are the most at risk. Together we can give them a fighting chance with access to the basics: clean water, food, soap, gloves, and masks. The donations will help UNICEF and the World Food Programme deliver life-saving health supplies and nutritious food.
To donate: In SA, SMS "donate" to 42164 to donate to UNICEF and the WFP. SMS cost is R30. Network Fees Apply, closing date 30 June 2020. Rest of the world, https://help.unicef.org/africa.
Celebrating 25 years of Being Good Together
MTN Group today launched its "We're good together" initiative. This is aimed at demonstrating how, in partnering with our host countries, we can change lives by improving digital access, driving financial inclusion, empowering and enabling SMEs, creating jobs and broad community development, among many others. As a pan African company with roots that are deeply anchored in the continent, MTN is telling its story that doing good business extends far beyond corporate social investment initiatives.
Speaking about the role of MTN on the continent, Group CEO and President Rob Shuter said: "To harness the potential of Africa and ensure our youth are productively employed we need affordable, safe and relevant digital services which are matched with the required digital skills. This in turn will support the global development agenda and national priorities. As one of the major infrastructure investors across Africa, MTN through partnership and collaboration, can accelerate this digital inclusion."
The global telecommunications industry has made significant progress on the Sustainable Development Goals but more still needs to be done to bridge the digital divide and MTN is prepared to do its part. Since inception 25 years ago MTN has been a significant contributor to the economies and communities within which we operate. A lot of this has been with respect to the infrastructure that is the backbone of the economies that we operate in, and often, that enables connectivity of people in the most remote areas. Our operations have also increasingly become a broader part of the economy through varying efforts including employment creation as well as Mobile Money.
MTN Group Media release
"Over the last 25 years MTN has built high-speed networks covering 560 million people, created jobs for over 5 million people and through MTN Mobile Money connected 30 million people to the benefits of easy, cost-effective mobile financial services across the continent," said Shuter.
MTN has also worked to use this extensive mobile reach and technology to enable access to education with the goal of promoting and enabling digital teaching and learning. This has been driven by our aim to empower students with the knowledge required to seize opportunities, improve their quality of life and realise their ambitions.
"MTN only succeeds if Africa succeeds. Being a partner in development also means that we have a responsibility to enable the youth to unlock economic opportunities in every country we operate in. We have therefore enhanced our focus on more actively demonstrating what can be achieved if we work together to enable a shared value system and drive a prosperous Africa," added Shuter.