MTN CEO, Ralph Mupita comments on the future of the telecoms industry off the back of its strategic move into the fintech space
26 April 2022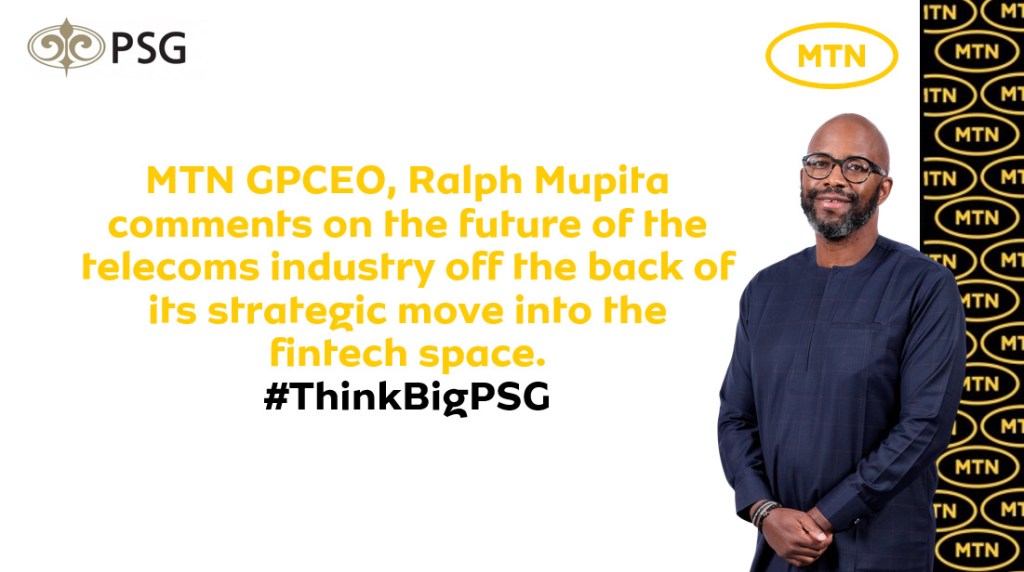 'The days of having a 4-6 player telecoms market on the continent are coming to a swift end.'
26 April 2022: Late March saw leading African telecommunications network provider, MTN overtaking rival, M-Pesa to become the continent's largest mobile payments provider. In addition, the MTN Group is in the process of spinning off its fintech division separately andwill be looking to bring in strategic investors into the group fintech business to bolster its expansion in the fintech space. This strategic shift of focus is indicative of the Group's broader objective to consolidate its business model and move decisively towards solidifying its position as a truly pan-African company. As a brand, its eye is firmly set on existing and new African horizons, in what can be thought of as a "third chapter" in MTN's business evolution.
This was the perspective shared by Ralph Mupita, President and CEO of the MTN Group, who engaged in a conversation about the future of the telecommunications industry with award-winning journalist, Bruce Whitfield. The discussion formed part of a webinar entitled Think Big– a digital series that gleans insights from some of the country's most informed thought leaders and prominent public figures. The Think Big series is an initiative of leading financial services group, PSG, and is geared towards providing a freely accessible South African platform for debating and discussing some of the country's most pressing issues.
Furthering his point on MTN's single-minded focus on the African continent, Mupita confirmed that the Group has dialed back its interests in the Middle East in order to simplify the Group's operations and allocate its human and capital resources in a way that leverages the opportunities that exist on the continent and produces profitable returns in the long-term.
With a background in the financial services sector, Mupita has played an instrumental role in the brand's expansion into mobile money and insurance. And while the move into this new space is backed by a strong business case, for Mupita, the bigger picture is that "we cannot leave people behind. We are very determined to deepen digital and financial inclusion across Africa. Africa has an opportunity to leap-frog economically by leveraging digital infrastructure and services to drive social-economic growth. We have seen the positive impact that mobile money has made in countries like Ghana and Uganda and we believe that by expanding into this area, we can create a win-win environment for business and for broader African society. We see a similar opportunity in a market like Nigeria, now that we have a Payments Services Banking licence, where we will commence operations soon."
Commenting on these developments, Mupita said that, "MTN is entering a 'third chapter,' of growth. In its formative years post-democracy, the Group established itself as a voice-centered network and expanded into new markets such as Rwanda and Uganda. In its 'second chapter,' around 2008, it transitioned into the data services space, driven by the emergence of smartphones. Now, as the Group enters a new stage of development, where ecosystems and platforms will drive growth, MTN is steadfast in its plans to make inroads into the financial services industry towards the ultimate goal of promoting and driving financial inclusivity on the continent.
Reflecting on the Group's journey over the past two years, Whitfield suggested that although the pandemic bore catastrophic consequences for South Africans (and Africans at large), its outbreak was fortuitous in the sense that digital technology was well-positioned to serve as an enabler for change.
Mupita agreed with this sentiment, commenting that at the time of the Covid-19 outbreak, MTN was equipped with the capital and infrastructural resources it needed to weather the storm and deal with the unprecedented surge in network traffic. For the Group, the past two years has been about building and maintaining a telecoms environment that could help Africans to sustain a semblance of normality, while also ensuring that the Group's financial position remained strong.
Post-pandemic, Mupita has become a proponent of having mature conversations with stakeholders and other industry players about the future of telecoms on the continent. Referencing the American current state of affairs as a model for what lies ahead for Africa, Mupita made the bold statement that "consolidation is inevitable." In his opinion, what this means is that the days of having a 4 to 6 player telecoms market on the continent are coming to a swift end.
As he elaborates: "Having a market that is saturated by a number of players is not sustainable. There is simply not a big enough profit pool to meet the return and other financial objectives of a number of industry players. Within the next few years, we will see a sector dominated by 2 to 3 major players who have the capabilities and capacity to rally massive amounts of capital investment locally and abroad, to sustain the industry's expansion. MTN has every intention of being one of the scale operators in all its markets."

On the emergence of 5G technology, Mupita commented that the 'Elon Musk dream' is well within our reach. Essentially, 5G entails machine-to-machine communication, and examples of this are already in existence in the mining sector, where MTN has played a key role with partners in the development of driverless vehicles in open-cast mining pits in South Africa.
As he suggests, "driverless vehicles for consumers may not be such a far-off reality. We're seeing use cases developing for 5G for mining, ports, manufacturing and other industrial applications around the continent. As we continue to invest in the development of African infrastructure for African society, we see MTN making a significant contribution to these kinds of new digital technologies. Africa will surprise on 5G."
From the discussion it seems clear that there are many growth opportunities available on the African continent. With a long runway ahead of it, these developments re-emphasise the importance of sound financial advice and effective wealth management for investors who want to position themselves strategically to drive growth on the continent and ultimately, reap the benefits.
To watch the webinar, please click here