Author:
Rene Carter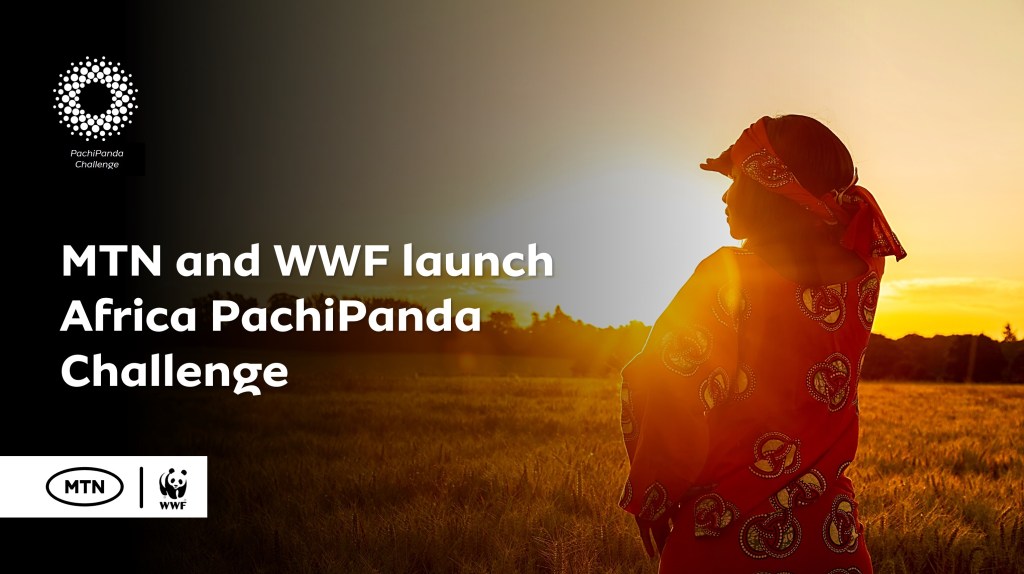 Building on the success of an initiative in Zambia to encourage young people to come up with ideas to address unsustainable environmental practices, MTN Group and the World Wide Fund for Nature (WWF) today announced the Africa PachiPanda Challenge. This extends the organisations' joint initiative to four more countries on the continent.
On the sidelines of COP28, MTN Group Chief Sustainability and Corporate Affairs Officer Nompilo Morafo met with the Zambia Minister of Green Economy and Environment Collins Nzovu who said the local initiative had been a great success and included some first-of-a-kind projects in Zambia: "The Challenge has been a significant milestone in driving tangible solutions to address sustainable and lasting climate solutions in Zambia. The type of initiatives – such as waste-to-electricity plants – which have emerged from the Challenge has been noteworthy. We now need to focus on scaling the programme and ensuring we support these businesses in a meaningful way."
To attract new ideas to address challenges, increase conservation awareness and create a more sustainable Zambia, MTN Zambia and WWF Zambia launched the PachiPanda Challenge in 2022 and held it again this year. Attracting more than 1 500 applicants, the events invited young Zambians and SMEs to submit their solutions to a number of 'challenge statements'. These included:
How might we leverage technology to ensure the benefits of conservation and sustainability practices are communicated to people of different ages, backgrounds and locations?
How do we use technology to address conservation challenges?
In what way can we develop environmentally friendly alternatives to existing unsustainable practices?
How might we develop and encourage the use of sustainable energy alternatives?
"We are proud to have birthed an innovative Initiative out of Zambia that evidently supports Youth-led small Businesses in the Climate Space that creates green jobs in a green economy." MTN Zambia Foundation Chairperson, Rose Sibisi.
"Through the Zambia PachiPanda Challenge, which is now transitioning into an African challenge, we believe that sustainable innovations key to addressing the pressing environmental issues facing our continent will be developed," said Nachilala Nkombo, Country Director, WWF Zambia.
The Challenge will now expand to include four more countries – Cameroon, Nigeria, South Africa and Uganda – and will be open to applications from young people (aged 16-35) and youth-led SMEs with early-stage or idea-stage solutions to the environmental challenges presented.
"The Zambia PachiPanda Challenge, run by MTN Zambia Foundation and WWF Zambia, was an absolute success in the first two years, and we believe the initiative brought about meaningful and sustainable projects that have the potential to transform disadvantaged communities for the better," said Evelyn Mwamubiru-Mwaura, Country Offices Project Quality Director, WWF Africa.
Morafo echoed these sentiments, saying: "MTN Group and WWF are committed to fostering innovation and sustainability in Africa and leveraging technology to achieve that. This challenge is an opportunity for African innovators to contribute to their communities and the wider continent, creating solutions that address environmental and social issues."
The Africa PachiPanda Challenge, which is set to be launched in 2024, is more than a competition; it is a platform for change. It aims to inspire participants to think beyond conventional boundaries, develop solutions that address immediate challenges, and contribute to the long-term sustainability of their communities.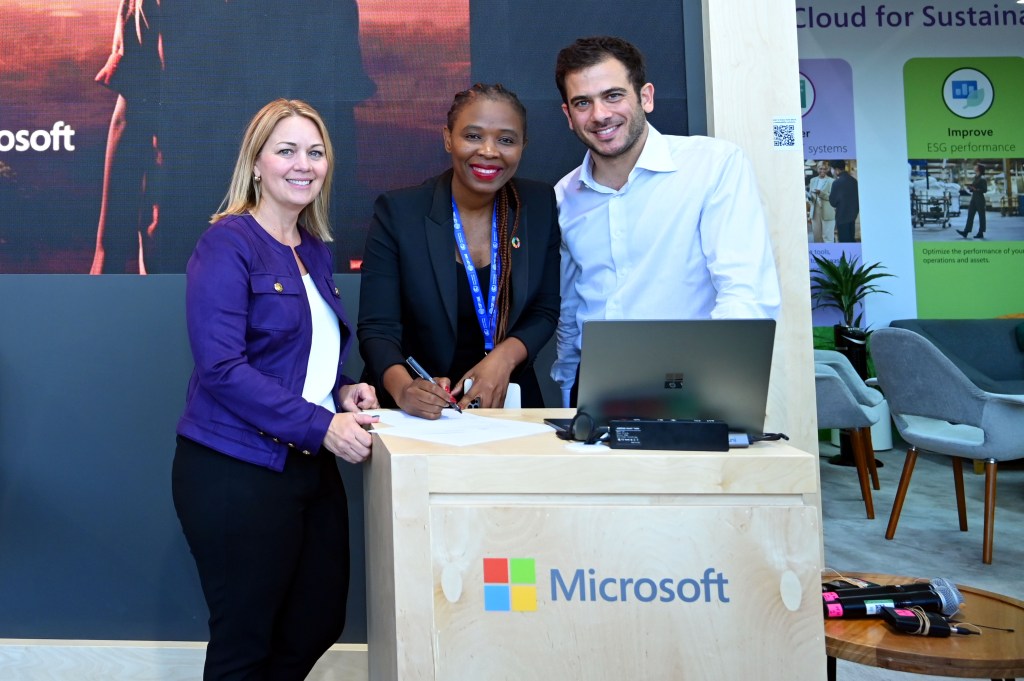 The collaboration aims to harness satellite monitoring, AI, mobile connectivity, and cloud computing to provide critical early warning information to millions across the continent.
On the sidelines of COP 28, weather intelligence and climate adaptation leader Tomorrow.io, and MTN Group, Africa's largest mobile operator, leveraging a Microsoft Azure technology grant from Microsoft's AI for Good Lab, have joined forces to unveil a pioneering initiative designed to facilitate an infrastructure to provide life-saving early warnings and critical weather information to at-risk populations of more than 300 million people across Africa.
Through this partnership, MTN's vast customer base will be able to receive early warning notifications about severe weather events, generated through Tomorrow.io's weather intelligence and Microsoft Azure, via MTN's broad set of mobile services facilitating timely evacuations and preparedness actions.
At the core of the initiative is the integration between Tomorrow.io's hyperlocal bespoke weather engine – which include cutting-edge satellite data, generative-AI, and deep learning modeling capabilities – Microsoft's Azure cloud computing platform, and MTN's mobile network services, enabling the infrastructure for seamless dissemination of localised, impact-based weather information to communities with limited accessibility across the continent. By establishing the service, the partnership will seek to collaborate with local meteorological departments in participating countries to enable users with access to additional critical weather information.
"This collaboration with MTN Group and Microsoft is a significant stride towards harnessing the power of mobile connectivity and cloud computing to help democratise access to early warning information to all at risk," said Rei Goffer, Co-founder and Chief Strategy Officer at Tomorrow.io. "By providing actionable weather intelligence, we are empowering communities to make informed decisions and thrive amidst an increasingly unpredictable climate."
"Data and AI have the potential to unlock life-changing weather information for people around the world," said Juan Lavista Ferres, Vice President and Chief Data Scientist, Microsoft "and this work will help to get that information in the hands of those most impacted and allow them the opportunity to take action in advance of extreme weather events as a result of the changing climate."
While the partnership will initially launch in Western Africa, the plans for growth include all African countries where MTN operates.
Signing the agreement on the sidelines of COP28, MTN Group Chief Sustainability & Corporate Affairs Officer, Nompilo Morafo remarked: "Our partnership with Tomorrow io. and Microsoft is a significant step in the realisation of UN's drive to ensure early warning systems for all by the end of 2027."
"With human-induced climate change leading to more extreme weather conditions, the need for early warning systems is more crucial than ever. Early warning systems like this can play a meaningful role in decreasing the number of deaths and reducing the losses and damages resulting from hazardous weather, water or climate events in Africa," she said.
"As a pan-African mobile operator, a technological solution that reduces risk and co-creates value with our partners for our customers was a deliberate decision. The dissemination of life-saving information should be a benefit of a modern connected life," said Chika Ekeji, MTN Group Chief Strategy and Transformation Officer. "This initiative underscores MTN's commitment to leveraging technology in addressing the most pressing climate challenges facing our communities."
Over time, the collaboration will also introduce a range of subscription-based value-added services, tailored to support crucial sectors such as agriculture, and aligning with the broader United Nations' focus on leveraging technology for sustainable development.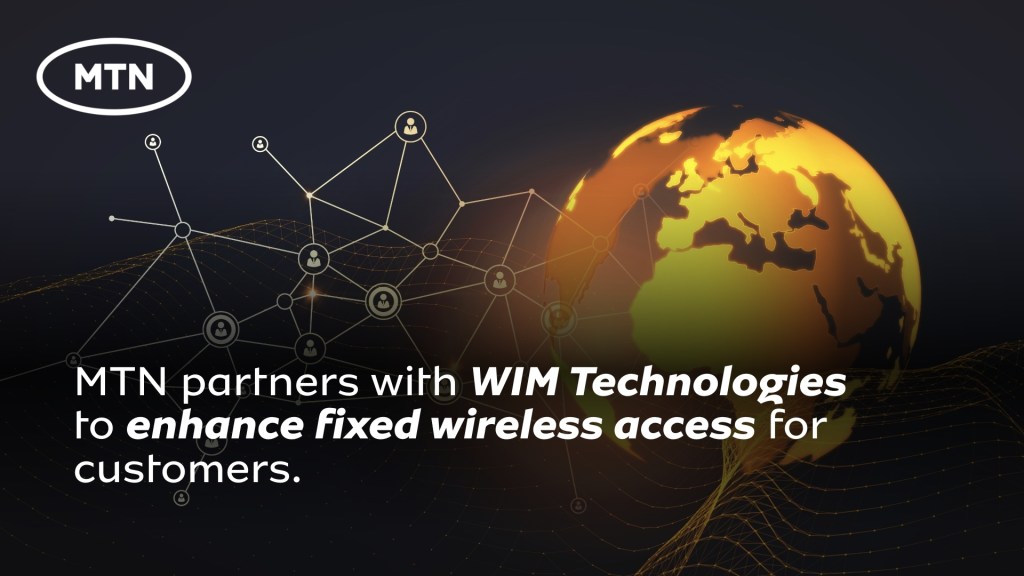 Leveraging intelligent coverage and capacity-based analytics, Unison FWA enables MTN's sales representatives with real-time insights on the most suitable packages for each customer's specific needs and location. This ensures that customers receive optimal service at competitive prices with adequate coverage.
Effective subscriber management enables MTN to maintain network stability and better optimise resource allocation, contributing to a more reliable and consistent user experience for all. Furthermore, by safeguarding revenue streams, MTN can continue to invest in network infrastructure and service enhancements.
Amith Maharaj, Executive Network Design and Planning at MTN, expressed, "Our collaboration with WIM Technologies exemplifies our dedication to providing customers with exceptional FWA services. With enhanced network governance, personalised package recommendations, and optimised network performance, MTN's customers can anticipate a superior home internet experience."
Anshul Malhotra, CEO of WIM Technologies at WIM Technologies, echoed this sentiment, adding, "We are thrilled to partner with MTN to elevate their FWA offerings. Unison FWA represents our commitment to empowering telecommunications providers with innovative solutions that enhance customer satisfaction and network performance."
This partnership further solidifies MTN's position as a leading provider of digital solutions dedicated to driving Africa's progress. With the introduction of Unison FWA, MTN's home broadband customers can look forward to a superior and unrivalled experience characterised by reliability, consistency, and personalised service.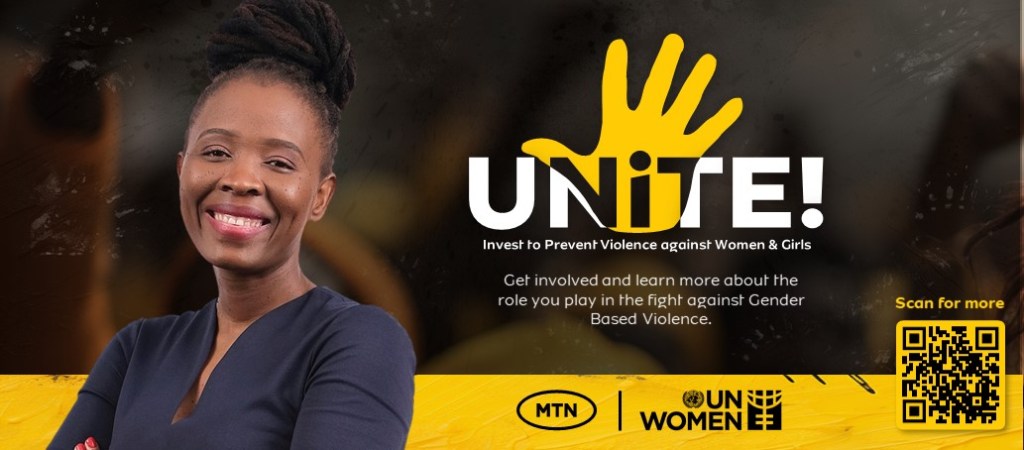 Leveraging innovative technology and strategic partnerships to combat gender-based violence (GBV), MTN Group today announces our participation in the global "UNiTE! Invest to Prevent Violence against Women & Girls" campaign. Our involvement underscores our commitment to creating safer, more equitable environments for women and girls.
UNiTE! is a 16-day campaign of activism against the scourge of GBV which affects around 736 million women worldwide. The campaign focuses on breaking the barriers of silence and stigma that often surround GBV, empowering women to stand strong and speak out.
According to the World Health Organization, in sub-Saharan Africa a third of women have experienced physical or sexual violence by an intimate partner. This surpasses the global average of 20%. Shockingly, one in five women (20%) in the region has experienced violence in the past year, compared to 13% globally.
"The staggering number of women affected by gender-based violence globally requires more than just awareness – it demands action," says MTN Group Chief Sustainability and Corporate Affairs Officer Nompilo Morafo.
"GBV is a crisis that transcends borders and cultures. As Africa's leading communications company, we are uniquely positioned to use our resources and reach to make a tangible difference. Leveraging the power of technology as a social catalyst, we, together with all those involved in the UNiTE! campaign, contribute to making our communities safer."
MTN urges everyone to participate during the 16 Days of Activism against GBV campaign, amplifying the voices of survivors and activists, supporting women's organisations, and strengthening feminist movements towards a common goal.
The collective call to action is to empower survivors, reduce and prevent violence against women and girls, and protect women's rights, while simultaneously educating male allies and providing resources that can lead to further harm reduction. The time for silence is over; it is time to ACT, to EMPOWER, and be the CHANGE!
Every year the United Nations marks 16 Days of Activism against GBV. The campaign runs from 25 November to 10 December and acts to shed light on the urgent need for collective action to combat GBV globally.
MTN Group's website provides a wealth of information on GBV, including tools and resources and emergency contacts across numerous markets.
For more information, please visit https://www.mtn.com/16-days-of-activism/.

NEC Corporation and MTN Group are pleased to announce the successful deployment of Africa's first 400G optical transponder solution, Phoenix. This initiative marks a significant milestone for the telecommunications industry in Africa, with the potential to revolutionise the way optical networks are built and operated, thereby transforming internet delivery across the continent.
Phoenix is part of the Telecom Infra Project's (TIP) Open Optical and Packet Transport (OOPT) project group, a collaborative effort involving multiple telecom operators and technology providers. The solution has met TIP's rigorous test requirements, earning it a Controlled Environment Silver Badge, indicative of its readiness for deployment.
"We are thrilled to receive the Silver Badge recognition from TIP, acknowledging our commitment to promoting open and disaggregated solutions with the Phoenix optical transponder," said Sou Satou, Senior Director of the Network Solutions Business Division at NEC Corporation. "Our dedication to TIP and the development of open products in the optical transport market remains a top priority for NEC," she added.
The deployment of Phoenix is designed to accelerate internet connectivity and optimise network operations, thereby democratising access to information. It aims to make affordable internet more widely available across Africa, fulfilling a critical societal need.
Demonstrating its commitment to innovation, MTN has embraced this state-of-the-art technology, integrating it into its production network, specifically across its optical network between Johannesburg and Centurion in South Africa, further demonstrating the technology's interoperability and backwards compatibility.
"The deployment of Phoenix with NEC Corporation is a significant step toward fulfilling a crucial promise to our customers, to deliver accessible, reliable, and fast internet," said Amith Maharaj, Executive – Network Design and Planning. "This initiative is part of our ongoing efforts to embrace the latest technologies available that ultimately empower communities across Africa," he added.
Phoenix is a network device, known as a white box L0/L1 transponder, that can transmit data at speeds of up to 400 gigabits per second. Its disaggregated nature allows it to be programmed to run any vendor's software, offering operators unprecedented flexibility in hardware and software selection. This disaggregation leads to cost reductions, accelerates innovation, and enables quicker and easier deployment of new network services.
"Disaggregation is the future of networking, and we are proud to be at the forefront of this evolution," said Anthony Laing, General Manager of Networking at NEC XON. "Through our partnership with MTN, we've established NEC XON as a trusted leader in disaggregated networking."
By leading in the adoption of Phoenix, NEC Corporation and MTN Group are setting a precedent for telecom operators worldwide, offering a scalable and cost-efficient solution that meets the burgeoning demands of a digitally connected society.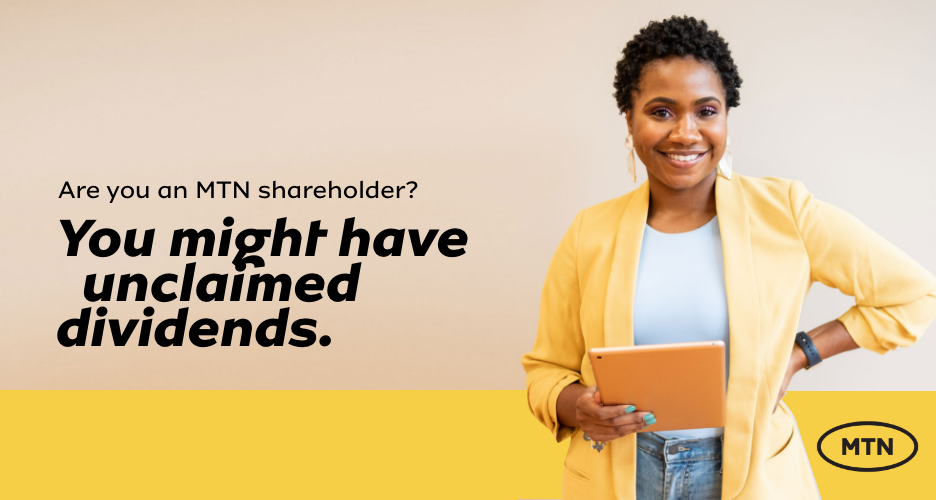 MTN Group Limited (MTN) has appointed Computershare Investor Services (Pty) Limited (Computershare) as the authorised service provider to manage the process of locating shareholders with unclaimed dividends. The objective is to update and verify shareholder information to facilitate the disbursement of any outstanding dividends. 
Since the commencement of this initiative, a substantial number of shareholders have updated their records, leading to the successful distribution of over R17 million in dividends. In collaboration with Computershare, MTN continues to exercise due diligence in tracing shareholders to ensure the timely payment of unclaimed dividends.
Computershare has been entrusted with the task of identifying these shareholders, obtaining the necessary documents to verify and update their information, and facilitating the payment of any outstanding dividends owed to them.
In collaboration with Computershare, MTN remains dedicated to reaching its shareholders and ensuring they receive their dividends. If you are a shareholder who has not yet claimed your dividends or know someone who owns MTN shares and has not received their dividends, we urge you to act.
For shareholders who have not yet updated their details or claimed their dividends, the process is as follows:
Visit the dedicated portal: MTN Unclaimed Entitlements
Contact Computershare directly via phone at 0800 202 360 or +27 11 870 8206
Alternatively, email MTNAssetReunification@computershare.co.za for further assistance
To expedite the process, please have your identification documents, proof of bank account, and other supporting documents ready if your shareholder profile requires updating. This procedure is part of our commitment to the Financial Intelligence Centre Act (FICA) verification process.
MTN and Computershare are dedicated to reuniting shareholders with their unclaimed dividends. We encourage all shareholders to take advantage of this opportunity to claim what is rightfully theirs.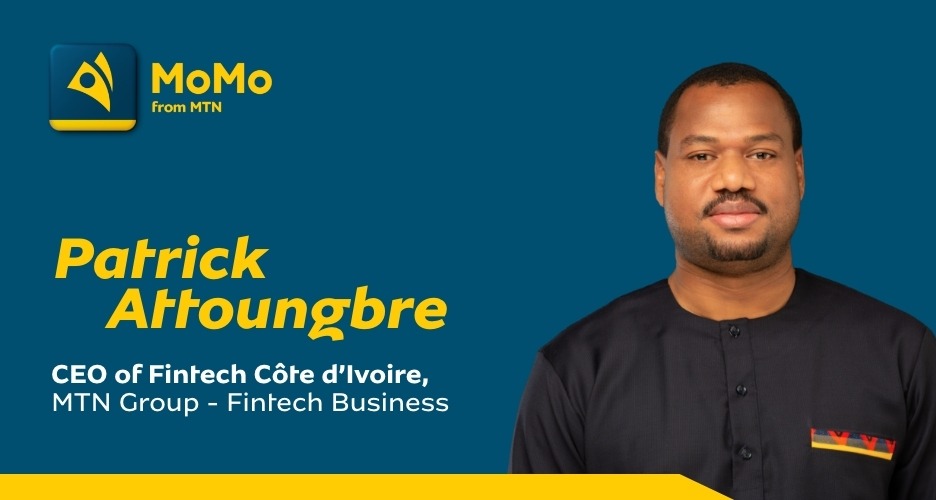 MTN's Fintech business is pleased to announce the appointment of Patrick Attoungbre as the Chief Executive Officer (CEO) of MTN Fintech Côte d'Ivoire, effective November 2023. In assuming this role, Patrick will drive MTN's Fintech business in Côte d'Ivoire, marking a significant milestone in the company's expansion.
Bringing a wealth of experience in the telecommunications and fintech sectors, particularly within the African continent, Patrick has nearly two decades of expertise. His previous executive roles within the MTN Group have positioned him as a highly respected leader in the industry.
Serigne Dioum, Group Fintech CEO at MTN, expressed his enthusiasm, saying, "We look forward to working with Patrick as we continue to innovate and shape the future of fintech in Côte d'Ivoire. His experience and leadership will undoubtedly drive our success in the market."
During Patrick's tenure as Chief Marketing Officer (CMO) for MTN Côte d'Ivoire, he played a pivotal role in reshaping the MTN brand and making substantial contributions to the country's telecommunications sector. Over a three-year period, his leadership resulted in outstanding performance, marked by revenue growth, increased subscriber numbers, and a greater market share for MTN.
Before his time in Côte d'Ivoire, Patrick served as the CMO for MTN Cameroon, where he successfully enhanced the commercial function. Additionally, he achieved remarkable success by launching the mobile money business in MTN Congo Brazzaville, transforming it into one of the group's most thriving mobile money operations.
Patrick is a distinguished alumnus of the Wharton School at the University of Pennsylvania, where he earned his MBA. He also holds a Master's degree in Logistics from the Institut National Polytechnique FHB in Côte d'Ivoire.
He takes the helm from Acting CEO, Gedeon Agbe, who demonstrated exceptional leadership in guiding the team during the transition period from July to October 2023. We extend our sincerest gratitude to Gedeon for his outstanding contributions during this period.

The Chief Executive Officers (CEOs) of six of Africa's largest Mobile Network Operators convened at MWC Kigali to consider the opportunities and challenges for deeper partnerships with African governments to drive digital inclusion and mobile infrastructure development across the continent.
In consideration of these opportunities and challenges, the CEOs engaged with His Excellency President Paul Kagame, Head of State for the Republic of Rwanda, the MWC host and Chair of the Smart Africa board, who was supported by the Honourable Ms Paula Ingabire, the Rwanda Minister of Information and Communications and Innovation.
The CEOs noted the achievements made to date by the mobile sector against the aspirations and objectives of key global and continental goals, such as the UN Sustainable Development Goals (SDGs), Agenda 2063, and the Smart Africa's Vision of creating a Single Digital Market by 2030.
The CEOs believe that a truly connected, dynamic Africa, enabled by the power of inclusive mobile connectivity, is within our collective grasp – but to make it a reality, and close the connectivity and usage gaps for good, deep political support will be required, across both existing and new partnerships. A key dependency is the need to build the right conditions for digital infrastructure investment across Africa.
Mobile technologies and services are key enablers for that vision. And tangible progress has been made. In the first 10 years of Agenda 2063 (2013-2023), mobile operators in Africa invested more than US$70 bn in building mobile infrastructure, bringing close to 85% of the African population into mobile broadband connectivity (compared to 95% global average). However, more than 680 million people, equivalent to three in five people (60%), live in areas covered by a mobile broadband network in Africa but do not subscribe to mobile broadband services.
Mobile operators in Sub-Saharan Africa invest US$ 6-8bn per year in capital expenditure, nearly 20% of their revenues, but significant additional investments are needed to achieve the ambitious targets of connecting everyone to the internet and digitally transforming Africa.
The CEOs today stated their commitment to collaborate with Africa's nation-states' transformational plans, placing added focus on four priority areas where governments, working in partnership with the mobile sector, have the opportunity to drive digital inclusion, economic growth and environmental transformation:
Priority 1: Driving inclusive connectivity through fiscal and other policy reforms.
Reforming fiscal policy will improve affordability for consumers and incentivise investments by operators given that taxes and fees account for 30% of industry revenues according to the GSMA Mobile Tax Policy and Digital Development report. While this may not be the means to an end, we also acknowledge and commit to the need to create a healthy competitive environment through other policy reforms such as infrastructure sharing, and national roaming among others.
Priority 2: Closing the Investment gap for building broadband infrastructure.
The World Bank projects that $100bn is required to achieve universal connectivity in Africa. The UN Broadband Commission in 2021, released the 21st Century Financing Models for Bridging Broadband Connectivity Gaps. We are working with the UN BB Commission to implement the recommendations, which require regulatory support for new financing models for the digital infrastructure and include all digital economy beneficiaries.
Priority 3: Environmental Impact.
Climate action is important to operators across SSA with MTN, Orange and Vodacom committed to net zero carbon emissions by 2040 and Airtel Africa by 2050. These commitments include targets to approximately halve their carbon emissions over the next 10 years.
The Mobile Industry Commitment.
The industry currently contributes $170bn (8.1%) to GDP across the Sub-Saharan region and commits to spend another $75bn, which will yield an expected $210bn to Sub-Saharan Africa's GDP by 2030. Additionally, this will result in an additional 200 million unique mobile subscribers, taking the total population coverage to nearly 700 million by 2030 i.e. 50% penetration as a percentage of population. In line with the above, the industry pledges to develop partnerships aligned with the country's priorities and their business objectives in the form of a social compact for creating shared value.
Achieving a connected Africa requires true partnership.
Success is a team game. And further political support, across the continent, is essential to register meaningful progress. This includes facilitating the right market structures and conditions to avoid unnecessary fragmentation and policies that support the investment environment needed for success.
Therefore, The CEOs call on African leaders and policymakers to partner on digital development with the mobile industry by reimagining existing structures and developing targeted new policies that accelerate the positive and inclusive impacts of mobile technologies to close the investment and usage gaps. For example:
1: Tax rationalization for the mobile industry through the development of targeted fiscal policy reforms that support economic growth and digital development, deepening digital and financial inclusion & aligned with national targets. E.g. removal of tax on low-cost smartphones and sector-specific tax.
2: Regulatory support to implement the recommendations of the UN Broadband Commission's '21st Century Financing Models for Bridging Broadband Connectivity Gaps'. To promote investment models for digital infrastructure which include all digital economy beneficiaries.
3: Climate Action policies to improve access to renewable electricity for corporate buyers, are essential for the mobile industry to achieve their climate targets.
Today, the industry has come together at MWC Kigali to focus on these key priorities and commitments and drive meaningful policy progress in a spirit of cooperation, in a conversation with His Excellency Paul Kagame, President of Rwanda and Smart Africa Board Chair.
Together, we believe passionately in the power of mobile to act as a catalyst for economic and social inclusion across Africa. We extend an open invitation to other African Heads of State to engage with us in driving solutions that focus on deepening digital and financial inclusion in the continent for the benefit of all African citizens.
Signatories:
Segun Ogunsanya, Chief Executive Officer, Airtel Africa Group
Hassanein Hiridjee, Chief Executive Officer, AXIAN Group
Frehiwot Tamru, Chief Executive Officer, Ethio Telecommunications
Ralph Mupita, President and Group Chief Executive Officer, MTN Group
Jerome Henique, Chief Executive Officer, Orange Middle East and Africa
Shameel Joosub, Chief Executive Officer, Vodacom Group