Author:
Greg Davies
MTN Group's Ambition 2025, has ushered in a new look that is aligned with our strategic intent to provide digital solutions to support Africa's progress underpinned by one simple, consistent, yet striking brand.
Our commitment and focus to accelerate Africa's progress sees MTN revealing a refreshed brand identity and campaign from 27 February. The campaign is inspired by an insight that doing is a bridge between can and done, because all progress comes from action.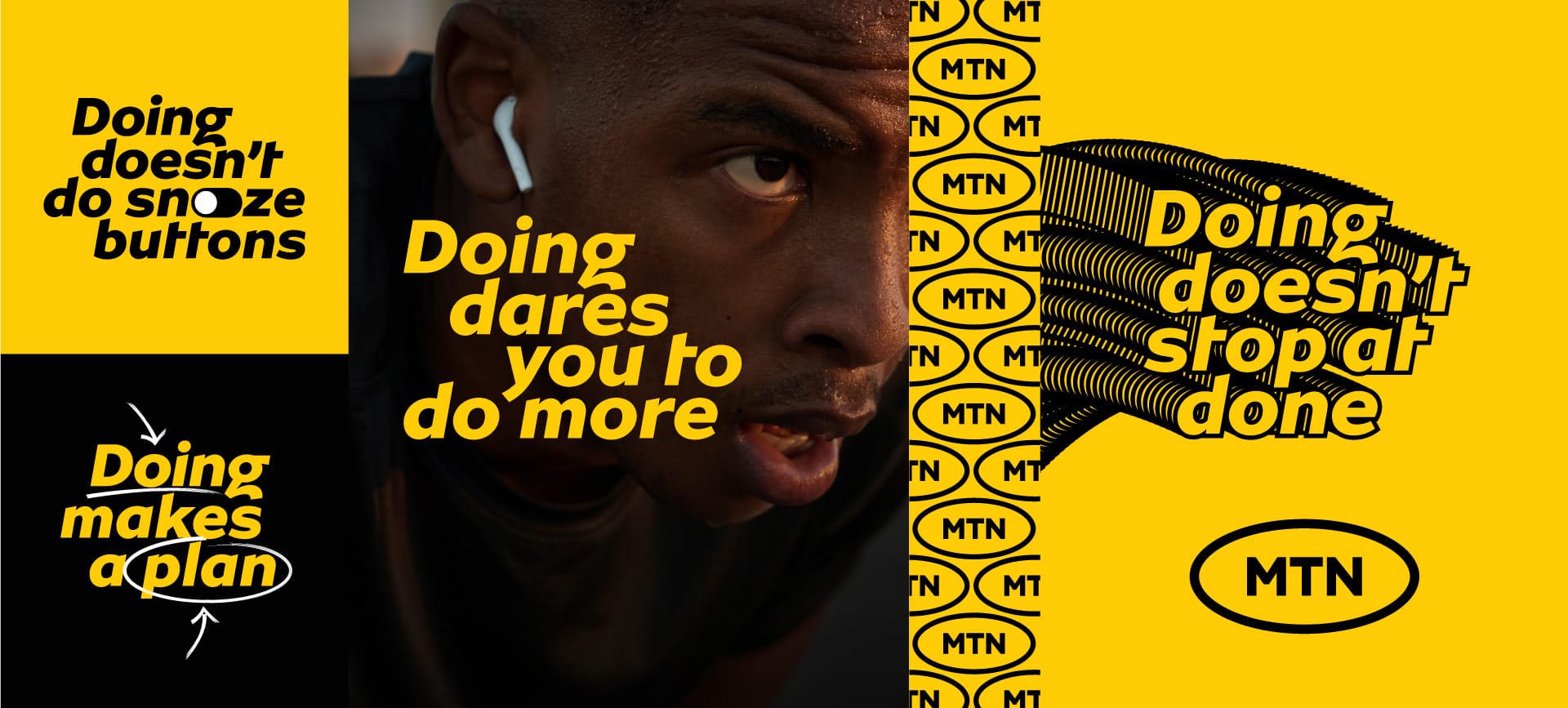 MTN Group's Procurement company, Global Sourcing and Supply Chain (GSSC) received the 'Best Use of Digital Technology' award at the CIPS Middle East Excellence in Procurement 2022 Awards. The conference is the largest procurement gathering in the region, bringing together the industry's most influential individuals.
---

The award recognises procurement and supply chain teams and showcases successful technology projects that have made a significant business impact in the industry. To this end, the award demonstrates how MTN GSSC is embracing of digital transformation in line with its vision to build a data-driven predictive procurement ecosystem.
MTN Group Chief Financial Officer, Tsholo Molefe commented, "This award is testament to the continued delivery of the key aspects of our Ambition 2025 strategy which at its core is about how we will drive the business forward to take advantage of the digital acceleration trends. The introduction of innovation and digital transformation practices within our procurement processes, ensure that as a Group, we continue to identify and implement processes that are enabled and driven by technological advances. A huge congratulations to the whole team on this achievement".
MTN Group Executive for Procurement & Supply Chain Management, Dirk Karl who accepted the award commented, "It is a great pleasure to receive the prestigious CIPS award and to be recognised for our continuous efforts and achievements as well as our focus on utilising cutting-edge technologies and data management in both strategic and operational procurement. From telco to techco, that has been our ambition from the outset. We are not simply surviving the disruptive changes in the industry but changing our organisations DNA."
Commenting on the gathering of the CIPS Middle East Excellence in Procurement Conference, Karl added, "It was great to discuss the latest and greatest advances in procurement and technology with other attendees. Our doors are always open for collaboration with other organisations who want to tap into the future of procurement and benefit from the innovative ideas we are developing."
With the new year still fresh, MTN GSSC has many more astounding advanced analytics developments on their 2022 Roadmap.
An MTN Group delegation led by President and Chief Executive Officer Ralph Mupita has concluded a visit to the WECA region, where meetings were held with key stakeholders in Cameroon, Benin and Ghana.
The visit is in line with MTN's commitment to open and regular dialogue with local authorities in our markets as well as our work to create shared value and engage on developments related to digital and financial inclusion. Among other members of the delegation were MTN Group Senior Vice President Markets Ebenezer Asante and Group Chief Fintech Officer Serigne Dioum.
During the visit, the MTN leadership noted the role that the Group updated stakeholders on the role MTN is playing in the development of the digital economy, regulatory developments as well as discussion on nation-state strategies for socio-economic developments in the respective markets.
The visit kicked off in Cameroon, where the Group President and CEO held meetings with several material stakeholders, including the Prime Minister, the Minister of State, the Secretary General of the Presidency of the Republic, and the Head of the Regulatory Board.
He congratulated the Government of Cameroon for hosting AFCON 2021: "AFCON 2021 successfully showcased the football talent of Africa, and demonstrates the importance of football as a unifying force across the continent. MTN has been increasing its involvement in football, with new sponsorships in Nigeria and Cameroon in recent times."
Mupita was happy to see the good progress made on key regulatory matters in Cameroon, and expressed gratitude to the country's authorities for their support.
In Benin, Mupita met the Minister of Economy and Finance, Senior Minister of State, and the President of the Regulatory Board ARCEP and his cabinet. He congratulated the government on the country's economic growth as well as Benin's progress in securing the return of historic cultural artefacts.
MTN is invested in promoting Benin and showcasing its rich culture through the campaign, #LeBéninQueJ'aime. At the Ministry of Health, Mupita announced MTN's financing of a shipment of COVID-19 vaccines to Benin.
Mupita spoke about the Government Action Programme (PAG) particularly as it relates to the enhanced efforts towards access, and digital and financial inclusion, which aligns with MTN's belief that everyone deserves the benefits of a modern connected life.
On the last leg of his tour, Mupita engaged with key stakeholders in Ghana. These included meetings with the Minister of Communications and Digitalisation and the Board Chairman and Director General of the NCA to reiterate MTN's support for the further development of the Ghanaian telecommunications sector and Ghana's broader digital economy plan.
The new policy is in line with the changing nature work accelerated by Covid-19.
MTN Group is pleased to announce the introduction of Anywhere, Anytime Flexibility, a new Group Policy that encourages time and place flexibility. Under the auspices of the Group's future focussed "Live Inspired" employee value proposition that was introduced in 2021, Anywhere, Anytime Flexibility aims to better reflect the changing nature of the way we work. The policy enables qualifying employees with Anytime flexibility which relates to usage of business hours and Anywhere flexibility which relates to usage of workspaces.
Eligible employees have the option to opt-in for flexible work time and/or place of work, for specified durations during the week or month. This model has been built on the premise of creating a hybrid work environment which activates the benefits of working, both in a company structured and personal-choice environment.
Paul Norman, MTN Group Chief Human Resources Officer said, "Our goal is to create a happy and inspiring work environment for our employees. To this end, we aim to create a fair and inclusive culture which balances diverse personal choices and work priorities. Anywhere, Anytime Flexibility creates room for our employees to exercise the responsible choice of workplace and time to better balance work and life. This policy will also enable us to retain and recruit talented employees."
The policy will be implemented in each MTN Group market in line with local laws and regulations. Importantly, the health and safety of our employees remains a priority, therefore the implementation of the policy will depend on the Covid-19 risk-adjusted health and safety clearance in these markets.
The leadership of the MTN Group kickstarted the year with our two-day annual virtual Global Leadership Gathering. The gathering provides an opportunity for us to reflect on the progress we have made to deliver on our ambitions, to recalibrate where necessary, and renew our commitment to lead digital solutions for Africa's progress.
A future-fit business thrives when it can efficiently run world-class operations, adapt, and transform with the changing times, and constantly reinvent itself to remain relevant and sustainable. MTN has a tremendous responsibility to drive digital and financial inclusion in the communities we operate in. We have challenged ourselves to be bold and seize the opportunity to transform Africa's future.
MTN Group President and CEO, Ralph Mupita, said: "MTN has a vision of providing leading digital solutions to support Africa's progress, and we took very meaningful steps in realising this vision. The work we are doing is important for the progress of the communities we live and operate in. If Africa is to economically 'leap-frog', while delivering the benefits of a modern connected life to its people, MTN would have played a significant role in that progress."

---
2021 achievements
It is important to highlight a few things as we reflect on the accolades received and the many accomplishments achieved in the previous year.
MTN started 2021 by stepping forward as the first private sector company to work with the African Union and contribute to securing much-needed vaccines for the African continent.
We have been recognised as one of the best companies to work for globally, following inclusion in the 2021 Forbes list of World's Best Employers, while Fortune honoured the Group in its list of companies Changing the World.
The work we are doing around reducing our carbon emissions, driving financial inclusion, reducing the cost to communicate, improving diversity in the workplace and digital human rights has been acknowledged by international ratings agencies such as the FTSE and Sustainalytics.
We have retained our Net Promoter Score leadership positions in 15 markets, which is a clear indicator of success and how we serve our customers. To add to this, our share price has soared, up 184% when measured from the start to end of the year.
---
Progress on Ambition 2025
Our Ambition 2025 Strategy is focused on driving growth through building the largest and most valuable platform business with a clear focus on Africa. To this extent, we are reinventing ourselves for a sustainable future to the benefit of our customers.
According to Mupita: "The contribution of MTNers in the progress the company made, was achieved through a most challenging time, and I know you all dug deep and tapped into individual and collective reservoirs of strength, grit, and determination."
"Our vital behaviours, values and culture provided us with a firm foundation of service, excellence and high-performance. We are well on the way to deliver on our strategic intents, as defined by our Ambition 2025 Strategy and the commitments we have made to our stakeholders."
The successful execution of our Ambition 2025 Strategy will be defined by the operating structure and leadership team driving that strategy.
---
Operating structure and leadership changes
To ensure the Group is structured in a manner that drives delivery, we announced a new leadership structure and team in December 2021. In line with Ambition 2025's strategic priorities, the Group has welcomed the following individuals to the ExCo team:
Mazen Mroue as Group Chief Information and Technology Officer (CTIO),
Nompilo Morafo as Group Chief Sustainability and Corporate Affairs Officer and
Chika Ekeji as Group Chief Strategy and Transformation Officer.
Several changes were introduced to MTN's operating structure and existing ExCo members have taken on new roles with expanded responsibilities. A Markets cluster was created, combining West and Central Africa (WECA), South and East Africa (SEA) and Middle East and North Africa (MENA) under one leadership. Ebenezer Asante is assuming the new role of Senior Vice President (SVP) of Markets and part of his focus will be to ensure seamless execution of the structural separation of the fintech and infraco assets within the Markets portfolio.
A decision was made to separate digital from the fintech priorities to enhance the capacity to accelerate the growth of MTN's fintech and other platforms. In order to remain the leader in delivering financial inclusion in Africa, we need focus, agility, and pace in fintech. With the simplified structure under the leadership of Serigne Dioum as Group Chief Fintech Officer, we are set to drive the business forward at a faster pace.
MTN Group COO Jens Schulte-Bockum will drive an acceleration of digital, infraco, enterprise services, network as a service and Chenosis platforms. Jens and Serigne will work together closely to ensure strategic coherence and execution of both fintech and Africa's SuperApp, ayoba.
These appointments illustrate our diversity of nationalities and bench strength of a team that is highly experienced and well-positioned to take the business forward as we deliver on our ambitions for growth and delivering value. The newly appointed Executive Committee leading MTN on this journey officially started in their roles on 1 February 2022.
We would also like to take this opportunity to thank Felleng and Godfrey who have made significant contributions to the Group Exco, and the progress we have seen in MTN over the last 5 years. We wish them well in their respective futures.
The full Executive Committee and their profiles can be seen at https://www.mtn.com/who-we-are/leadership/executive-committee/
MTN Group President and Chief Executive Officer Ralph Mupita has paid a day's working visit to Ghana to engage with some key stakeholders and reiterate MTN's commitment to support the further development of the Ghanaian telecommunications sector and work towards greater financial inclusion.

On Wednesday, the Group CEO and his team of executives paid courtesy calls on the Bank of Ghana, the Ghana Revenue Authority, and the Ministry of Finance to interact and discuss issues of mutual interest, including localisation.
During the visit to the Bank of Ghana, Mr. Mupita expressed his appreciation for the Bank's support over the years. Bank of Ghana Governor Dr. Ernest Addison congratulated MTN for the work done in the mobile financial services sector and indicated that the Bank was counting on MTN to continue to champion innovation and financial inclusion. Dr Addison was joined by the Second Deputy Governor Mrs Elsie Addo Awadzi.
The MTN delegation then called on the Commissioner General of the Ghana Revenue Authority Mr. Ammishaddai Owusu-Amoah and his deputies where Mr. Mupita commended Ghana for encouraging economic growth last year.
In his engagements with the Ministry for Finance, Mr. Mupita reiterated MTN Group's continued support to the Government of Ghana in achieving its digital agenda.
This is the third visit of the Group CEO to Ghana since he assumed office in September 2020. He is accompanied by the MTN Group Senior Vice President of Markets Ebenezer Asante, MTN Ghana CEO Selorm Adadevoh, CEO of Mobile Money Ltd Eli Hini, MTN Ghana Chief Corporate Services Officer Sam Koranteng and MTN Ghana Chief Financial Officer Antoinette Kwofie.
The visit to Ghana is part of Mr. Mupita's regular engagements with local authorities in priority markets. He calls on key stakeholders early every year to revisit the Group's commitments, understand their expectations and foster cordial working relationships. His next stop is Nigeria.
MTN Group's commitment to improve our environmental, social and governance (ESG) performance has led to a significant upgrade in the Group's ESG rating by FTSE Russell, and the inclusion of MTN in the FTSE/JSE Responsible Investment Top 30 Index.
Noting an improvement across each of the ESG pillars, FTSE upgraded MTN's overall rating to 4.3 at end-December 2021 from 2.9 previously. The ratings are scored out of 5.0. In the telecoms sector, MTN moved from the 34th percentile in December 2019 – the last time such a ranking was performed – to the 97th percentile in December 2021.
MTN Group received the maximum 5.0 points as a social score (compared to 3.2 previously), 4.5 points (from 4.0) as a governance score and 3.6 (from 1.9) as an environment score.
"We are encouraged by this re-rating, and as part of our Ambition 2025 strategy, we will continue with the work to create shared value, with ESG at the core," said MTN Group President and Chief Executive Officer Ralph Mupita. "It reflects the step change we have taken in our approach to sustainability and improving the risk profile of the group."
Compared to the mobile telecoms sub-sector, MTN scored the highest across all social categories – human rights & community; labour standards; social supply chain – as well as across both governance categories – corporate governance and anti-corruption. With regards environmental themes, the Group scored substantially higher than the sub-sector average for climate change and environmental supply chain.
"As a provider of essential communications services, we take very seriously the social and governance aspects of our work," said Nompilo Morafo, who assumes the role of MTN Group Chief Sustainability and Corporate Affairs Officer on 1 February 2022. "MTN's approach to human rights & community, labour standards and social supply chain all showed improvements, and these remain critically important. Similarly, our work around anti-corruption and sound corporate governance was recognised, and we look forward to more progress in 2022."
MTN Group is now in FTSE/JSE Responsible Investment Top 30 Index, which identifies South African companies with leading ESG practices.
MTN in partnership with ayoba, Africa's Super App, has reached an exciting milestone of over 10 million monthly active users. 2021 has been a fast-paced year so far for ayoba, who celebrated its second year in operation in May 2021.

The ayoba platform aims to harness growth in the African digital economy by breaking down barriers such as limited access to the internet and digital services, low smartphone penetration, lack of locally relevant content, and affordability.
"We celebrate this milestone and are pleased that through ayoba we can provide access to affordable communications, so that millions of people across our markets can enjoy the benefits of a modern connected life", says MTN Group Digital and Fintech Officer, Serigne Dioum.
"MTN's Ambition 2025 strategy is to drive digital and financial inclusion across Africa, via ayoba we intend to reach 100 million monthly active users by 2025, ensuring more people reap the social, economic, and developmental dividends of being online," concludes Serigne.
In its two years of existence, ayoba has grown significantly and continues to be recognised by various bodies. In 2021, ayoba received the Best OTT Brand of the Year accolade at the Marketing World Awards and recently was awarded the Best Mobile App from Bonteh Digital Awards. Ayoba has also hosted two hackathons this year, with the aim of guiding young developers on micro-app development.
Commenting on the achievement, ayoba Chief Executive Officer, Burak Akinci said: "Our progress in 2021 has been considerable, growing in excess of 4 million users. This is a clear sign that the African market really enjoys ayoba, and we are here to stay. This growth is also due to the hard work of our team, and of course, the loyalty and enthusiasm of our users, who are always our first priority. We look forward to even bigger growth in 2022, as we see progress from the new features, content and general improvement that will be launching throughout the year."
ayoba offers users access to digital and rich media services through channels, micro-apps, and payment solutions, embedded within a single African Super App. With over 180 content channels ranging from Sports, News, Music & Artists, Health & Wellness, Careers, Fashion & Beauty, Education and Travel – a huge increase from the 128 at the start of the year.
In addition, users now have access to a range of 35 micro-apps, including MTN Online School (SA) and MTN MoMo (Ghana), adding even more content to a deep and hyper localised offering.
We have also identified the gaps in our markets heightened by the pandemic, particularly in terms of the literacy of subscribers and through our education micro-app available in ayoba we have launched numerous channels with key strategic partners focused on specific areas of education ranging from entrepreneurial education to country-specific curriculum content for students, which include educational explainer videos on topics ranging from math, science, and the art of storytelling.
Ayoba users can send and receive encrypted messages in 22 diverse languages, share photos, videos, files, voice notes and even their location, and can also subscribe to live channels. Localised content is available through these channels that aim to entertain, educate, and empower communities.
Ayoba is available to MTN and non-MTN customers. MTN customers are automatically allocated free data to use the ayoba features[1] including messaging, browsing, gaming, and listening to music. Customers can download the free app data at www.ayoba.me. In addition, ayoba lite is now also available for web access at web.ayoba.me which is proving to be popular with users who are short on space on their devices. Voice and video calls are excluded from the free data provisions.
[1] With the exception of Benin
MTN Group is pleased to announce the appointment of Hermann Tischendorf as our Chief Technology & Information Officer for Digital and Fintech.
"We are delighted to have a seasoned executive of Hermann's calibre joining our growing DigiFin team," says MTN Group Chief Digital and Fintech Officer Serigne Dioum. "He brings the skills and experience that will accelerate innovative digital and fintech advancements in line with our strategic intent of leading digital solutions for Africa progress."

Hermann joins from 4Finance Group, where he was Chief Technology Officer. He has 30 years of experience in the financial services sector, where he has occupied numerous senior roles. Hermann brings a solid track record of success in directing organisational expansion, digital product development, operations management, IT budget allocation, as well as mergers and acquisitions.
At MTN, Hermann will bring transformation and disruption to our mobile payment platform and help improve customer engagement, experience, acquisition and loyalty. He will also be responsible for developing new products and services, building the nascent ecosystem and scaling up existing revenue streams.
Hermann holds a Master of Business Administration and a Diploma with Honours from Karl-Franzens University of Graz, Austria and studied Finance & Banking at the Anderson School of Management, University of California Los Angeles (UCLA). His appointment took effect on 1 December 2021.
MTN Uganda Limited announces that it will proceed today with the listing of its 22.4 billion ordinary shares on the Uganda Securities Exchange (USE), with trading commencing immediately.
The listing has received the requisite approvals from the Capital Markets Authority in Uganda and the USE. It follows the successful completion of the largest initial public offering in Uganda's history, raising a record UGX535 billion from applications for 2.9 billion shares (including incentive shares).
"We are delighted with the successful completion of the offer. It clearly shows the confidence that Ugandans and other investors have in the company, its brand and its strategic intent," said MTN Uganda Chairman Mr. Charles Mbire.
"We commend all the regulators for their support in our work to become a USE-listed company and to comply in a timely manner with the listing provisions of the national telecommunications operators' licence," he added.
MTN Uganda CEO Wim Vanhelleputte was also in a celebratory mood: "Today marks the conclusion of a remarkable journey which has given over 20 000 Ugandans the opportunity to become owners of MTN Uganda."
"We are particularly proud of our digital m-IPO collaboration with the USE, an African first. More than 93% of the applications were made via the m-IPO platform, with the majority of these investors new market participants," he added.
The listing reduces the ownership of MTN Group in MTN Uganda from 96% to 83.05%. It is in line with MTN Group's strategic priority to create shared value, partly through ensuring broad-based ownership in all operating subsidiaries. This aligns with the Ugandan Communications Commission's new licensing requirement for broad-based ownership by Ugandans, with a compliance deadline of mid-2022.
"With this listing, MTN Uganda becomes the Ugandan stock with the largest market capitalisation on the USE," said MTN Group President and CEO Ralph Mupita. "We are very encouraged to have helped facilitate the broadest possible shareholder base in Uganda, with regional participation and in so doing, further developing the equity capital markets in this country."