Month:
December 2021
MTN in partnership with ayoba, Africa's Super App, has reached an exciting milestone of over 10 million monthly active users. 2021 has been a fast-paced year so far for ayoba, who celebrated its second year in operation in May 2021.

The ayoba platform aims to harness growth in the African digital economy by breaking down barriers such as limited access to the internet and digital services, low smartphone penetration, lack of locally relevant content, and affordability.
"We celebrate this milestone and are pleased that through ayoba we can provide access to affordable communications, so that millions of people across our markets can enjoy the benefits of a modern connected life", says MTN Group Digital and Fintech Officer, Serigne Dioum.
"MTN's Ambition 2025 strategy is to drive digital and financial inclusion across Africa, via ayoba we intend to reach 100 million monthly active users by 2025, ensuring more people reap the social, economic, and developmental dividends of being online," concludes Serigne.
In its two years of existence, ayoba has grown significantly and continues to be recognised by various bodies. In 2021, ayoba received the Best OTT Brand of the Year accolade at the Marketing World Awards and recently was awarded the Best Mobile App from Bonteh Digital Awards. Ayoba has also hosted two hackathons this year, with the aim of guiding young developers on micro-app development.
Commenting on the achievement, ayoba Chief Executive Officer, Burak Akinci said: "Our progress in 2021 has been considerable, growing in excess of 4 million users. This is a clear sign that the African market really enjoys ayoba, and we are here to stay. This growth is also due to the hard work of our team, and of course, the loyalty and enthusiasm of our users, who are always our first priority. We look forward to even bigger growth in 2022, as we see progress from the new features, content and general improvement that will be launching throughout the year."
ayoba offers users access to digital and rich media services through channels, micro-apps, and payment solutions, embedded within a single African Super App. With over 180 content channels ranging from Sports, News, Music & Artists, Health & Wellness, Careers, Fashion & Beauty, Education and Travel – a huge increase from the 128 at the start of the year.
In addition, users now have access to a range of 35 micro-apps, including MTN Online School (SA) and MTN MoMo (Ghana), adding even more content to a deep and hyper localised offering.
We have also identified the gaps in our markets heightened by the pandemic, particularly in terms of the literacy of subscribers and through our education micro-app available in ayoba we have launched numerous channels with key strategic partners focused on specific areas of education ranging from entrepreneurial education to country-specific curriculum content for students, which include educational explainer videos on topics ranging from math, science, and the art of storytelling.
Ayoba users can send and receive encrypted messages in 22 diverse languages, share photos, videos, files, voice notes and even their location, and can also subscribe to live channels. Localised content is available through these channels that aim to entertain, educate, and empower communities.
Ayoba is available to MTN and non-MTN customers. MTN customers are automatically allocated free data to use the ayoba features[1] including messaging, browsing, gaming, and listening to music. Customers can download the free app data at www.ayoba.me. In addition, ayoba lite is now also available for web access at web.ayoba.me which is proving to be popular with users who are short on space on their devices. Voice and video calls are excluded from the free data provisions.
[1] With the exception of Benin
MTN Group is pleased to announce the appointment of Hermann Tischendorf as our Chief Technology & Information Officer for Digital and Fintech.
"We are delighted to have a seasoned executive of Hermann's calibre joining our growing DigiFin team," says MTN Group Chief Digital and Fintech Officer Serigne Dioum. "He brings the skills and experience that will accelerate innovative digital and fintech advancements in line with our strategic intent of leading digital solutions for Africa progress."

Hermann joins from 4Finance Group, where he was Chief Technology Officer. He has 30 years of experience in the financial services sector, where he has occupied numerous senior roles. Hermann brings a solid track record of success in directing organisational expansion, digital product development, operations management, IT budget allocation, as well as mergers and acquisitions.
At MTN, Hermann will bring transformation and disruption to our mobile payment platform and help improve customer engagement, experience, acquisition and loyalty. He will also be responsible for developing new products and services, building the nascent ecosystem and scaling up existing revenue streams.
Hermann holds a Master of Business Administration and a Diploma with Honours from Karl-Franzens University of Graz, Austria and studied Finance & Banking at the Anderson School of Management, University of California Los Angeles (UCLA). His appointment took effect on 1 December 2021.
MTN Uganda Limited announces that it will proceed today with the listing of its 22.4 billion ordinary shares on the Uganda Securities Exchange (USE), with trading commencing immediately.
The listing has received the requisite approvals from the Capital Markets Authority in Uganda and the USE. It follows the successful completion of the largest initial public offering in Uganda's history, raising a record UGX535 billion from applications for 2.9 billion shares (including incentive shares).
"We are delighted with the successful completion of the offer. It clearly shows the confidence that Ugandans and other investors have in the company, its brand and its strategic intent," said MTN Uganda Chairman Mr. Charles Mbire.
"We commend all the regulators for their support in our work to become a USE-listed company and to comply in a timely manner with the listing provisions of the national telecommunications operators' licence," he added.
MTN Uganda CEO Wim Vanhelleputte was also in a celebratory mood: "Today marks the conclusion of a remarkable journey which has given over 20 000 Ugandans the opportunity to become owners of MTN Uganda."
"We are particularly proud of our digital m-IPO collaboration with the USE, an African first. More than 93% of the applications were made via the m-IPO platform, with the majority of these investors new market participants," he added.
The listing reduces the ownership of MTN Group in MTN Uganda from 96% to 83.05%. It is in line with MTN Group's strategic priority to create shared value, partly through ensuring broad-based ownership in all operating subsidiaries. This aligns with the Ugandan Communications Commission's new licensing requirement for broad-based ownership by Ugandans, with a compliance deadline of mid-2022.
"With this listing, MTN Uganda becomes the Ugandan stock with the largest market capitalisation on the USE," said MTN Group President and CEO Ralph Mupita. "We are very encouraged to have helped facilitate the broadest possible shareholder base in Uganda, with regional participation and in so doing, further developing the equity capital markets in this country."
As part of our commitment to protect the health and safety of our people and workplaces, as well as contribute towards the rate of COVID-19 vaccinations across our markets, MTN Group will be implementing a mandatory vaccination policy for staff from January 2022.
"The science is clear. Vaccination against COVID-19 reduces rates of serious infections, hospitalisation, and death. As an employer, we have a responsibility to ensure that our workplaces are guided by the highest standards of health and safety, and that has informed our decision to make COVID-19 vaccination mandatory for our staff," said MTN Group President and Chief Executive Officer Ralph Mupita.
"Our new COVID-19 policy recognises that some of our markets don't have adequate access to vaccines. It also recognises some low-risk roles that will be accommodated with full-time work-from-home or alternate arrangements, but this will be a small population within our workforce," he added.
Both the World Health Organization and the Africa Centres for Disease Control advocate for vaccines – saying that they are an important measure to protect people. The global rollout of vaccinations since 2020 has clearly contributed to the containment and management of the virus in many countries.
"Vaccine equity continues to be a major issue for African countries. As MTN, we add our voice to the calls for more vaccines to be made available to African countries, as herd immunity will only happen when the whole globe has reached a sufficient level of COVID-19 vaccination," said Mupita.
"The latest travel bans on African countries by developed nations are not based on science, are unjust and add to the lack of support for Africa that is much needed for an effective global response to the pandemic. African countries are being punished for the very transparency that's actually needed to successfully combat the impact on lives and livelihoods of the COVID-19 virus," he added.
The latest data shows that across the continent, only 7% of Africans have been fully vaccinated. This compares with a global population vaccination rate of 55%. "The fight against COVID-19 needs a global, comprehensive and equitable allocation of vaccines," he added.
MTN Group's new vaccine policy is a measure to meet MTN's legal obligations in regard to providing a safe workplace and shall be subject to risk assessment and local laws that apply to the MTN Group and our operating companies and subsidiaries.
It also recognises the right of employees to apply to be exempted from the policy and/or refuse vaccination on certain clearly defined grounds. For those staff who are not exempt from vaccinations either through risk assessment or agreed exclusions but still refuse vaccination, MTN will not be obliged to continue the employment contract.
The new mandatory vaccination policy follows the Group's US$25 million donation to the African Union's COVID-19 vaccination programme.
MTN Group on Friday launched the construction of a state-of-the-art headquarters for MTN Côte d'Ivoire, as well as the start of a local trial of 5G services in Abidjan. Both took place during a state visit to the West African country by South African President Cyril Ramaphosa.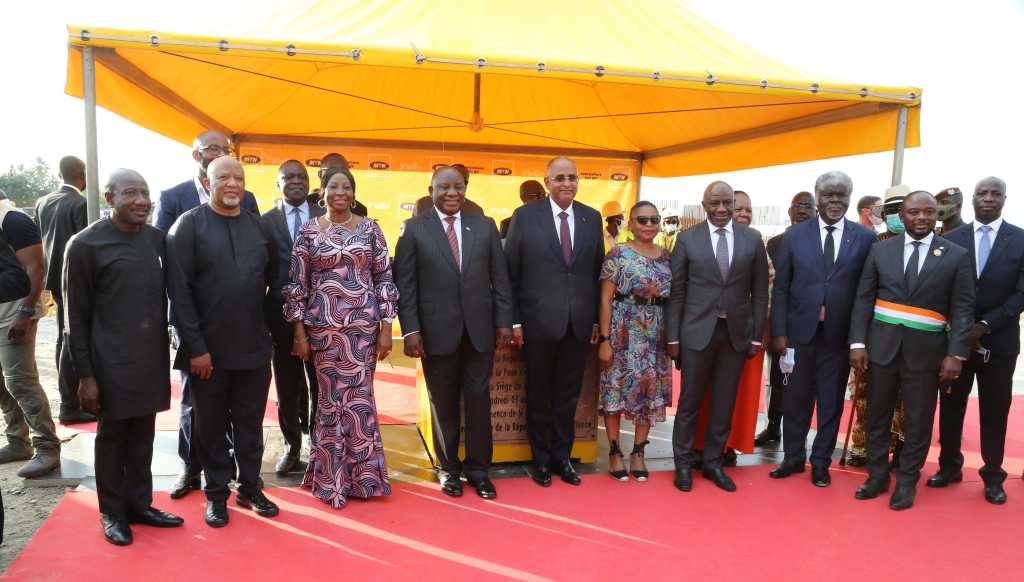 After the conclusion of the Côte d'Ivoire-South Africa Business Forum in which MTN participated, a foundation stone-laying ceremony was held at a site at the Akwaba Business Park in Port Bouët. It was attended by President Ramaphosa and Ivorian Prime Minister Patrick Achi. Both lauded MTN's pan-African strategy and the Group's contribution to Côte d'Ivoire in the past 16 years.
"The construction of this head office is indicative of MTN's long-term commitment to Côte d'Ivoire," said MTN Group Chairman Mcebisi Jonas, who led the MTN delegation alongside Group President and Chief Executive Officer Ralph Mupita.
"Our strategic intent is to provide leading digital solutions for Africa's progress, and our presence here today illustrates the importance of MTN Côte d'Ivoire to the Group's overall portfolio," said Mupita, adding that MTN had operated in the country since 2005.
He was accompanied in Abidjan by an MTN Group team including West and Central Africa Vice President Ebenezer Asante, who launched the 5G trial earlier on Friday, and Group Executive for Corporate Affairs & Sustainability Nompilo Morafo. During the visit, the MTN delegation met with various stakeholders, including the Minister of Communications Roger Adom.
Côte d'Ivoire is the second country the MTN Group delegation is visiting on President Ramaphosa's tour of West Africa, which started in Nigeria.
MTN Group owns 58.8% of MTN Côte d'Ivoire, which is one of three mobile operators in the country, with a market share of around 35%. At the end of June 2021, it had 13.7 million subscribers, of whom 4.9 million were active data users. It had 4.8 million active Mobile Money (MoMo) subscribers, making it one of the Group's top MoMo operating companies.
MTN Nigeria Communications Plc (MTN Nigeria) is pleased to announce the launch of a nationwide roadshow to engage interested retail investors in the on-going offer by MTN Group for shares in MTN Nigeria. The first event of the roadshow was today in Abuja.

MTN Group Chairman Mcebisi Jonas and MTN Group President and CEO Ralph Mupita attended the roadshow, which is being held on the sidelines of the state visit to the Federal Republic of Nigeria by South African President Cyril Ramaphosa. Both countries are also participating in the 10th Bi-National Commission.
Jonas said the offer to retail investors to buy shares in MTN Nigeria was a milestone: "We are delighted to be here to mark this momentous event and would like to express our thanks to the regulator and MTN Nigeria's broader stakeholder base for their support over the years. MTN is a pan-African company which works to deepen inclusion and create shared value."
Mupita said the MTN Group had made a clear strategic decision to build shared value across operations: "The best way we can do that is by enabling broad ownership in our operating companies. This offer is the first phase of that process in Nigeria, as we progressively reduce our shareholding from 78% to 65% over time. I am incredibly proud to be able to be here today, engaging directly with the Nigerian shareholders we hope will join us on the next phase of our journey."
MTN Nigeria Chairman Ernest Ndukwe said the company's success over the past 20 years would not have been possible without a supportive operating environment. "This MTN story is also a demonstration of the opportunity that Nigeria represents for investors," he said.
MTN Nigeria CEO Karl Toriola said the offer had been structured to be available to as many Nigerian investors as possible: "Today's roadshow in Abuja is the first in a schedule that takes us to every state of the Federation over the next two weeks. It is really important for us to provide Nigerians across the country with the opportunity to engage with us as we build a shareholder base that is nationally representative."
The offer opened at 8:00am on 1 December 2021 and will close at 5:00pm on 14 December 2021. The minimum subscription is for 20 shares and lots of 20 shares thereafter. The offer includes an incentive in the form of 1 free share for every 20 shares purchased, subject to a maximum of 250 shares per investor. The incentive is open to retail investors who buy and hold the shares allotted to them for at least 12 months after the allotment date.
Investors are able to submit applications through the issuing houses, receiving agents (authorised stockbrokers and Nigerian banks) and online via a unique digital application platform, PrimaryOffer, administered by the Nigerian Exchange Limited.
Further details and a full directory of authorised receiving agents are at www.mtnonline.com/PO.