Month:
February 2020
MTN Ghana (Scancom PLC or MTNGH or the Company) delivered a strong performance for the year in a competitive industry, maintaining market leadership with 55.21% market share. Service revenue increased by 22.8% year-on-year (YoY), underpinned by growth in revenue from voice, data and Mobile Money (MoMo).
Double-digit growth in voice revenue (up 19.4% YoY) was driven by an increase in the number of active subscribers* (+11.2%), the benefits of various customer value management (CVM) initiatives and pro-consumer activity, as well as continued improvements to our network. As new lines of revenue continued to grow much faster than the traditional business, voice revenue's contribution to service revenue decreased from 46.3% to 45.0%.
Solid data revenue growth (up 32.5% YoY) was attributable to growth in active data users# (+26.6%), growth in the number of smartphones (+18.5%) on the network and an increase in data usage (up 85.9% to 256,301 Terabyte). Data revenue's contribution to service revenue expanded from 26.3% to 28.4%.
Click here for more details: https://www.mtn.com/investors/shareholders/sens/category-sens/?sens_year=2020
Technology has proven itself to be many things; a tool to create solutions to age-old problems, an opportunity to be more efficient and impactful, a foundation for an entire digital world that brings people closer together. Technology can also be an equalizer. In the digital world, it doesn't matter whether you're connecting from a mansion or from a community centre – opportunities to create are available for everyone, as long as you have that connection. This is why innovation coming from a small remote village can be as significant as innovation coming out of Silicon Valley.
Young Africans are solving problems in a way which proves that ideas, innovation and technology are good together.
People in Africa have taken the opportunities provided by technology and the digital world it powers, to ensure that the continent will not be left behind in the digital revolution. Young Africans are solving problems in a way which proves that ideas, innovation and technology are good together.
As connectivity continues to improve across the continent, so do the opportunities for people in Africa who want to contribute to the digital world. In South Africa, MTN has sponsored the App of the Year Awards since 2012, which sees a growing number of entries every year. The twelve categories include Best Health Solution, Best Women in STEM (Science, Technology, Engineering and Math), Best Consumer Solution and Best Financial Solution. The winning apps are on par with those developed in the innovation hubs of the world. In 2019, the Overall App of the Year Award went to Naked Insurance, which uses cutting-edge artificial intelligence and chatbots to give consumers insurance cover at the touch of a smart-screen in under three minutes. Apps of this calibre are not gimmicks or novelties, but concrete solutions to real challenges that real people face in their everyday operations.
Across the continent, digital innovation is encouraged, with stakeholders ranging from schools, Governments and NGOs working together to prepare young people for the future world of work by helping them to acquire digital skills. To ensure that youth in Nigeria are employable in the future, the government has begun to introduce coding and software development in primary schools. Youth in Ghana also recently started coding at school level, with the government ensuring teachers are properly trained and sponsors like MTN Ghana providing the necessary resources.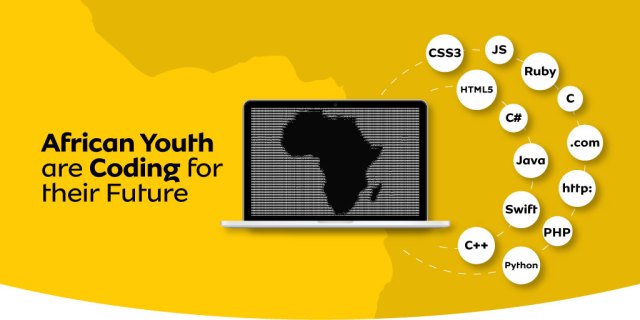 For those who finish school with a sound understanding of coding, the future is bright with opportunity to create solutions which can change the world. Open source or public Application User Interface (API's) become available online all the time, making it easier for developers to bring their ideas to life. MTN's own Fintech API portal is currently used by more than 3700 developers across Africa. The portal encourages independent developers, start-ups and enterprises to make use of these API's to solve problems that are relevant to Africa, and create solutions which work in Africa. This means more opportunities for African innovators to wow the world with new solutions.
It doesn't matter whether a digital solution launches from a boardroom in Berlin or a university in Accra. If that solution solves a problem, it is likely going to secure the future of the person who created it. With an internet connection, an open API and a good idea, African coders are set to thrive in the digital world.
MTN has released a trading statement guiding for growth in its earnings for the year ended 31 December 2019. Headline earnings per share (HEPS) for the period, on pro forma like-for-like IAS basis, is expected to be between 55 – 75% higher. This will result in a range of 522 cents and 590 cents, compared with the HEPS of 337 cents for the prior financial year.
MTN will announce its results on or about Wednesday, 11 March 2020.
https://www.mtn.com/investors/shareholders/sens/category-sens/?sens_year=2020