Month:
December 2019
Behind the Scenes: What Makes us Good Together?
Good together is more than a catch phrase at MTN; it is a belief which forms the foundation for everything we do for the people we serve. What exactly makes Africa and MTN good together? We have launched a campaign to illustrate the answer to that question, starting with a TV commercial which highlights just how unstoppable the African spirit can be when our continent's people are connected.

Take a look at the behind-the-scenes video below to find out what went into the making of the TV commercial, and the experiences had by those involved. Our Group General Manager, Victor Rakhale, explains that this is the first global positioning campaign we've created in close to 10 years, showing exactly what makes us different. TBWA/Hunt Lascaris produced the commercial and their Creative Director, George Low, acknowledges that while everyone knows what MTN does as a business, it isn't always clear what kind of good that business does. The role our business plays in Africa's health and education is essential for the delivery of a modern connected life.  Connecting people is about more than putting technology in the hands of the African population; it is about transforming communities.
We live in an era where change is demanded. The digital world has played a big role in bringing the inequalities of the physical world to light. Thanks to technology, we are more aware of the state of different parts of the world than ever before. Technology eliminates the excuse of ignorance and provides us with some of the tools needed to address inequality. Consider the role technology can play in achieving the African Union's 2063 Transformational Outcomes.  The AU describes Agenda 2063 as Africa's blueprint for transforming Africa into the global powerhouse of the future. Access to a connected world can make a positive impact on the achievement of these outcomes.
Improved Living Standards
First on the agenda is an overall improvement in living standards for people in Africa. This includes reducing poverty and hunger, providing access to basic education and health, as well as access to basic requirements like safe drinking water and electricity.
The role technology plays here is one of job opportunities. A digital world provides a set of job opportunities and revenue streams which did not exist just a few years ago. With more youth coding for their futures (note: link to youth coding article) and taking an entrepreneurial path in their careers, more jobs are created for people living in Africa.
"When stories in the digital world lead to action in the physical world, it shows just how good people and technology can be together."
Transformed, Inclusive and Sustainable Economies
Financial inclusion is necessary for a country's economy to thrive. Without access to financial services, people cannot easily participate in the economy. The AU goal in this case includes the aim of ICT penetration contributing to GDP, at double the rate it did in 2013.
Mobile Money has proven itself to be the solution for financial inclusion in Africa. On our continent, people are more likely to have a cell phone than they are to have a traditional bank account. Mobile Money takes a digital approach to finance, filling the gap where traditional banking alienates millions of people in Africa.
Integrated Africa
The AU lists several desired outcomes in its aim for an integrated Africa. This includes free movement of goods and people on the continent, an increase in the volume of intra-African trade, upgraded transport and infrastructure as well as an improved education system.
As more areas within the continent become connected, goals such as this one become more realistic. Communication is already easier thanks to the popularity of mobile phones in Africa, which makes it more practical to move goods across the continent. As more Internet of Things solutions are deployed across the continent for various applications, more opportunities for efficiency and cost saving become apparent. With a reliable internet connection, building and deploying IoT solutions is a realistic (and profitable) way to solve challenges which are unique to Africa.
Empowered Women, Youth and Children
Technology provides us with a platform to share our stories, giving everyone who is connected a voice which the whole world can hear. The current state of the world is one where equality is no longer tolerated, and action can be taken to ensure that women, youth and children have a safe place in society.
Whether stories are produced by a journalist or by a person directly involved in it, that story has the potential to reach millions. The internet is a place where anyone can share their experiences, ask for help and do the research. When stories in the digital world lead to action in the physical world, it shows just how good people and technology can be together.
Well-governed, peaceful and cultural centric Africa in a Global Context
Perhaps the AU's most detailed desired outcome for 2063, connectivity has a role to play in each part of it. This includes a 60% increase in local content in print and digital media, an increase in focus on the creative arts, and even the establishment of an African Space Agency.
While we provide coverage to over  560 million people in Africa, there is still so much room for growth. As we increase coverage in the regions where we operate, the opportunities to achieve these goals becomes much more realistic. Whether increasing digital media or taking African people to space, connectivity is imperative to achieving these goals.
How Mobile Money Can Change the Culture of Saving in Africa
Becoming financially responsible is a goal people all over the world struggle with. Whether we earn enough to be financially spontaneous at times, or our bills ensure that every cent is spent, the cost of living always seems to increase just a bit more than our income. Saving any portion of that income is essential for many reasons including emergencies and our own personal goals. But saving requires discipline and a bank account. Temptation to spend our intended savings is usually deterred by putting the funds into a separate savings account. What happens when you don't have a bank account? Financial institutions have repeatedly told us that it's no good storing the money under our mattresses. For the millions of people in Africa with no access to traditional banks, the solution is Mobile Money.
There are 30 million MTN Mobile Money active monthly users across 14 countries in Africa.
Living from pay-check to pay-check is common in African countries, but Mobile Money is changing this way of living. According to a report from the Boston College Economics Department, Mobile Money users are 10.9% more likely to save than those who do not have a Mobile Money account.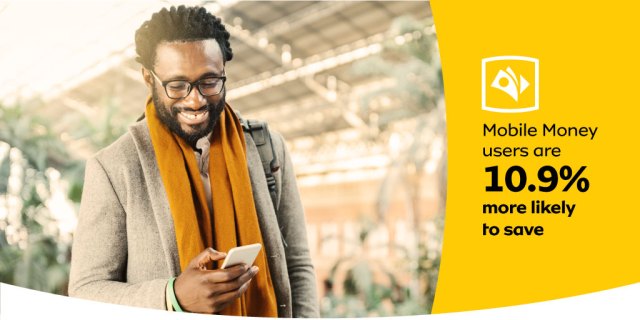 There are 30 million MTN Mobile Money active monthly users across 14 countries in Africa. Of those 30 million people, 6 million use MTN Mobile Money to save funds.. This means that 6 million people in Africa plan to alter their financial behaviour. Just as a person with a traditional bank account would use a banking app or website to pay home loans, school fees, and then transfer a portion into a savings account, an MTN Mobile Money user can now do exactly the same.
A shift towards saving more brings incredible potential to Africa. Aside from being able to handle income variations, planning for the future becomes much more realistic. For example, working parents are able to save to provide their children with a higher education. In countries like South Africa, where the annual cost of university and boarding fees costs more than the average household income, it is essential to start saving for a tertiary education as soon as possible.
With more people who live in Africa able to use mobile money to save, there is a higher likelihood of saving for retirement. Mobile technology isn't just about the chance to change the financial behaviour of people in Africa, by removing the barriers that prevent important tasks like saving money. Mobile technology can change the trajectory of everyone on the continent.
The entrepreneurial spirit is strong in Africa.
Where there are no jobs available, African people are encouraged to create jobs. In countries like Cameroon, part of the national strategy to reduce poverty includes entrepreneurship. In Uganda, entrepreneurship has been worked into the school system so that the youth can learn to run businesses before they enter the workforce.
The African Union Development Agency recently launched a campaign called 100 000 SME's for 1 Million Jobs by 2021 which aims to provide concrete opportunities for youth in the areas of education, employment, entrepreneurship and engagement. The continent-wide call for more entrepreneurs will also help to achieve several of the UN's Sustainable Development Goals. This includes a reduction in poverty, decent work and economic growth, reduced inequalities as well as industry, innovation and infrastructure.
"MTN, for example, lends support to 5 million of MTN retail store owners across Africa and the Middle East."
The digital world provides all kinds of entrepreneurial opportunities, from publishing blogs and creating online stores to managing the digital marketing activities of other business owners – almost anyone can operate a business online, and find a YouTube tutorial to learn the relevant digital skills! For those who prefer working in the physical world, there is clearly still value in traditional brick and mortar businesses – read more about that here. (link to physical stores article)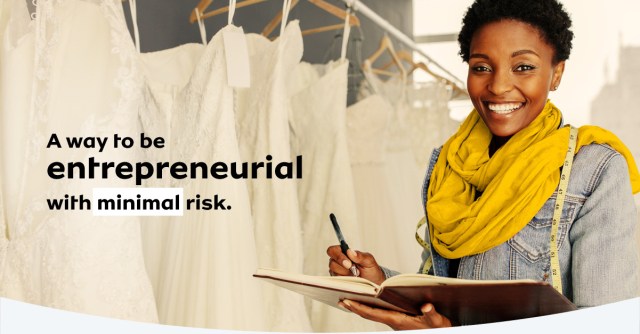 A publication for small business owners published an article in 2019 about the advantages of buying a franchise. The first advantage listed is the power of the franchisor's brand. All the heavy lifting has already been done when you purchase a franchise – the brand is established and therefore more likely to be trusted, the business model is tried and tested and even the colour of the paint on the walls has already been chosen. When an entrepreneur buys a franchise, they certainly aren't starting from scratch.
Other advantages listed in the article include the opportunity to rely on the experience and reputation of others. If you aren't opening a first-of-its-kind business, you are likely to enjoy a range of benefits including supplier discounts and traction from regional and national marketing campaigns. When new customers walk through the door, they are already familiar rather than sceptical.
Possibly one of the most important advantages listed is support. Starting and running a business can be daunting for even the most confident person. MTN, for example, lends support to 5 million of MTN retail store owners across Africa and the Middle East. Support includes the relevant training and ensuring a full understanding of the business model. It also includes the opportunity to learn from the insights of other franchisees, while running a business completely alone requires time-consuming research and a lot of trial and error.
As the continent's population grows, so does the need for jobs and the opportunity to gain new customers. Opening a franchise in an African country can certainly be considered as a way to be entrepreneurial with minimal risk.
MTN today announced that its mobile money service, MoMo will go live in January 2020, allowing customers to send, receive, save and spend money as well as pay for goods and services using their mobile phones.
The announcement comes as MTN finalised its engagements with all the relevant regulatory bodies and authorities including the South African Reserve Bank.
MTN welcomes the positive conclusion of these engagements and looks forward to making MoMo available to all consumers via USSD functionality on *120*151# (MTN customers can dial *151# for free) as well as via App download in the Google Play store and the Apple App store by 30 January 2020.
"The introduction of this mobile money service is a pivotal step in MTN's strategy and represents MTN's participation in the next phase of increasing convergence we are seeing between financial services and mobile technology," says MTN SA CEO, Mr Godfrey Motsa.
"We have been deliberate in selecting best of breed technology to enable MoMo. To this end MoMo will run on the Ericsson Converged Wallet and we're exciting to be partnering with them across the Group," adds Motsa.
Says Felix Kamenga, MTN SA Chief Officer of Mobile Financial Services, "We are delighted to make this payments service available to South Africans as many of our people remain unbanked. Our research shows that approximately 11 million South African's remain unbanked, while 50% of the adult population remain thinly served. MoMo aims to bridge this gap with this innovative mobile money offering, providing a payments solution that encourages financial inclusion."
"MoMo has been through rigorous testing and we are confident that consumers will reap the benefits of our efforts in this regard. Our investment in our network means that we able to evolve with the ever-changing Fin-Tech landscape, making us the best network for mobile financial service."
Kamenga also points to MTN's mobile money successes in other African countries. "We have learnt what to do as well as what not to do and we believe that MTN has significant footprint in South Africa to reach underbanked and underserved communities still heavily reliant on cash to transact."
"This represents an MTN Group effort as we worked with our counterparts in other markets, tapping into technical and human resources available from established markets which made this journey easier," he adds.
During the initial phase MoMo will only be available to MTN customers and offers basic services but promises further innovation in early 2020 that aims to bring even more South Africans into the digital economy.
Users of MoMo do not need to have an actual bank account but must be a South African Resident, 18 years or older, with a valid South African ID. The user also needs to be an active MTN customer to qualify for selected promotional offers.
Initial functionality of MoMo allows users to:
Send money to any working cell phone number in SA;
Buy prepaid services like electricity, data and SMS bundles.
Pay for purchases at selected till points.
Perform Cash In and Cash Out transactions at any MTN store or Mobile Money Agents.
No minimum balance will be required. There are no monthly finance charges and no automated debits. MTN customers can get cash back every time they buy something at selected Merchants and there will be a promotional offer of 100% bonus for users who buy MTN Airtime bundles using MoMo will get a free SMS notification every time they use the service. Customers may visit nearest MTN store and speak to a MoMo Ambassador for more information.
We look forward to demonstrating these features to South African's and media in the new year.
"We see MoMo playing a significant role to both the man on the street, by empowering our customers to make positive financial decisions, as well as the South African economy by enabling enterprise development at the formal and informal level," concludes Kamenga.
Technology is the ultimate disruptor.
It has made an impact on everything we do and everything we interact with. This includes the way we consume content. Music, movies, games and stories broke out of their physical constraints and into the digital world as soon as the right tools became available. Today, there is so much content available for consumption that it would be impossible for an individual to get through all of it. To put the volume into perspective, consider that 400 hours of video is published on YouTube every minute.
Content creators have more platforms available to showcase their work than the world has ever seen. Artists have a better chance of reaching the right audience than ever before, and even a niche audience can be made of millions in a digital world. In Africa, people are just as likely to stream local content as they are to stream whatever is trending worldwide. A band from Nigeria is just as likely to sell out a show in their own country as a visiting Grammy winner is. People in Africa love streaming African content. So much so, that millions of people have subscribed to MTN's various rich media services, including music streaming services.
Artists have a better chance of reaching the right audience than ever before.
In 2019, the International Telecommunications Union posed the question of how to bring meaningful connectivity to all the world's citizens. This includes local content in local languages. Rich media services are doing just that by enabling anyone with a cell phone and an internet connection to watch or listen to exactly what they want, whenever they want.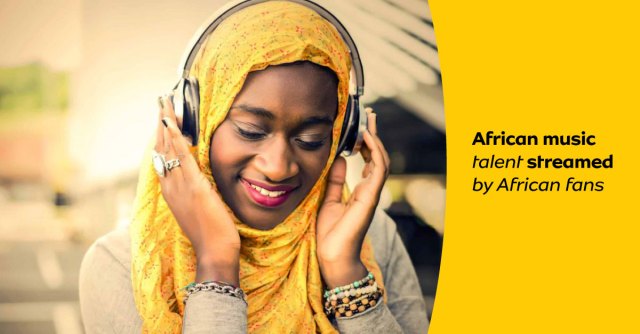 So much music is featured on the global streaming giants, that content which isn't coming from the US can quickly become lost in the mix. Those who understand the power of African music are therefore investing in bringing local content to the mobile phones of African listeners via various music streaming services.
In South Africa and Nigeria, fans are finding their favourite artists on an app called MusicTime. The website from which to download the app features local artists first, so users immediately know they're going to find local music easily.
Now that more African artists are being showcased on local and international digital platforms, talent from the continent can be more easily accessed by fans on the continent. This kind of disruption also brings African talent closer to the rest of the world.
Storytelling is as old as mankind.
From drawings on the walls of caves, to words on the pages of a book, to scenes played out on stages and screens across the world. Every community in the world has stories to share with the intention of teaching, informing or entertaining.  
The digital world has made a big impact on the way we tell stories today. We tell stories in short form, in long-form, in audio form, visual form, written form, or all forms mixed into one. We tell stories for screens as big as billboards, or as small as smartphones. Our stories have the potential to reach beyond the eyes and ears of those around us, crossing borders and oceans to find a global audience. Stories can be created and published by anyone with an idea and an internet connection, giving us more variety and more content than traditional media ever could. In Africa, stories are in abundance, and the audience is rapt.
"One glance at the content catalogues, and it becomes clear that Africa is teeming with creatives who have a story to tell."
Considering that in 2018, the GSMA reported 774 million mobile SIM connections in sub-Saharan Africa, it comes as no surprise that more people on the continent are watching video content on their mobile devices than on their televisions. While a lot of that content is found on the world's largest social media platforms – Facebook and YouTube – local video platforms are becoming popular too. MTN Shortz is one example of a short-form video platform where African content creators are publishing original content.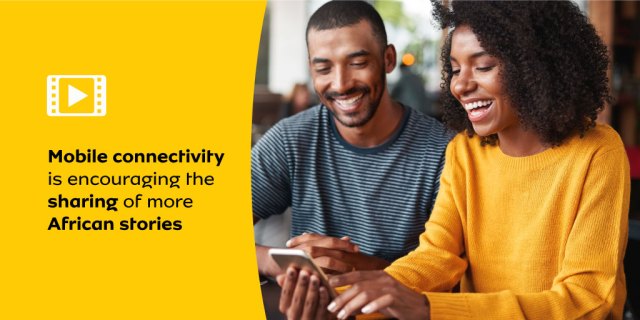 The streaming of local music is also booming on the continent. Whether fans are signing up on Spotify or looking for up-and-coming artists on local platforms like Boomplay, Africa is dancing to the beat of relevant music. Streaming is so popular that millions of African subscribers are engaging with rich media services on MTN's platforms alone.
Other forms of content, including the news, audiobooks, even games and daily jokes are becoming more accessible to mobile subscribers in Africa. In every country where MTN offers rich media services, the content featured on the MTN Play channels is high in volume and unique to each region.  One glance at the content catalogues, and it becomes clear that Africa is teeming with creatives who have a story to tell. The millions of Africans who subscribe to content services to ensure these stories reach their mobile phones make it clear that we want to hear and read and see more.
As more platforms with African roots appear in the digital world, the collective voice of the continent's creative population becomes louder. Our audience is larger and closer than ever before, and mobile connectivity is encouraging the sharing of more African stories.
Having access to financial services is about more than having a place to store hard-earned money.
It is about planning for the unexpected, the inevitable and the future. Since Mobile Money arrived on the continent, people in Africa now have access to additional financial services including insurance. As is the case with most digital services, insurance in Africa has taken a mobile route.
 Insurance companies are very aware that technology should be part of the foundation of their business models. Mobile insurance has been established as the most efficient way to reach the African market. PriceWaterhouseCoopers compiled a report entitled Ready and Willing: African Insurance Industry Poised for Growth which highlights technology as a key trend that impacts insurance. The report notes that mobile phones and Mobile Money offer a significant opportunity for the insurance market in African countries.
Traditional insurance companies are therefore partnering with technology companies and innovators to ensure the right policies and products reach Mobile Money users. MTN Mobile Money users in Ghana and Uganda, for example, are able to take out insurance policies with a company called aYo; the mobile microinsurance service provider is a joint venture between MMI Holdings and MTN. The financial products are underwritten by Metropolitan Life Insurance.
Since aYo launched, more than 5.3 million policies have been issued to MTN Mobile Money users.
Now that insurance services are more easily available, people in Africa are ready and willing to take out a policy. The PwC report describes insurance penetration in Africa as among the lowest in the world, but now that insurance is mobile, this reality is set to change.
 aYo offers MTN Mobile Money users and subscribers hospital cover and life insurance. Users dial a USSD code in order to begin the registration process, and premiums are 
deducted through airtime or mobile money. Cover can be increased at any time and bonus cover can be earned by getting friends and family members to sign up. Policyholders are also prompted to add the details of caretakers – the person who will handle financial affairs and other details in the event of death or hospitalization. Beneficiaries can be added via USSD as well, so the insurers can pay funds out correctly.
 An article in The Africa Report describes Ghana as among the fastest-growing Mobile Money markets in sub-Saharan Africa, and the country for other territories like Nigeria to look to when it comes to insurance penetration. Regulators and Ghanaian government have encouraged an increase in mobile insurance products for citizens over the years, and the country's central bank reworked the regulatory framework for mobile money to allow operators to run services through existing subsidiaries. Ghana is providing an example for the rest of Africa which showcases how well financial services and mobile technology can work together.
As is the case with most traditional industries, insurance is not immune to disruption. By partnering with innovators and applying a mobile-first approach, insurance companies can successfully penetrate the African market. The population of Africa is, therefore, more likely to take advantage of financial services and plan for a bright future. 
The digital world is so easy when you've got the right tools.
With a good connection, a smartphone and a laptop, almost anything is accessible. Working and hosting meetings from home, ordering lunch, taking a break from work to read an article like this, booking a flight or planning a holiday can all be done without actually going anywhere. The digital link to our physical world becomes stronger every time a new solution, a new app, a new feature or update is made available. Why then, do we still venture into the physical world at all? Why are physical stores still open? Why are companies like MTN, who want everyone to enjoy the benefits of a connected world, still opening brick and mortar stores? In Africa, there are a number of reasons.
In Africa, we are Still Connecting
Mobile penetration in sub-Saharan Africa is at an all-time high. The GSMA reported 456 million unique mobile subscribers in 2018 and that number continues to grow every year. As the African population grows, the workforce grows and more people are purchasing phones for the first time. For those who don't have a phone at all, the obvious place to start is in a physical store. There are more than 5 million formal and informal MTN retail stores across Africa and the Middle East, making it easy for a first-time buyer to access a digital device.
"There is still value in walking into a store, looking at and touching various devices before making a purchasing decision."
A Digital World Still Requires Hardware
Despite how futuristic any digital solution available today may be, we still require a physical object in the real world to use it. While online unboxing videos are always fun to watch, there is still value in walking into a store, looking at and touching various devices before making a purchasing decision. Upgrading from a feature phone to a smartphone is a big transition for some, so having a friendly (human) face to turn to for help is necessary.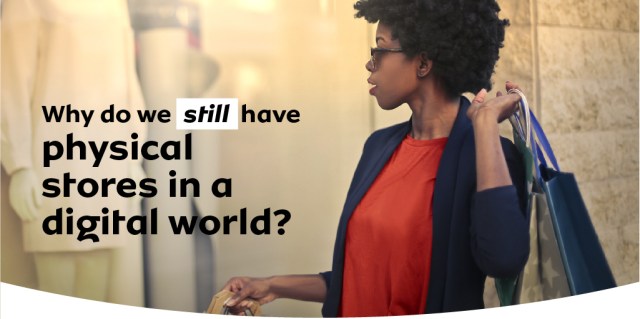 Stores Create Jobs
With more people to serve, comes the need for more physical stores and people to work in them. The retail industry is people-centred and therefore creates a lot of jobs. In areas where trading hours are extended, shop managers and assistants, cashiers and cleaners work in shifts so that balance between personal and work life, and the consumer demand, is optimized. Without brick and mortar stores for people to visit, the unemployment challenge would become even bigger.
A Human Link to a Digital World 
Even if you aren't a first-time buyer, a friendly face to help navigate the digital world is essential. For people who aren't considered digital natives with an innate understanding of how their devices and programs work, having a real person to help troubleshoot or discover new tricks and tips can be the difference between seeing the digital world as an overwhelming or awe-inspiring place.
For now, in Africa, enjoying the benefits of a modern connected life begins in the physical world.