Category:
MWC 2023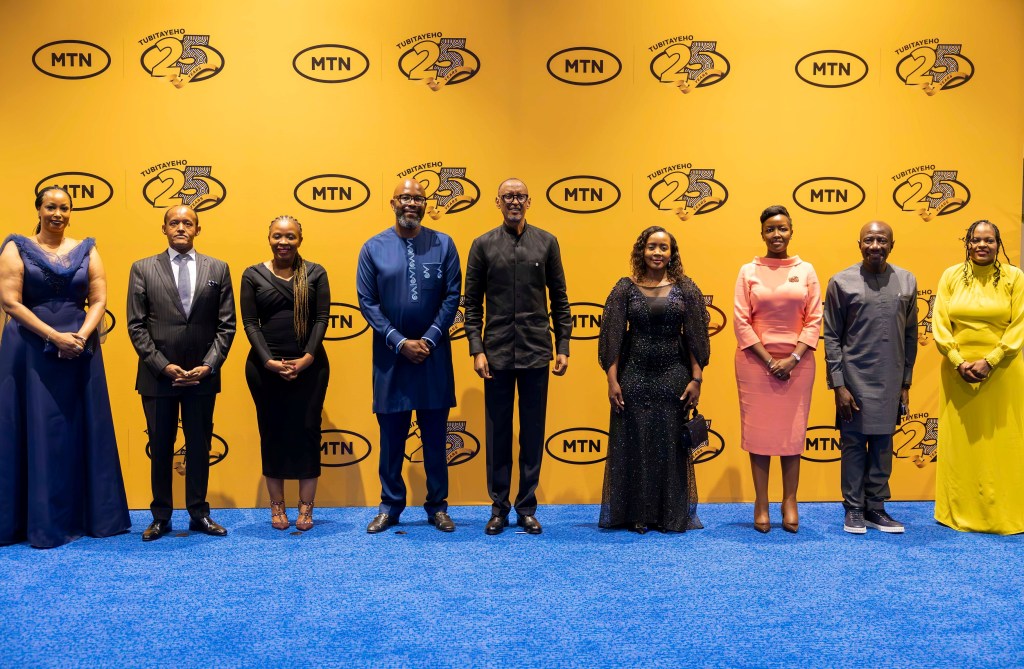 Driven to offer Africans hope, dignity and opportunity, MTN Group this week celebrated the 25th anniversary of MTN Rwanda at a gala event attended by President Paul Kagame and other dignitaries.
President Kagame commended MTN for its commitment over the years: "Who else would have found it easy to invest in a country that had just emerged from our tragic history, as we know it? We took risks, both of us, you took a risk with us, and we took a risk with you, but here, 25 years later I think we can say we are happy. "
Speaking at the gala event held on the sidelines of Mobile World Congress Kigali, he added: "It's not an understatement, it's real, it is something we need to celebrate. I have no doubt, we will do even much better in the near future."
MTN Group President and CEO Ralph Mupita thanked the government and people of Rwanda for their support: "MTN Rwanda's journey reflects our commitment to connecting Rwandans, and we thank all our stakeholders for travelling this path with us."
He added: "An enabling environment is one of the key requirements for MTN's work to extend digital and financial inclusion across the continent, which aims to give Africans hope, dignity and opportunity."
MTN Rwanda CEO Mapula Bodibe said the company was dedicated to driving economic and social development: "We will continue to invest in Rwanda and are committed to continuing to work with the government and people of this beautiful country to achieve our shared goal of a prosperous and digitally connected nation."
Bodibe also expressed gratitude to MTN Rwanda's people: "I extend my heartfelt appreciation to the exceptional leadership and dedicated staff of MTN Rwanda. Their unwavering commitment, hard work, and passion have been instrumental in our success and have enabled us to make a meaningful impact on the lives of Rwandans."
The company continues investing in networks and systems to expand its reach and deliver the benefits of a modern connected life to all Rwandans.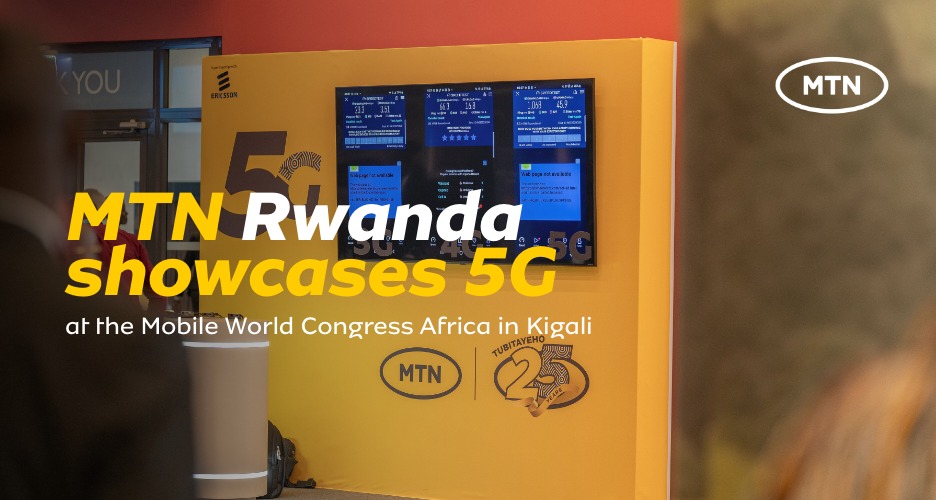 MTN Rwandacell PLC (MTN Rwanda) showcased the nation's first-ever live 5G network technology demonstration at the opening of the Mobile World Congress (MWC) Africa in Kigali. This exhibition, first revealed during the Presidential tour of the conference, underscores MTN Rwanda's dedication to remaining at the forefront of leading technological progress and its unwavering commitment to delivering the most advanced and reliable connectivity solutions to Rwandans in response to the soaring demand for faster and more reliable mobile and fixed Broadband connectivity.
"5G represents more than speed; it's a gateway to a world of endless possibilities. It holds the potential to revolutionize sectors such as healthcare, education, agriculture, and many more. For instance, with 5G, remote medical consultations and procedures could become a norm, significantly impacting healthcare accessibility in remote areas." stated Mapula Bodibe, MTN Rwanda CEO. "Demonstrating new technology is not just about staying at the forefront of innovation; it's about exploring new ways to improve the everyday lives of Rwandans and positioning the nation as a technology leader on the continent," she added.
5G has the potential to transform Rwanda's digital landscape, ushering in an era of unparalleled innovation and connectivity. 5G technology aims to provide access to advanced and high-speed mobile internet services and reduced latency, significantly enhancing internet user experience. With its transformative power, 5G will not only elevate digital experiences but also fuel economic growth and further drive the country's digital inclusion agenda.
The 5G technology demonstration marks a new era for internet connectivity in Rwanda and exemplifies MTN Rwanda's unwavering commitment to innovation and its dedication to enhancing the lives of Rwandans with leading network connectivity solutions. With 5G, Rwanda is poised to offer enhanced digital experiences and emerge as a leader for digital advancements on the African continent.

The Chief Executive Officers (CEOs) of six of Africa's largest Mobile Network Operators convened at MWC Kigali to consider the opportunities and challenges for deeper partnerships with African governments to drive digital inclusion and mobile infrastructure development across the continent.
In consideration of these opportunities and challenges, the CEOs engaged with His Excellency President Paul Kagame, Head of State for the Republic of Rwanda, the MWC host and Chair of the Smart Africa board, who was supported by the Honourable Ms Paula Ingabire, the Rwanda Minister of Information and Communications and Innovation.
The CEOs noted the achievements made to date by the mobile sector against the aspirations and objectives of key global and continental goals, such as the UN Sustainable Development Goals (SDGs), Agenda 2063, and the Smart Africa's Vision of creating a Single Digital Market by 2030.
The CEOs believe that a truly connected, dynamic Africa, enabled by the power of inclusive mobile connectivity, is within our collective grasp – but to make it a reality, and close the connectivity and usage gaps for good, deep political support will be required, across both existing and new partnerships. A key dependency is the need to build the right conditions for digital infrastructure investment across Africa.
Mobile technologies and services are key enablers for that vision. And tangible progress has been made. In the first 10 years of Agenda 2063 (2013-2023), mobile operators in Africa invested more than US$70 bn in building mobile infrastructure, bringing close to 85% of the African population into mobile broadband connectivity (compared to 95% global average). However, more than 680 million people, equivalent to three in five people (60%), live in areas covered by a mobile broadband network in Africa but do not subscribe to mobile broadband services.
Mobile operators in Sub-Saharan Africa invest US$ 6-8bn per year in capital expenditure, nearly 20% of their revenues, but significant additional investments are needed to achieve the ambitious targets of connecting everyone to the internet and digitally transforming Africa.
The CEOs today stated their commitment to collaborate with Africa's nation-states' transformational plans, placing added focus on four priority areas where governments, working in partnership with the mobile sector, have the opportunity to drive digital inclusion, economic growth and environmental transformation:
Priority 1: Driving inclusive connectivity through fiscal and other policy reforms.
Reforming fiscal policy will improve affordability for consumers and incentivise investments by operators given that taxes and fees account for 30% of industry revenues according to the GSMA Mobile Tax Policy and Digital Development report. While this may not be the means to an end, we also acknowledge and commit to the need to create a healthy competitive environment through other policy reforms such as infrastructure sharing, and national roaming among others.
Priority 2: Closing the Investment gap for building broadband infrastructure.
The World Bank projects that $100bn is required to achieve universal connectivity in Africa. The UN Broadband Commission in 2021, released the 21st Century Financing Models for Bridging Broadband Connectivity Gaps. We are working with the UN BB Commission to implement the recommendations, which require regulatory support for new financing models for the digital infrastructure and include all digital economy beneficiaries.
Priority 3: Environmental Impact.
Climate action is important to operators across SSA with MTN, Orange and Vodacom committed to net zero carbon emissions by 2040 and Airtel Africa by 2050. These commitments include targets to approximately halve their carbon emissions over the next 10 years.
The Mobile Industry Commitment.
The industry currently contributes $170bn (8.1%) to GDP across the Sub-Saharan region and commits to spend another $75bn, which will yield an expected $210bn to Sub-Saharan Africa's GDP by 2030. Additionally, this will result in an additional 200 million unique mobile subscribers, taking the total population coverage to nearly 700 million by 2030 i.e. 50% penetration as a percentage of population. In line with the above, the industry pledges to develop partnerships aligned with the country's priorities and their business objectives in the form of a social compact for creating shared value.
Achieving a connected Africa requires true partnership.
Success is a team game. And further political support, across the continent, is essential to register meaningful progress. This includes facilitating the right market structures and conditions to avoid unnecessary fragmentation and policies that support the investment environment needed for success.
Therefore, The CEOs call on African leaders and policymakers to partner on digital development with the mobile industry by reimagining existing structures and developing targeted new policies that accelerate the positive and inclusive impacts of mobile technologies to close the investment and usage gaps. For example:
1: Tax rationalization for the mobile industry through the development of targeted fiscal policy reforms that support economic growth and digital development, deepening digital and financial inclusion & aligned with national targets. E.g. removal of tax on low-cost smartphones and sector-specific tax.
2: Regulatory support to implement the recommendations of the UN Broadband Commission's '21st Century Financing Models for Bridging Broadband Connectivity Gaps'. To promote investment models for digital infrastructure which include all digital economy beneficiaries.
3: Climate Action policies to improve access to renewable electricity for corporate buyers, are essential for the mobile industry to achieve their climate targets.
Today, the industry has come together at MWC Kigali to focus on these key priorities and commitments and drive meaningful policy progress in a spirit of cooperation, in a conversation with His Excellency Paul Kagame, President of Rwanda and Smart Africa Board Chair.
Together, we believe passionately in the power of mobile to act as a catalyst for economic and social inclusion across Africa. We extend an open invitation to other African Heads of State to engage with us in driving solutions that focus on deepening digital and financial inclusion in the continent for the benefit of all African citizens.
Signatories:
Segun Ogunsanya, Chief Executive Officer, Airtel Africa Group
Hassanein Hiridjee, Chief Executive Officer, AXIAN Group
Frehiwot Tamru, Chief Executive Officer, Ethio Telecommunications
Ralph Mupita, President and Group Chief Executive Officer, MTN Group
Jerome Henique, Chief Executive Officer, Orange Middle East and Africa
Shameel Joosub, Chief Executive Officer, Vodacom Group
As a founding partner of the Mobile World Congress (MWC) Africa, MTN is delighted to announce its active participation in the forthcoming 2023 event. Scheduled for 17-19 October 2023 at the Kigali Convention Centre in Rwanda, our executive team will engage in pivotal dialogues with international industry leaders and esteemed African policymakers. These discussions aim to inspire conversations, ignite innovative ideas, and cultivate collaborative initiatives, all directed towards forging a more connected and inclusive future for every African.
The theme for this year's MWC event, 'Velocity: Unleashing Tomorrow's Technology – Today,' aligns seamlessly with MTN's enduring commitment to Africa. We are dedicated to delivering digital solutions that not only empower but also enrich the lives of everyone on the continent, thereby actualising the benefits of a modern, connected life.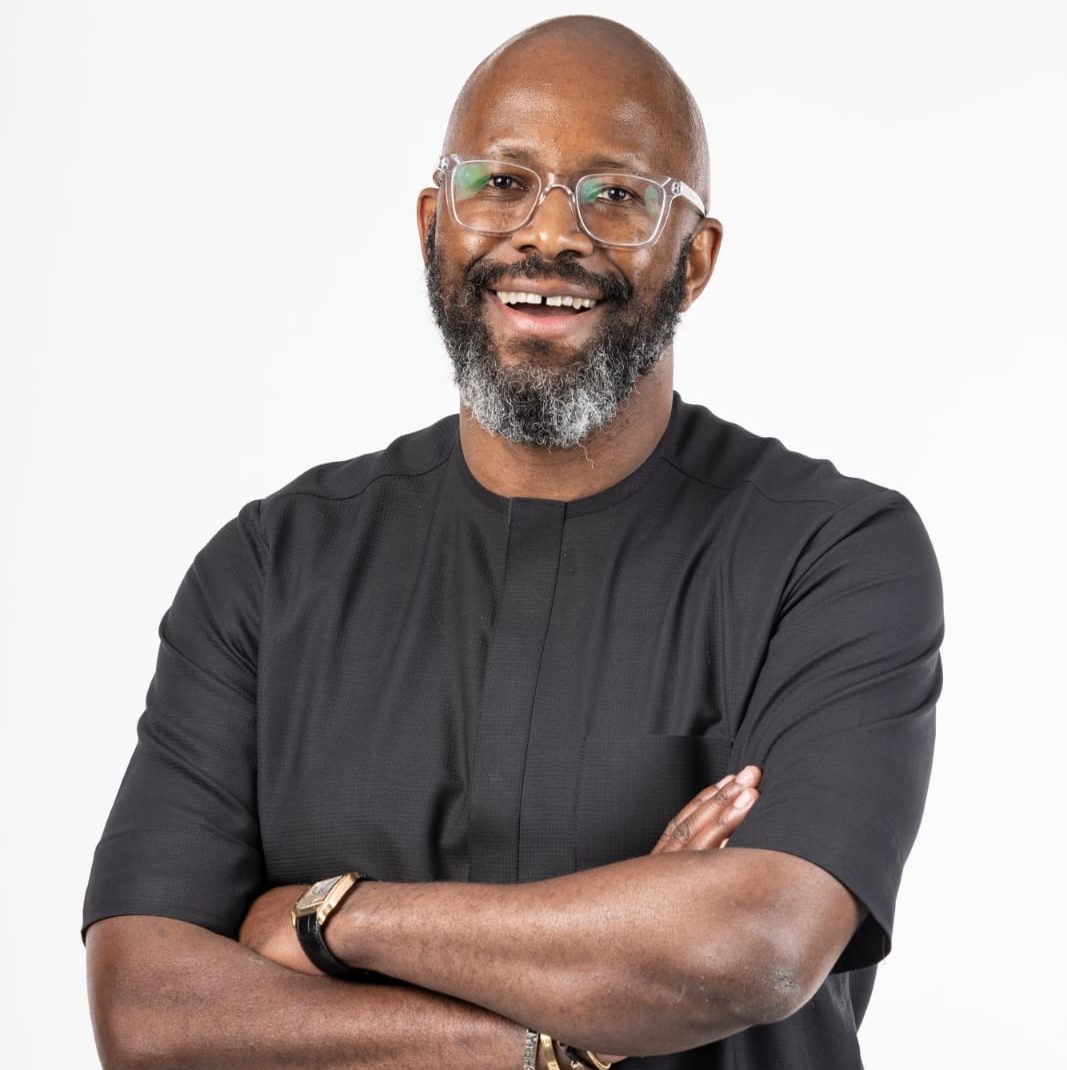 "The need for innovation, digital transformation and financial inclusion has never been greater. MTN is committed to collaborate with stakeholders who share our vision of finding solutions that empower communities, restore dignity and foster shared prosperity."
Ralph Mupita, MTN Group President and CEO
Meet our speakers at MWC
The digital transformation journey in Africa is a transformative force that is empowering communities, governments, and businesses alike. Recognising the magnitude of this shift, MTN is committed to leading the charge. Our executives will once again take centre stage to engage in crucial dialogues with international industry leaders and esteemed African policymakers. The objective? To steer the conversation towards expediting digital inclusion across the continent. For us, the journey towards a digitally inclusive Africa is a collective mission, not a distant dream. We are steadfast in our belief that technology has the power to uplift, connect, and catalyse progress. By pooling our resources and expertise, we can seize this moment to make a digitally inclusive future a reality for all.
Visit our exhibition stand at MWC Africa
Discover the future of connectivity and innovation at the MTN Exhibition stand! Step into a world of possibilities and explore the latest digital solutions that are reshaping Africa's landscape.
MTN Rwanda – Explore 25 years in Rwanda
For a quarter-century, MTN Rwanda has been at the forefront of transforming telecommunications in Rwanda. Established in 1998, our journey in Rwanda has been characterised by relentless innovation, robust connectivity, and an unwavering commitment to enriching the lives of the Rwandan people. From launching mobile services to leading digital inclusion efforts, MTN Rwanda has played a pivotal role in connecting communities, businesses, and individuals alike. As part of the 25-year celebrations, MTN Rwanda is privileged to host a delegation of senior MTN executives from all our operations. These leaders will contribute to key business dialogues at MWC Africa and engage substantively with Rwandan stakeholders. Their presence and participation underscores MTN's commitment to Rwanda and our collective vision for a digitally connected nation.
As we celebrate this momentous milestone, we invite you to explore our timeline to see how our journey has unfolded.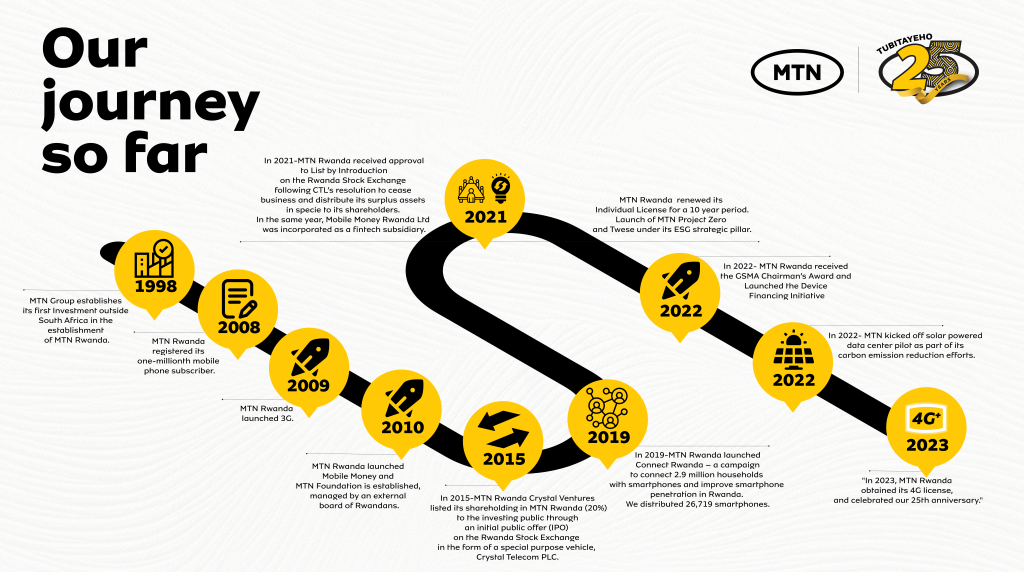 MTN Group President and CEO Ralph Mupita celebrates 25 years in Rwanda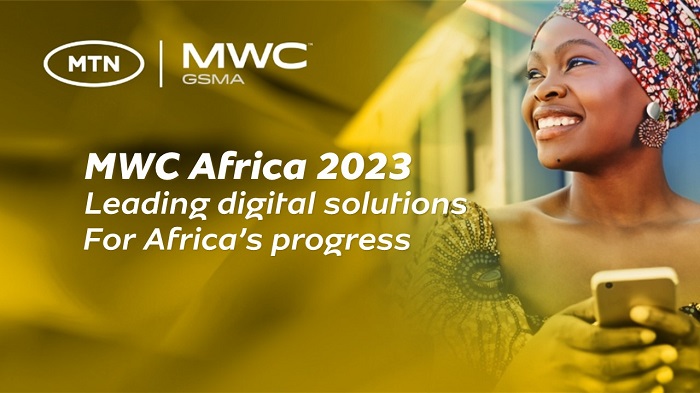 MTN Group will be participating at Mobile World Congress (MWC) Kigali next week, when we look forward to engaging with African policymakers and industry leaders to advance the continent's digital economy and extend financial inclusion.
MTN is a founding partner of MWC Kigali and the MTN delegation will be led by MTN Group President and CEO Ralph Mupita.
"The need for innovation, digital transformation and financial inclusion has never been greater," he said. "MTN is committed to collaborate with stakeholders who share our vision of finding solutions that empower communities, restore dignity and foster shared prosperity."
Themed 'Velocity: Unleashing Tomorrow's Technology – Today', the second annual instalment of MWC in Africa starts on Tuesday 17 October and runs until Thursday 19 October. It will bring together government officials, regulators, and representatives of all facets of the industry from across the continent and across the world.