Month:
March 2020
MTN Group today published its Group Integrated, Sustainability and Tax Reports for the year ending 31 December 2019, illustrating the significant economic and social impact it has delivered through the group to the markets it operates in across Africa and the Middle East. The three reports set out how the company delivered growth and unlocked value by continuing to focus on executing its BRIGHT strategy. They also show how MTN operations strive to ensure that all who are touched by our products and services are positively impacted.
Delivering on our strategy in a more agile way
Our 2019 Integrated report highlights the progress we have made against our strategy and the value created by developing and distributing a range of innovative and reliable communication products and services. We also share our intention to harness the pioneering spirit MTN has built over the last 25 years to accelerate the implementation of our strategy in a more agile way in close collaboration with our many partners, with whom we are #GoodTogether.
Key highlights:
The work we have done on strengthening our operations and balance sheet over the last few years positions us well to weather the more turbulent operating environment.
Given the progress and momentum we have seen in our commercial, strategic and financial initiatives, we have enhanced our medium-term guidance framework.
While we maintain our service revenue growth, EBITDA margin improvement, capex intensity reduction and ROE improvement targets, we have increased our targets for the next three to five years to secure at least a further R25 billion in asset realisations which will further moderate our leverage ratios.
Contributing to infrastructure and government revenue
The infrastructure we build supports the development of the technology which boosts local economies. MTN invested R26 billion in its networks and systems in 2019. MTN is also among the largest taxpayers in many of our markets and MTN's tax contributions for the year under review amounted to R31 billion, up from R24 billion in 2018. Tax contributions include corporate taxes, indirect taxes, withholding taxes, payroll taxes, operating licence fees and other payments to government authorities.
This stemmed from contributions made in South Africa of R4,6 billion, Nigeria of R6,7 billion, SEAGHA of R9,3 billion, WECA of R6,7 billion and MENA of R3,2 billion.
PwC Building Public Trust Award
Our 2018 tax report was selected from the tax reports of the top 100 JSE listed companies. An independent panel of judges reviewed the tax reports and MTN was awarded first place for the PwC Building Public Trust Award amongst South African based multinational companies. This award is given for excellence in tax reporting.
Driving broader socio-economic benefits to society
"To make an impact on meeting the UN SDGs by 2030, we need to deepen our focus, acting collectively and decisively. Having often reflected on this objective, I believe we can achieve this if we come together through our connected and shared humanity to collaborate effectively through partnerships," said MTN President and Group CEO Rob Shuter.
"What we are most proud of are the partnerships we have made and the impact they have had. Three in particular come to mind: 1) Rapid rural roll-out programme (R3) with our various partners, in 2019 we saw over 1300 sites reaching 6,9 million people, 2) Internet Watch Foundation partnership to make children safer online, we successfully blocked 2 million URLs containing child sexual abuse material, 3) Signing up to the GSMA-led industry-wide plan to achieve net-zero GHG emissions by 2050 in line with the Paris Agreement."
We view sustainability as an integral part of MTN's value creation journey now and into the future. We strive to create and protect shared value for our stakeholders through responsible economic, environmental and social practices. Key points from the 2019 Sustainability report are as follows:
Environmental: MTN recorded its highest ever greenhouse gases saved/avoided at 28 889 tonnes of carbon dioxide equivalent (tCo2e) in 2019, despite an increase in our energy consumption due to the growth in our network.
Social: We reached over 1,9 million beneficiaries through our Corporate Social Investment across our footprint, over 400 000 of which were women and over 300 000 youth.
Governance: MTN adheres to a culture of sound ethical business conduct – over 10 000 ethics e-learning completion by staff, over 1 800 vendors prequalified following due diligence process and over 130 calls to tip-offs anonymous whistle-blower line, a significant increase from previous years.
Economic: Through our CHASE model, we are driving smartphone adoption with over 675 000 affordable low-cost smartphones distributed in 2019 alone. We also witnessed a 39% reduction in the group's effective rate per megabyte.
Rob added that: "Access to the internet has the power to change lives and bridge inequalities, we are contributing to accelerating digital and financial inclusion by connecting the unconnected. We believe that by contributing to the prosperity of Africa and the Middle East, we are creating shared value for all.
Another key example of this: MTN's Mobile money and Homeland solutions which are not only facilitating the flow of money into Africa from the Diaspora, but between different regions in Africa, setting the stage to enable African Continental Free Trade Area's vision of creating a single market across the African continent."
MTN's response to COVID-19
As business and society, we are seeing a concerning increase in the transmissions of COVID-19 cases across multiple countries. To mitigate its impact, we are implementing several measures to support our employees, customers, partners, communities and our business during this time of uncertainty for all of us. These measures include the establishment of a Global Staff-Care Emergency Fund which will be utilised for preventative health and safety, treatment, and emergency lockdown sustenance provisions. We are also rolling out relief products and services under the 'Y'ello Hope Crisis Package' umbrella across MTN to enable customers to access critical health and education information, and mobile money services. Our investment focus at this time is on resilience and capacity in our networks.
"As I write, we are in the midst of the COVID-19 pandemic and there is much uncertainty as to how and when society will emerge from it. The impact of COVID-19 on worldwide economies is challenging and our commitment remains steadfast to do all we can to minimise the economic and social impact across our markets. MTN Group cares because MTNers care – we have dynamic and passionate employees who continue to empower us to reach new heights in our journey," concluded Rob.
Click here to access the reports.
As business and society, we are seeing a concerning increase in the transmissions of COVID-19 cases across multiple countries. The virus has had a far-reaching impact on our societies and is testing the resilience and tenacity of businesses and individuals alike. Globally, governments and companies are ramping up efforts to help mitigate the spread of the virus. In MTN's footprint 17 of our 21 markets have COVID-19 infections.
"MTN's priority is keeping people connected during this period. We need to play our part in the alleviation of the economic, social and educational impact through the support of key institutions such as Health and Education. Driven by our belief that everyone deserves the benefits of a modern connected life, we have started rolling out a series of mobile connectivity, digital and mobile fintech solutions for communities across MTN's markets," said Rob Shuter, President and CEO of MTN Group. The solutions are aimed at achieving the United Nation's Sustainable Development Goals and to ensure that the macro impact of COVID-19 does not hinder people's ability to stay connected.
Social distancing amongst other precautionary interventions undoubtedly increases the importance of communities staying digitally connected, particularly to news about the latest developments of COVID-19. Now more than ever, MTN will play its part in using its capabilities and technologies for the good of humanity.
We are also ramping up the roll-out of relief products under our Y'ello Hope package including the supporting of governments and other stakeholders to convey vital information via mobile & digital platforms to keep people safe. Offering the zero-rating of school and university sites to enable learners to access core curriculum and facilitate distance learning and zero-rating some transactions on our Mobile Money platforms in a number of our markets.
MTN operations have already implemented measures aimed at curbing the spread of the disease and easing data costs for communities, examples below:
MTN South Africa:
Has zero-rated a USSD line for reporting infections and for other critical information.
There are also two zero-rated Ayoba COVID-19 channels that are already live and are sharing updated news and information.
As part of MTN SA's response to the Competition Commission's Data Service Market Inquiry, the company also announced that with immediate effect, concerned family members and friends can stay in touch through a free 20MB Ayoba Data Lifeline that can be accessed via the Ayoba app.
The Mobile Money (MoMo) app, will allow for free peer-to-peer cash payments under R200 effective 24 March 2020.
MTN Nigeria:
In the coming days, MTN Nigeria will introduce its Y'ello HOPE package – several new measures as part of a concerted effort to support customers. These include further amplifying governments sensitisation efforts – using more channels to deliver health and safety information.
Suspending fees for all money transfers using their Momo Agent network.
The company also plans to announce the temporary closure of some of its stores.
MTN Nigeria continues to engage and is actively pursuing new ways to leverage its core expertise, technology and infrastructure to support the Nigerian Government's efforts to keep citizens safe.
MTN Ghana:
MTN MoMo customers can now send money transfers values up to GHS100 daily to MoMo wallets and other networks for free.
The company has zero-rated a number of education sites to support online learning. It has also zero-rated the Ghana Health Service's website so that users can access information about the virus free of charge.
They also use their digital channels to provide hygiene tips and update customers on the virus and the company's response to it.
MTN Irancell has reduced data costs by 60 % for educational websites, it sends awareness messages via SMS and provides access to value added service content at discounted prices. The company also supports health care workers by providing them with free calls;
MTN Sudan, in collaboration with their Ministry of Health, has sent awareness messages to customers via SMS;
MTN Uganda has waived fees on its mobile money transfer service for every transaction below UGX30,000 for 30 days;
MTN Rwanda has waived fees on mobile money transactions for the next 90 days;
MTN Zambia has waived fees on mobile money transfers up to K150, has doubled the mobile money transaction limits and will give an allocation of FREE SMSs to customers;
MTN Cameroon has suspended the payment of fees on money transfers between MTN MoMo accounts, for amounts of up to 20, 000 FCFA, for the next 30 days.
These initiatives are ones that have been activated thus far. We expect more momentum over the coming weeks with other affected markets rolling out similar initiatives aimed at addressing their communities' needs during this period. We will continue to update our stakeholders accordingly as and when additional activities go live.
Access to information is a priority and we remain committed to providing all our 251 million customers and stakeholders with superior products and services in the face of adversity.
One thing can change everything.
We live in an era of rapid change and constant ripple effects which are a result of a new way of thinking and doing. We live in an era of opportunity, where almost anything we think of can probably be done. If we can't get it done in the physical world, technology enables us to make it happen in the digital world. What was unthinkable yesterday becomes the norm tomorrow, and just as we begin to get comfortable, another brilliant mind brings an idea to life and reminds us that technology (and the world) is exponential.
Since the partnership launched, almost 6 million people have registered to make use of these financial products.
Who would have thought that the invention of mobile phones would lead to something other than mere convenience? That an icon or a string of numbers on a phone could impact an entire population? When mobile money was invented, it created more than convenience for people who couldn't get to a bank. It created financial inclusion for millions of unbanked people.
To get the best benefits out of financial inclusion, financial literacy is essential. The Financial Educators Council defines financial literacy as "possessing the skills and knowledge on financial matters to confidently take effective action that best fulfils an individual's personal, family and global community goals." A report from the Punjabi University Patiala in India entitled Financial Literacy for Developing Countries in Africa details how being financially literate can contribute to improving socio-economic wellbeing, reduce poverty and promote sustainable growth. Simply put, financial literacy enables individuals to make good decisions about money in their personal and professional lives. For an individual who previously had no access to financial products and services, making good financial decisions can be incredibly challenging. However, because we live in a digital (and exponential) world, learning and understanding new concepts happens at a faster pace, often in a 'hands-on' environment. People in Africa who previously had limited or no access to financial products are becoming financially literate in a very hands-on way, thanks to the rise of mobile money and the world of financial services it offers.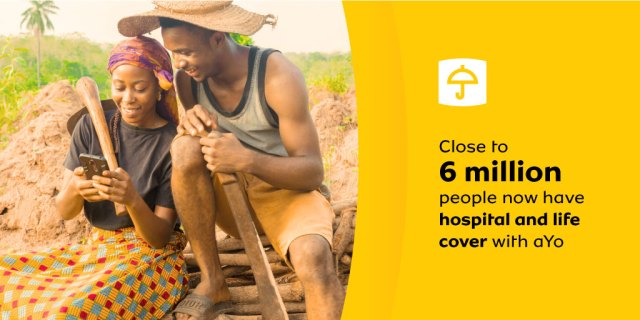 Aside from being able to safely store and save money, mobile money provides access to life cover and hospital insurance. MTN and MTN Mobile Money partnered with Momentum Metropolitan Holdings to form aYo, a company that provides hospital and life cover to subscribers through their phones. Since the partnership launched, almost 6 million people have registered to make use of these financial products. This means almost 6 million registered customers are actively planning and thinking about their financial future in the event of unforeseen circumstances – an essential factor in responsible financial planning.
The ability to save funds and sign up for insurance products is only the beginning of what's possible in the world of Mobile Money. Considering how quickly an idea can become a reality in the digital world, we might soon see the day when Mobile Money users have access to all the same products and opportunities offered to those who use traditional financial services. When that day comes, people in Africa will be ready, armed with a comprehensive understanding of mobile financial services.
Further to the announcements on 4 December 2019 and 12 December 2019, MTN SA has today announced the outcomes from its engagements with the CompCom and response to its Data Service Market Inquiry. MTN SA has developed a set of voluntary undertakings in the form of a social compact to further address the affordability of data services for its customers and MTN remains in discussion with the CompCom on the options to formalise these elective solutions and the implementation thereof.
Included in these initiatives are three areas which focus on deepening MTN's ongoing drive to reduce the cost to communicate. These are: the affordability of monthly prepaid bundles, lifeline data and the zero-rating of data for public benefit service websites.
Click here for further details: https://www.mtn.com/investors/shareholders/sens/category-sens/?sens_year=2020
Our asset realisation programme ("ARP"), introduced in March 2019, aims to reduce debt, simplify our portfolio, reduce risk and improve returns.
Subsequent to MTN Group's announcement on 11 March 2020 reporting its 2019 annual results and the conclusion of the disposal of its stake in ATC Uganda for R2,2 billion, MTN confirms that regulatory approvals have now been received for the disposal of its stake in ATC Ghana. MTN is due to receive further transaction proceeds of approximately $384 million (R6,7 billion, based on an exchange rate of R17,4:$1) in the next week. This takes the total proceeds received for the disposal of both ATC Uganda and ATC Ghana to R8,9 billion, which will be applied to paying down US-dollar debt and general corporate purposes.
Click here for further details: https://www.mtn.com/investors/shareholders/sens/category-sens/?sens_year=2020
MTN reports commercial momentum, strategic progress and strong financial results; CEO to step down next year, succession process underway
MTN Group today announced an encouraging set of results for the year ended 31 December 2019 and that group president and CEO Rob Shuter would be stepping down from his role at the end of his contract in March 2021.
Commenting on the results, Shuter said:
"In 2019, the 25th anniversary of MTN Group, we delivered commercial momentum across our operations as well as great progress in our strategy and strong financial results, despite challenging trading conditions.
We added 18 million customers to reach a total of 251 million and increased our data users by 17 million to 95 million and our fintech customers by 7 million to 35 million. This growth is central to our belief that everyone deserves the benefits of a modern connected life. We also saw improvements in customer experience, network quality and market share across the group.
On the strategic front, we launched our instant messaging platform Ayoba, which is now live in 12 markets with two million monthly active users. We launched MoMo in South Africa and Afghanistan and received our super-agent licence in Nigeria, registering more than 100 000 agents by year-end. We also delivered R14 billion of asset realisations within the first 12 months of our programme and MTN Nigeria listed on the Nigeria Stock Exchange. We recorded progress on various regulatory issues, including the AGF tax matter in Nigeria. Relationships with stakeholders across our markets improved, and we reported our highest employee sustainable engagement score yet.
On the financial side, we delivered service revenue growth of 9,8% with an acceleration in the second half. Our EBITDA margin improved and reported headline earnings per share grew by 62%. Our network rollout brought a further 69 million people into 4G coverage whilst reducing capex intensity. Improved cash flows during the year supported stable balance sheet ratios."
Operating environment
This outcome was delivered against challenging macroeconomic conditions, particularly in South Africa, with muted economic activity and the rand weakening against the US dollar.
Financial performance
In constant currency terms, group service revenue increased by 9,8%* to R141,8 billion and earnings before interest, tax, depreciation and amortisation (EBITDA) expanded by 13,6% to R53,4 billion. The holding company leverage ratio improved to 2,2x, which is well within the group's guidance range of 2,0 to 2,5x, and we reduced our capex intensity to 17,5% from 19,3%, indicating greater efficiency in deploying assets. Driven by the strong earnings performance, operating cashflow increased by 18% and the ROE increased from 11,5% in 2018 to 14,3% in 2019 on an IAS17 basis.
The group's results were supported by double-digit growth in service revenue by both MTN Nigeria and MTN Ghana. The performance of MTN South Africa was impacted by economic pressure, new data usage rules and changes in recognition criteria for roaming revenue from Cell C due to delayed payments under the networking roaming agreement.
Management succession
MTN announced that the group president and CEO Rob Shuter will be stepping down from his role at the end of his contract in March 2021. The board thanks Rob for the contribution he has made, and continues to make, to MTN. The succession process will be concluded during the year, enabling a seamless handover.
MTN group chief technology and IT officer Charles Molapisi has been appointed to the group executive committee and the fixed contract of the group chief operations officer, Jens Schulte-Bockum, has been extended until 31 March 2022.
Looking ahead, Shuter says:
"We are well positioned for growth. Guided by our well-defined BRIGHT strategy, we are building our growth strategy on our digital operator model while optimising efficiencies, capex and cashflow.
Following data price reductions in South Africa and Nigeria in 2019, we expect price elasticity to improve data revenue growth in 2020, supported by expanded 4G coverage in Nigeria and across the group. We will continue to scale up our fintech and digital services as well as grow our enterprise and wholesale businesses.
We have maintained our service revenue, EBITDA margin, capex intensity and ROE targets and increased our asset disposal target by a further R25 billion over the medium term. We also now target a holding company leverage ratio at below 2x. We will use 2020 to implement our succession process and ensure a seamless handover to the new group president and CEO whilst maintaining our operational execution.
Inspired to harness the pioneering spirit that has built MTN over the last 25 years, we remain committed to delivering on our strategy in a more agile way in close collaboration with our many partners, with whom we are #GoodTogether."
Technology has made our world many things; more agile, more efficient, safer and somewhat smarter.
It has also made the world smaller. If you want to know what a day in the life of a New Yorker looks like, you'll find countless videos and stories aside from what blockbuster movie producers want you to see. If friends have moved abroad, making a phone call to their new country for a catch-up doesn't need to leave you with a big bill. Wish your local mall stocked the jeans you saw in that New Yorker's Instagram video? Just order it online and it will arrive while the brand is still trending. Technology brings overseas closer to home, wherever you are in the world. Aside from the little conveniences technology provides, a digital and mobile world is one where people are enjoying major benefits. One of those benefits is the ability to support families, conduct business and offer financial aid from one continent to another. It started with mobile money, and has evolved into a service called MTN Homeland.
MTN Homeland is one example of how performing such transactions is so much easier because of mobile technology.
We live in an era of immigration. It is so common to find people packing their bags and leaving their home countries to start a new life and career somewhere else, for all sorts of reasons. Leaving doesn't always mean never looking back, and for millions of people who leave the African continent, leaving often means creating a better life for those they left behind in the first place. Job opportunities with higher salaries is a common cause for immigration, and those who take these opportunities often have a family who sacrificed and worked hard to get them there. In turn, the families left behind rely on the person who left, to send money home. In the past, sending money home involved a great deal of admin and the means to physically travel to a facility which enables international financial transactions. MTN Homeland is one example of how performing such transactions is so much easier because of mobile technology. So easy, that neither the sender nor receiver need to leave their home to complete the transaction.
People living in the United Kingdom, as well as EU residents, simply register online and provide verification documents. The verification process takes around one hour, and thereafter, money or airtime can be sent to an MTN Mobile Money user living in Africa within minutes. Currently, money transfers can be sent to seven different African countries, while airtime can be sent to 14 African countries and three Middle Eastern countries. As the service takes off, these numbers are set to grow.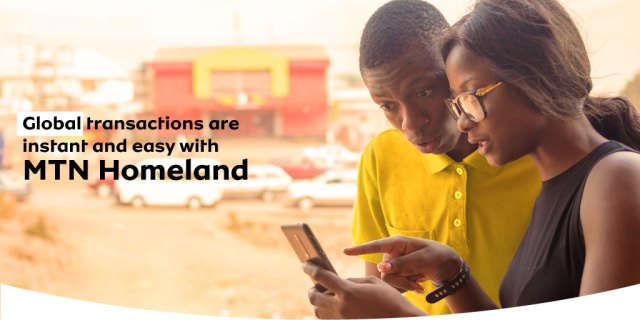 A flat rate of €4 is charged per transfer, which costs less than the average London pub meal. Sending airtime is completely free, so users only pay for the value of the airtime. As long as the receiver has an MTN Mobile Money account, they can get access to the money minutes after it is sent, and visit more than half a million MTN Mobile Money agents to turn those digital funds into physical cash.
For people who send money back home every month, the time and effort saved is a small convenience compared to the assurance that their funds reached their families in time and safely. With a mobile phone and the connectivity to transact, individuals across the world become so much more empowered. And with more people empowered, consider all the possibilities we haven't even begun to imagine…
Download MTN Homeland via the Google play and iPhone app stores.
MTN Group has signed the United Nations Women Empowerment Principles, pledging its commitment to the advancement of Gender Equality and the Empowerment of Women, at MTN's International Women's Day event.The Principles provide guidance on how businesses in all sectors can advance and empower women in the workplace, marketplace and community. MTN Group purposefully operates to ensure that everyone deserves the benefit of a modern connected life. To guarantee this, the Group strives to ensure that men and women benefit equally from ICT thereby assisting to reduce inequalities that exist across its footprint.
Gender Empowerment is a key strategic component of MTN's Corporate Social Investment across its footprint. Significant contributions have been towards the empowerment and development of girls and women in the countries in which we operate. Initiatives include enabling access to ICT and building capacity of girls and women in coding, robotics, programming & computer assembling.
According to the GSMA Mobile Gender Gap Report 2019, women in low- and middle-income countries are 10% less likely than men to own a mobile device, and 23% less likely to make use of the internet, as compared to their male counterparts. "MTN Group commits itself fully to the Women's Empowerment Principles, as this has the capability to transform lives across the continent and beyond," said Rob Shuter, MTN President and CEO, MTN Group. "If the mobile gender gap is not addressed, women risk being left behind as societies and economies digitise.  Importantly, we are honoured to be part of the pledge, which also supports African Union's focus on driving women's financial and economic inclusion, gender-based violence and accountability to global gender commitments," he added.
Through this pledge and strategic partnerships, MTN intends to meaningfully respond to barriers that arise from ICT and address inequalities that hinder girls and women from fully participating in and benefiting from the bold, new digital world. And to ensure girls and women have the necessary skills and knowledge to understand, develop content, participate in and benefit fully from ICTs and their applications.
MTN commends the deliberate commitment made by the African Union to bridge the gender gap on the continent. We share the view that women should be enabled to play a meaningful role in developing our continent.
Anyone that knows Felleng will attest to the fact that she is a dynamic strategist and trailblazer in public policy and the telecoms sector not only in South Africa but on the continent. She embodies the current UN International Women's Day slogan – An equal world is an enabled world. Felleng was there when MTN first entered Nigeria and Africa at large.
She has played pivotal roles in the formulation of ICT regulatory policies, both in South Africa and further afield. It would be hard to overstate Felleng's contribution to the formulation of an ICT regulatory framework in Africa, and over the years she has earned herself the reputation as a dynamic professional who has tackled the huge issues surrounding new telecoms ventures across the continent.
Now Chief Regulatory and Corporate Affairs Officer at MTN Group, Felleng brings decades of expertise to the diverse and copious daily challenges of managing MTN's reputation. As a consummate ICT professional completely at home in the arena of public policy ,regulatory compliance and reputation management, Felleng has a number of issues dear to her heart. Noting that her own upbringing consisted of tremendous affirmation and empowerment from her parents, she feels strongly that parents have a crucial role to play in children's lives.
From a solid base of parental support, Felleng grew into one of the most dynamic movers and shakers in the African ICT environment. It's hard to detail all that Felleng Sekha has accomplished over the last two decades, but alongside playing such a critical role in MTN Group's expansion, she has also served on the SABC board, was Chairperson of the National Telecommunications Forum (NTF), as well as Chairperson of the Independent Broadcasting Authority (IBA) – all roles where she had to formulate protocols from scratch, in the best interests of the public at large.
A remarkable woman, while taking on such heady and monumental challenges, Felleng also somehow ensured that she enacted social change she personally felt was needed. An example of just how enabling professional women can be, she formed an NGO targeting unemployed young men, insisting that no real gender equality transformation is meaningful if it leaves them behind.
In her own words, "Equality means defining your own success." For Felleng, this means that women – from CEOs to housewives – should never succumb to external pressures to conform to a certain notion of success. "There is no one standard definition of success," she says, "be what you want to be, unfettered by societal constructs."
Lele Modise's calm demeanour is the hallmark of a woman handling constant, taxing legal issues with style and professionalism. As Chief Legal Counsel for MTN Group, Lele exemplifies the kind of smart, executive drive women in business often exude. As International Women's Day looms on the 8 March 2020, one would be hard pressed to find a more fitting and savvy poster child for celebration than Lele Modise. With qualifications in some of the most intricate and convoluted areas of law, Lele strides across a power list of local women who have distinguished themselves as legal eagles.
To say that corporate investment banking must be a fraught and complicated field, is an understatement. Nonetheless, it's been in such fields that Lele has excelled, having joined MTN Group's Executive Committee after a long stint at Absa. Skilfully facilitating complex and weighty deals is Lele's forte and providing legal structures and solutions at the highest level has been standard fare for this dynamic business leader. An inspiration to African women everywhere, Lele has dealt with the most challenging issues in business, and now brings her remarkable expertise and experience to MTN Group's successful expansion on the continent.
In an era of heightened awareness around sustainability and gender equality, Lele brings an extensively detailed and honed perspective to MTN Group. Having excelled in a very male dominated arena, Lele has also shown African women and aspiring girls just how far it's possible to go. For a snapshot of the growth of women in the legal field of South Africa and Africa as a whole, look no further than the talented Ms Modise. On a growing list of executive, leading women in Sub-Saharan Africa, Lele epitomises gender diversity in the ICT industry.
As a former partner at Bowman Gilfillan, Lele's knowledge of the intricate landscape of corporate legality is now hard at work for MTN. There's nothing quite like starting out right, and Lele is the kind of polished leader ideally qualified to head the legal challenges of MTN Group's transition to a digital operator and expansion across the African continent.
Having been admitted to the High Court as an Attorney in 2003, Lele has since worked extensively across Africa. A Masters in Banking Law is just as challenging and detailed as it sounds, but Lele passed with flying colours, and now heads MTN's legal presence on all fronts. As the MTN Group expands, environmental, sustainability and compliance issues will come to the fore. Lele exemplifies the kind of astute leadership needed to take the company to greater heights.