Month:
January 2020
Today, MTN Nigeria appeared before a Federal High Court in Lagos, Nigeria to formally discontinue its legal action against the Attorney General of the Federal Republic of Nigeria and Minister of Justice (the "AGF"). This follows from the decision of the AGF to hand the matter over to the relevant regulatory authorities.
MTN applied today to have the legal action struck out, which request was granted by the court.
MTN remains committed to meeting its fiscal responsibilities and contributing to the social and economic development of Nigeria in collaboration with all stakeholders .
An MTN delegation represented by Chairman of MTN Group, Mcebisi Jonas; Chairman of MTN Nigeria, Dr. Ernest Ndukwe; MTN Group CEO, Rob Shuter and MTN Nigeria CEO, Ferdi Moolman met with His Excellency President Muhammadu Buhari of Nigeria. They also met with key government officials including Honourable Minister of Communications and Digital Economy, Dr. Isa Ali Ibrahim Pantami; Governor of the Central Bank of Nigeria, Godwin Emefiele and AttorneyGeneral and Minister of Justice Abubakar Malami.
As part of its ongoing commitment to Nigeria, MTN announced a capital investment programme of $1.6 billion (approximately N580 billion) over the next three years to strengthen and expand its network and operations in the country.
The news was shared during a statement by President Buhari, whereby he reaffirmed that the Federal Government of Nigeria is committed to providing an enabling environment for businesses to succeed. He went on to say that the government is also looking at ways to increase the level of security across critical national infrastructure, noting that it would guarantee seamless service delivery and also facilitate investments throughout the country.
The President expressed that he was pleased with MTN's support of Nigeria's digital inclusion programmes and its commitment to growing the telecommunications industry across the region.
Commenting on the news, Chairman of MTN Group Mr Mcebisi Jonas said, "We are steadfast about our investments in Nigeria, particularly over the next three years as we aim to strengthen and expand our network and systems. We are fully aligned with the strategic agenda of the Nigerian government and are committed to strengthening the digital economy of the country," he continued.
"Financial inclusion and access to funding and digital services all become easier when our continent is powered by connectivity. The benefits of a connected continent are far reaching, making a positive impact across Africa. We cannot achieve this goal on our own, and are working on strengthening relationships with our key partners to extend access to comprehensive and affordable solutions to all," said Rob Shuter, MTN Group President and CEO.
A business that isn't online is a business that misses a world of opportunities.
Today, potential customers and collaborators are just as likely to ask for your Instagram handle as they are to ask for your business card. Even if the products or services offered have nothing to do with the digital world, an online presence is expected. As access to the internet grows across the continent, more African entrepreneurs are able to bring their businesses online. The benefits of a connected continent are far reaching, making a positive impact on more than 4 million SMEs and the people who rely on these small businesses to make a living.
We've even started to provide micro-loans to help grow small businesses on the continent
Connectivity Enables Digital Marketing
If nobody knows about your business, nobody can support it. Our current world is one where word gets around digitally, and at an alarmingly fast pace. Digital marketing is essential in building a brand and growing a customer base. A mix of paid advertising and social media content can be used in powerful ways, and African businesses are finding new ways to grab customer attention every day. Content is king when it comes to marketing a brand online, and budgets to create content needn't be large when the idea is unique or attention grabbing. Digital Odyssey recently rounded up a few viral marketing campaigns which came straight out of Africa, and we expect to see much more in the next few years as connectivity on the continent increases.
Connectivity Enables Financial Inclusion
We've spoken at length of the benefits of Mobile Money for African businesses in previous Spotlights, and none of those benefits would be accessible if it wasn't for connectivity. SMEs that accept Mobile Money payments for their products and services are gaining more customers – those who don't have access to traditional financial services. For entrepreneurs who want to reach customers beyond physical borders, connectivity creates the opportunity to build online stores and brings an e-commerce element to African businesses.
Connectivity Enables Funding
Finding investors is easier today than it has ever been. Sending pitch documents, setting up crowdfunding pages and hosting meetings online are all possible because of connectivity. African businesses or entrepreneurs with lucrative ideas aren't limited to the people in their physical surroundings as a source of funding when their online presence is comprehensive.
Connectivity Enables a Successful Future
School-aged learners are encouraged to become entrepreneurs when they leave school, and being digitally savvy will give these learners a necessary edge to compete with global players. Access to technology is essential for African youth who want to be entrepreneurs, so we've donated more than 925 multi-media centres and digital classrooms to schools across 12 of our markets. By doing so, we are equipping our youth for a successful future and the opportunity to become competitive on a global scale.
MTN Group has announced that Gordian Kyomukama has been appointed as the new MTN South Sudan CEO, effective 21 January 2020. Gordian is a seasoned telecoms executive, with close to 30 years of experience in the sector, most of which has been with MTN.
He started in MTN Uganda as part of the Opco's pioneer team and has also undertaken secondment opportunities in Rwanda, Cameroon and Ivory Coast, in the course of his tenure. Prior to returning to Uganda, he was Chief Technology and Information Officer (CTIO) of MTN Liberia.
Commenting on Gordian's appointment, MTN Group CEO Rob Shuter said, "I would like to congratulate Gordian on his new role, and I would also like to take this opportunity to thank Lily Zondo, who has been holding the fort as acting South Sudan CEO over the past few months. Lily will resume her role as MTN South Sudan Chief Financial Officer (CFO) with immediate effect."
Changes in Cameroon
MTN Cameroon CEO, Hendrik Kasteel, will be leaving MTN at the end of March, due to personal reasons. He will serve out his notice over the next two months, and a successor will be announced when finalised.
On 4 September 2018, MTN announced that MTN Nigeria Communications PLC ("MTN Nigeria") was disputing a claim for back taxes of approximately USD2 billion by the Attorney General of the Federal Republic of Nigeria and Minister of Justice (the "AGF"). Subsequent to this, MTN Nigeria commenced legal action in Nigeria against the AGF, which court action was most recently postponed to 30 January 2020.
MTN Nigeria has been informed by means of a letter received by its legal counsel and dated 8 January 2020, that following careful review and due consultation with relevant statutory agencies, the AGF has decided to refer the matter to the relevant authorities, being the Federal Inland Revenue Service ("FIRS") and Nigeria Customs ("NC"), with a view to them resolving the issues. Accordingly, the AGF has withdrawn its letter of demand for the aforementioned USD2 billion that was issued in August 2018.
MTN Nigeria will consequently follow due court process to withdraw its legal action against the AGF and engage with FIRS and NC on this issue. MTN remains committed to building and maintaining cordial relationships with all regulatory authorities in Nigeria. Commenting on the news, MTN Group CEO, Rob Shuter said "we appreciate this decision of the Attorney General which paves the way to an orderly and amicable resolution of this matter. MTN remains fully committed to meeting our fiscal responsibilities and contributing to the social and economic development of Nigeria and all regions where we operate."
The internet is the ultimate creator of opportunities.
A connected device makes the world more accessible and sets ideas in motion. If you have a business idea, the internet is your resource library to ensure your idea is truly unique. If you have a product to sell, the internet becomes your sales platform, and your target market can be global. If your idea requires funding, the internet is your tool to find the right investors. In Africa, the opportunities the internet provides are grabbed with both hands, taking the continent several steps closer to becoming the next economic giant. Small businesses can reach large markets, while consumers who were previously not prioritized finally have the luxury of choice and variety.
Mobile operators like us are providing connectivity to 560 million people on the continent.
E-Commerce Makes Products Accessible in Africa
A vast terrain and countless small villages means that physical access to a variety of stores is not realistic for many people living in Africa. The rise of e-commerce brings that variety closer to consumers who live in remote areas. In an article for Mckinsey about how e-commerce supports African business growth, the co-CEO of Jumia, Sacha Poignonnec, notes that a lot of their consumers live in small villages and cities outside of the typical metropolitan areas.
While e-commerce provides more choice and accessibility to African consumers, business owners on the continent are able to expand their reach. Internet coverage continues to grow, with mobile operators like us providing connectivity to 560 million people on the continent. Entrepreneurs with brick and mortar shops are able to add a digital element to their businesses at a fraction of the cost of purchasing a new physical property. With a wider audience available online, more products can be sold and small businesses can grow to employ more people.
Tech Hubs are Popping up in Africa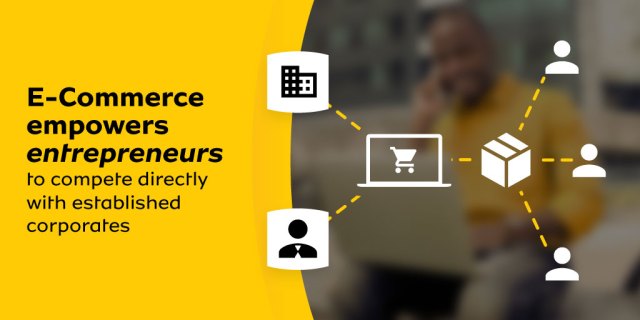 As connectivity becomes more accessible, so does the potential to create tech hubs in Africa.  South Africa's Silicon Cape has become an enabler for tech related start-ups in the country's capital city of Cape Town. Small businesses with big ideas are given the platform to connect with investors and use funding to turn their ideas into global solutions.
Ghana's Silicon Valley has the world looking in the direction of Africa for the next big tech-hub. Their innovation centres not only enable research and education in the fields of Science, Technology, Engineering and Maths (STEM), they are also spaces for product development. Their website describes the innovation centres as spaces which will allow "a strong industry and university research collaboration to develop enhanced products that will make Ghana the envy of Africa for innovation…" Silicon Valley of Ghana recently hosted the largest hackathon in West Africa, where 600 students were trained in software development. With more tech-related training taking place, more opportunities to create jobs and new careers become available.
As people in Africa get access to the internet, the opportunities for people in Africa to become global players in the digital world continue to grow.
If you were to travel back in time, just a few decades, how would you begin to explain to people of the past what the world is like today?
Would you start by explaining that our phones are in our pockets and not permanently attached to a cable in the wall? Would you talk about the existence of an app which can turn any home into accommodation? How would you explain the way jobs have evolved? So many popular careers today simply did not exist a few short years ago.
The creation of the digital world has led to the creation of countless jobs. Before Facebook or LinkedIn, there was no social media manager. Before Google Adwords, there was no digital marketer. Today, digitally focused companies are among the most successful in the world.
Our API portal is currently used by 1000 young developers who want to improve or add to existing online solutions.
In regions where there always seem to be more people than jobs available, the digital world provides an additional avenue for employment. As more youth in Africa choose to take digitally enabled career paths, coding online platforms and innovating solutions, they are creating more opportunities for the people around them.
The very nature of today's youth, with their innate understanding of all things trending and tech-related, could be the key to aiding unemployment in Africa. Entrepreneurship is encouraged across the continent in order to create more jobs and reduce unemployment for youth who have completed their studies. (note: link to African Entrepreneurs are Benefitting from franchises) Even Alibaba founder, Jack Ma, feels that African youth should be encouraged to create their own start-ups and get a tax break from the government for doing so.
African start-ups are already thriving so much that investors are flocking to events like AfricArena to discover new innovations coming from the continent. Companies like South African based Aerobotics are providing artificial intelligence solutions to clients all over the world. The ripple effect of the rise of such start-ups is the creation of new jobs for people in Africa.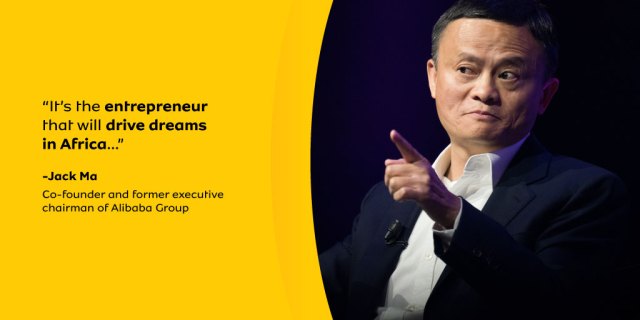 As connectivity improves throughout the continent, access to digital services and tools become more easily available. With a public API's becoming accessible at a rapid pace, youth in Africa have more opportunities to create more digital solutions. Our API portal is currently used by 1000 young developers who want to improve or add to existing online solutions.  When the youth code, they create jobs for those who cannot.
Consider all the roles involved in building an online store. A graphic designer and copy writer are both essential for a developer who wants to build an aesthetically pleasing and user-friendly website. Products need to be created to sell on the online store, providing an employment opportunity for those who can create. When products are ordered, they need to be delivered to customers, which produces an additional set of jobs involving logistics. One simple website can become the source of employment for many. Even those who aren't considered tech-savvy.
The future of jobs has already begun, and as our digital world evolves, we are likely to see even more jobs in the future which we cannot imagine today. Technology and job creation certainly are good together!
In an era where the lines between our digital and physical worlds are blurred, the simplest solution can change the lives of many.
When we travel unknown roads, a GPS app guides the way. When we are swamped at work, a virtual PA can turn a chaotic day into an organized one. When people who previously had no access to traditional banking can use a phone make financial transactions, financial planning becomes a reality. The rise of mobile money presents numerous opportunities for people in Africa, including the opportunity to save and plan for the future. Today, 6 million MTN Mobile Money users have opted in to make the best of this opportunity to save, in several important ways.
6 million MTN Mobile Money users have opted in to make the best of this opportunity to save.
Education
Free education is not yet available throughout the continent, so many African parents are required to contribute to the cost of basic and secondary education. Tertiary education is often not a reality for those who complete high school. The Africa Report cites an alarming UNESCO statistic; 60% of children between the ages of 15 and 17 do not go to school. Mobile money enables parents to save for the education of their children, and to pay school fees every month in a safe and easy manner.
Medical Needs
Nobody plans to fall ill or become injured, but such incidents happen every day. These incidents become infinitely more stressful when medical bills pile up or access to treatment isn't possible without the immediate availability of funds. Access to mobile money opens up a world of financial solutions for people in Africa, including hospital insurance. The ability to get medical cover through a mobile phone is just one example of how financial inclusion is becoming a reality for Africans.
Retirement
Technology has led to a number of medical breakthroughs. So many illnesses that used to cause death are now treatable, and more people are living to the age of 100 than ever before. In South Africa, most people cannot afford to retire or live solely on retirement income without an additional income. Regular saving through mobile money makes it more realistic for people in Africa to plan for retirement and less likely to rely on family members to get by.
Death

Princeton University, the Harvard School of Public Health, the University of Cape Town and the University of Chicago collaborated on a paper titled The Economic Consequences of Death in South Africa. The paper discusses how the death of an individual in an African household can have a major impact on those who are left behind. A death in a family can be the difference between food on the table and poverty, if that person is the sole breadwinner in the house. Mobile money offers users access to mobile life cover, so the financial head of a household can save funds to help the family in the event of his or her death. Funeral policies can also be taken out, so that the cost of saying goodbye doesn't add to the heartbreak of losing a loved one.
A simple app, on a pocket-sized phone, can make a major difference to a lot of people. Not only does mobile money give African people an entry to the global economy, it gives African people the opportunity to plan for the future.
MTN announced its Asset Realisation Programme ("ARP") in March 2019 which aims to simplify its portfolio, reduce debt and risk, improve returns and realise proceeds of at least R15 billion over three years.
Following on the proceeds raised from the disposals of its stakes in Amadeus, Travelstart and the ATC loan of R2,1 billion earlier in the year MTN has now concluded two further transactions bringing the total proceeds from its ARP to R14 billion thus far.
Firstly, MTN has concluded an agreement to dispose of its 49% equity holdings in the Ghana and Uganda Tower Company investments to a subsidiary of American Tower Company for $523 million, approximately R7.3 billion. This transaction is expected to close in Q1 2020.
Secondly MTN confirms that MTN Nigeria has completed the redemption of its preference shares with MTN Group receiving, in December 2019, an amount of US$315 million (cR4,4 billion).
Group President and CEO Rob Shuter commented "Following the completion of these transactions, MTN will have realised proceeds of approximately R14 billion within the first 12 months of this program. Realising proceeds from simplifying the group remains a major strategic objective and we expect further progress in this program in 2020."