Month:
November 2019
Driven by the belief that everyone deserves the benefits of a modern connected life, MTN is ramping up its efforts to enhance access to digital and financial services for its customers. The company's latest Fintech innovation is a mobile remittance application, MTN Homeland, aimed at facilitating money and airtime transfers from Europe to Africa and parts of the Middle East.
Speaking about MTN's latest Fintech offering, Group President and CEO Rob Shuter said, "The value of remittances from the diaspora exceeds Foreign Direct Investment in Africa. MTN has the largest Fintech and Telecommunication footprint in Africa and is therefore uniquely positioned to go beyond mobile communication by offering instant, low cost digital remittances. MTN Homeland is one more example of how MTN uses Fintech to expand its reach beyond its existing footprint and core business while driving meaningful impact to millions."
With MTN Homeland, remittances can be made from Europe to Cameroon, Congo Brazzaville, Ghana, Guinea Conakry, Rwanda and Uganda, while airtime can be sent to Afghanistan, Benin, Botswana, Cameroon, Congo Brazzaville, Ivory Coast, Ghana, Guinea Bissau, Guinea Conakry, Liberia, Nigeria, Rwanda, South Africa, Swaziland, Uganda, Yemen and Zambia.
MTN Homeland also supports MTN's contribution to the achievement of the tenth UN Sustainable Development Goal, which is to reduce inequality within and among countries. One of this SDG's targets is to reduce the price of remittances to under 3% of the value of the remittance into Africa – MTN Homeland has been priced with that target in mind.
Commenting on the service, Serigne Dioum, MTN Executive for Fintech expressed his delight at the launch of the App, saying: "We believe this offering will not only make the lives of our mobile money customers on the African continent a whole lot brighter, but those in the diaspora too." Dioum added that the company is working towards enabling remittances from the US, Australia, UAE and other corridors into Africa."
MTN Group is aware of a proposal that has been circulating on the internet, regarding a digital currency product called 'MTN Coin'. The unsolicited proposal submitted to MTN by an entity called Eureka Africa was not adopted, and we therefore wish to distance ourselves from the document, as well as the services and offerings it mentions, as these are not provided by MTN.
We continually engage and collaborate with various vendors, and if necessary, use official MTN channels to communicate such partnerships.
We request that publishers refrain from sharing this document or its contents on any public platforms.
In the continued drive for innovation in cost-effective rural coverage MTN is pleased to announce that it has deployed over 200 commercial rural sites across its footprint, using OpenRAN technology. MTN is amongst the pioneers of OpenRAN – the technology which enables operators to achieve cost-effective deployments allowing for greater connectivity to previously unconnected areas.
MTN is projecting to deploy more than 5,000 sites in rural areas across its 21 operations, bringing 2G, 3G and 4G connectivity to areas that were previously unconnected. In order to realise this goal, MTN will rely on an ecosystem of partners who will bring their expertise to build and maintain the sites, utilising a full turnkey approach.
"Our Group Technology team has been pioneering OpenRAN, concluding field trials in Zambia in 2018 and deploying commercial sites from the beginning of 2019. We focus on creating viable new RAN solutions alongside the traditional deployments of network technology suppliers in order to accelerate the rural expansion in our markets," said Rob Shuter, MTN Group President and CEO.
MTN operations in Uganda and Guinea Conakry are already benefiting from this technology, as MTN has also partnered with the likes of VANU, Parallel Wireless and NuRAN Wireless to deliver the technology.
As one of the foremost members of the Telecom Infrastructure Project (TIP), MTN carries out solution testing on all hardware and software elements at its state-of-the-art head office in Johannesburg, South Africa. The TIP initiative aims to define 2G, 3G and 4G RAN solutions based on general-purpose, vendor-neutral hardware and software-defined technology.
By continuing to accelerate innovation through initiatives such as OpenRAN, MTN continues to lead the delivery of a bold new digital world, solidifying its position as a leading mobile operator in the market.
MTN Group today announced that its instant messaging platform, Ayoba has reached 1 million monthly active users. Ayoba is an advanced communications application localised for African and Middle East consumer needs, under an independent Over the Top (OTT) brand with unique features for MTN customers. The app supports many local languages spoken across the MTN markets including isiZulu, isiXhosa, Pidgin, Yoruba, Swahili, Hausa, French and English.
MTN, together with its partners, is driven to improve access to affordable communications to ensure that people in its markets can reap the social, economic and developmental dividends of being online. Ayoba underscores this goal to bring more people into the digital world by providing them with affordable and simplified digital communication services.
Commenting on the milestone, MTN Group President and CEO, Rob Shuter said, "We believe that our customers in Africa and the Middle East deserve a communication platform that expresses our unique voice, honours our rich identity through local languages, and addresses our customers' specific needs and challenges by offering a data-included offering for MTN users, Mobile Money transfers (coming soon) and locally relevant content via channels."
The platform which was launched earlier this year is now operational in 8 MTN markets, namely: Cameroon, Cote d'Ivoire, Congo Brazzaville, Nigeria, Ghana, Guinea Bissau, Afghanistan and South Africa. Ayoba is also available across multiple markets on the Google Play Store and via the Ayoba website www.ayoba.me as an OTT offering.
As part of continuous efforts to enhance its offerings, Ayoba will be adding more features in the future. "Ayoba is also working on building an open digital platform that will enable third party innovation. This will ensure that we offer a rich diversified experience on the platform, enabling us to deliver more value to our users, empower local developers and create local experiences that are optimised for local communities," explains David Gilarranz, CEO MTN Digital.
Some of Ayoba's key features and offerings are:
Local languages: Ayoba is available in the top local languages in the markets where the offering has launched.
Chat now: Users can instantly send and receive text and voice messages with any of their contacts regardless of device type or network.
Security: End-to-end encryption means that messages in a conversation cannot be read by anyone else.
Chat with everyone: Users can send SMS text messages with anyone in their contact list, regardless of whether they've installed Ayoba or not.
Channels: Users can subscribe to Channels for locally relevant content across various categories.
Money transfers: Users will be able to make and receive payments via Mobile Money (coming soon).
Gilarranz adds that in addition to the number of exciting innovations on the cards Ayoba plans to expand to the rest of MTN's markets, and other territories across the globe. Before the end of the year, Ayoba will go live in Guinea Conakry, Liberia, Benin and Rwanda.
Our concrete and digital worlds have become so entwined that we could never go back.
The world is more connected than it has ever been; more efficient, more convenient, more fun at times. We don't have to wait to get home to make a phone call or wait to develop the photographs we have taken. We don't even have to walk around with multiple devices to do multiple things. A big part of our world is in the palms of our hands and we thrive on it. While the convenience, efficiency and fun are welcome, the digital world offers so much more than that. It offers the chance to make meaningful connections.
The 2019 International Telecommunication Union (ITU) focused on a central theme of using digital technologies to transform lives in a positive way. This theme resonates with the way the digital world is impacting the lives of people living in Africa.
Our continent is extremely vast. Cities and rural areas of the same countries are often far from each other, which means that traveling between the two is not always easy. For an African person living in a remote location, making a living often means leaving your hometown and your family behind to find a job in the city. A city where nobody knows you, where everything is different, where it is likely to feel lonely, even in a crowd. The digital world in the palm of such a person's hand is a connection to home. Gone are the days of hoping that a letter to the family arrived via snail mail, or struggling to send money home to a village where bank accounts are not the norm. Today, all these things can easily be achieved with a smartphone and an internet connection.
MTN provides coverage to cities and rural areas in 17 African countries, and that coverage brings people closer together.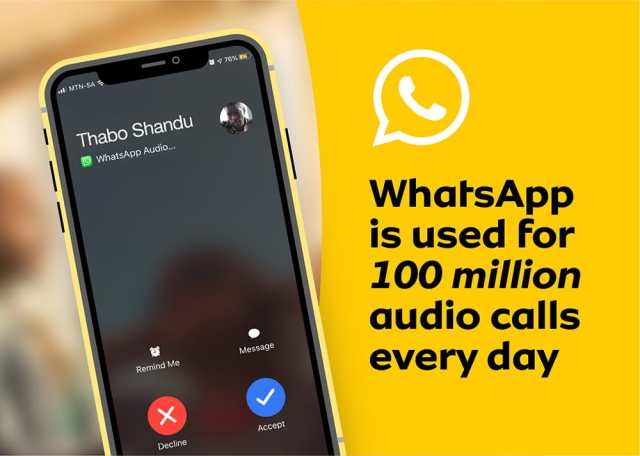 For business owners who want to expand to other markets, the cost of hosting a meeting doesn't have to include a flight or a long drive. Video and audio calls have become so common across many digital platforms, that it is evolving into the new norm. Facebook reports that 400 million people are making video and audio calls every month, while WhatsApp is used for 100 million audio calls every day. For an entrepreneur who needs to keep costs down but also needs to grow, this technology makes a meaningful impact.
The ITU Forum wants telecommunication companies to consider how we can make connectivity affordable, relevant and fit for purpose so that meaningful connections can be brought to every person in the world. They want "local content in local languages, supported by digital skills, digital education and digital awareness". We are proud to be able to claim that we as MTN are already doing all of these things.
With 560 million Africans covered, any dream can become a reality.
Connectivity provides more than the internet; it provides a world of opportunities.
In Africa, we take those opportunities and use them to turn ideas and ambitions into something real. For an entrepreneur who dreams of reaching a larger market, an online presence makes the dream possible. For a teacher who wishes more resources were available, digital content provides a wealth of material from all over the world. Connectivity is bringing Africa closer to the rest of the world, and African businesses are booming because of it. 
The Brookings Institution in Washington DC published a report about Africa's untapped business potential, calling our continent the world's next big growth market. The report lists five business opportunities, and connectivity makes an impact on all of them.
Connectivity is key to Africa's potential as the world's next big growth market.
The first opportunity is that our population is fast-growing and urbanizing.  Africa's population is expected to reach 1.7 billion people by 2030. More than 80% of that growth is expected to happen in cities, where people are earning more money and creating business opportunities. 
The second opportunity is that Africa is industrialising, and manufacturing is set to soar. The Brookings report notes that African industries could double production to nearly US$ 1 trillion within ten years. Industry 4.0 has brought the Internet of Things, automation and the use of robotics in manufacturing to life. Manufacturing has therefore become more efficient, and safer, than it has ever been.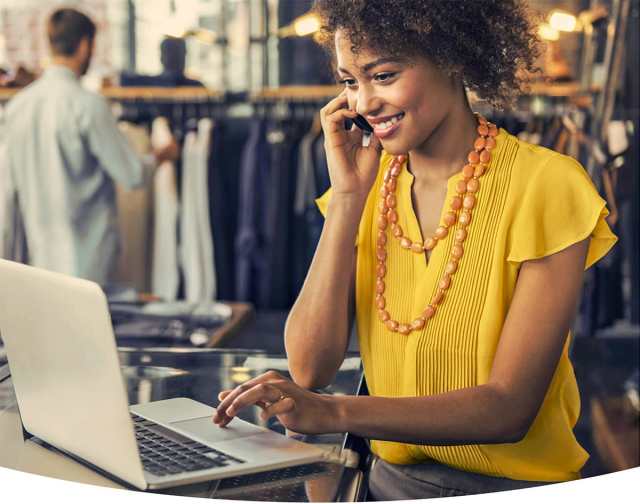 Infrastructure is improving across the continent, bringing about a third business opportunity. With better infrastructure, it becomes easier to start and grow businesses, and reach various regions both in and out of the country.  
There is major potential in Africa's agriculture and natural resources. The fourth opportunity can be found in innovating the way we farm and use our abundance of resources. With a world-class network, the use of digital solutions like IoT helps farmers to produce more and therefore earn more. Read more about how a connected continent impacts agriculture here. 
The fifth opportunity is Africa's increasing digital and mobile access. The Brookings report notes that mobile data traffic across the continent is projected to increase sevenfold by 2022.  Businesses with brick and mortar shops can easily create online stores and reach a global audience, while informal traders finally have the opportunity for financial inclusion because of mobile money.
A smartphone and an internet connection can help turn a small business into a global brand.
As we connect more people to the digital highway, entrepreneurs are born and businesses grow. As those businesses grow, more people have the opportunity to be employed, creating a ripple effect that puts African countries on the global map.
In its continued effort to fight against the exploitation of children on the internet, MTN Group yesterday announced the launch of its Child Online Protection initiative by signing a partnership with the Internet Watch Foundation (IWF). MTN is the first Africa-wide Telecommunications Company to partner with the IWF.
MTN believes that everyone deserves the benefits of a modern connected life, and that all users of our products and services have the right to freely and safely enjoy the digital solutions we offer. Our Child Online Protection programme is in line with the MTN "We're good together" initiative that was launched in October aimed at demonstrating how, through partnerships we can help to accelerate digital inclusion for the good of society.
MTN has a zero-tolerance approach to all forms of abuse and exploitation, including that of children. We are guided in our efforts by the work of global organisations and law enforcement authorities dedicated to managing this complex matter. We are a signatory to the United Nations Global Compact as well as the GSMA Mobile Alliance Against Child Sexual Abuse. Our partnership with the IWF builds on our commitment to ensure the safety of children online.
"The free, open nature of information and communication technologies, while benefitting society, unfortunately also creates opportunities for people to develop online relationships with vulnerable children, join communities that harm children, and share sexually-abusive material on children. As MTN is expanding the digital sphere, both on the continent and globally, it is important to us that we ensure that all who are touched by our products and services are impacted positively, including children.," said Rob Shuter, MTN Group CEO and President.
He added, "Online safety is a key concern for our business, it is for this reason that we have partnered with Internet Watch Foundation to create an online community that its safe and from which all users, of all ages, can benefit. Through the partnership, we hope to play our part in the fight against the exploitation of children on the internet and educating children and young people about the safe and responsible usage of ICT."
"We are making every possible effort to contribute towards the United Nations Sustainable Development Goal to end all forms of violence against children. We believe that together, we can realise the right of every child to live free from fear, neglect, abuse and exploitation," he concluded.
The membership agreement will offer support services from IWF to MTN. These include alerts to MTN Group if a domain under MTN's control is found to host child sexual abuse content. Such domains will be blocked automatically.
Using IWF's confidential reporting portal, MTN encourages its customers and members of the public to safely and anonymously report online Child Sexual Abuse Material (CSAM). IWF will investigate all reports and work with country partner hotlines or international law enforcement agencies to ensure that confirmed cases of child sexual abuse content on the internet are removed at source.
We also use our best endeavours to ensure that MTN's third party content providers do not make CSAM available to our customers. Providers that offer such content will be considered in breach of their contract, and their contracts will be terminated.
Susie Hargreaves OBE, IWF CEO, said: "We're delighted that MTN has chosen to demonstrate their commitment to a safer internet for everyone by becoming a member of the Internet Watch Foundation. It's only thanks to partnerships like these that we're able to drive forward our mission to eliminate photos and videos of child sexual abuse from the internet. As the largest mobile operator in Africa, MTN's alliance with the IWF will significantly impact the spread of criminal imagery across the continent and further afield."